Edward River canoe and kayak trail
Murray Valley National Park
Learn more
Learn more about why this park is special
Edward River canoe and kayak trail is in Murray Valley National Park. Here are just some of the reasons why this park is special:
Aboriginal heritage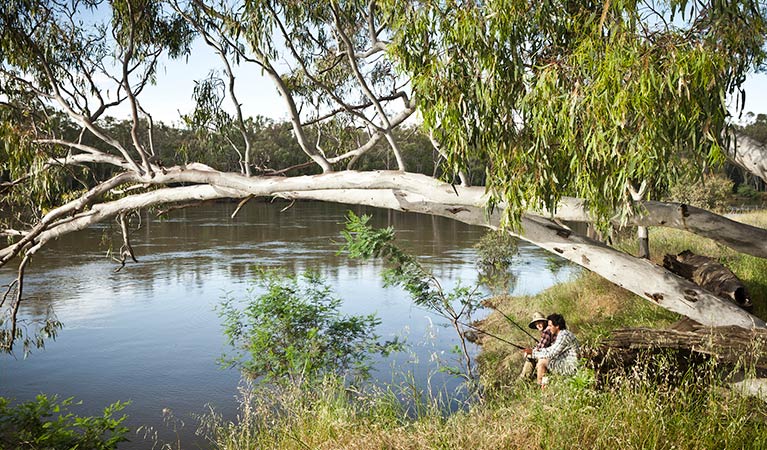 The river red gum forests of the Murray Valley are the traditional Country for Aboriginal people. The landscape and all that it contains; rivers, forests, birds and animals are part of cultural beliefs and feature in Dreaming stories. The park provided a wealth of resources, including plants that were used as medicines and in tool making. The river was a rich food source; in some seasons the water was so clear and the fish plentiful. When you're exploring the park, keep your eyes open for Aboriginal sites, especially middens, oven mounds and scarred trees, where bark has been removed from the tree to make canoes, coolamons and shields.
An abundance of treasures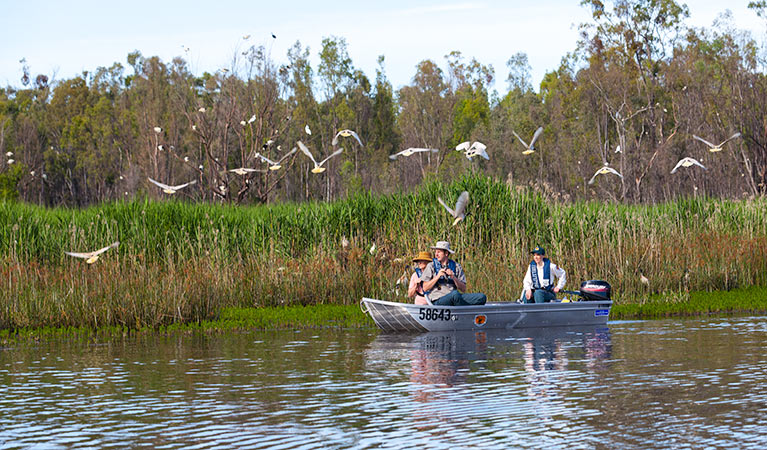 The Ramsar-listed Murray Valley wetland is home to over 60 threatened native animal species and 40 threatened plant species. Lay down the paddle of your canoe and sit in the silence, enjoying the company of egrets and cormorants, and keep an eye out for the superb parrot, slender and bright green. You may also see night herons, black swans, yellow rosellas, ducks, falcons, cockatoos, tree creepers, pardalotes, kingfishers and owls - this is truly a bird-lover's paradise.
Moira Drive

The scenic Moira drive takes you through the gorgeous river red gum forest around the mighty Murray River. Walk to the water bird observatory and stop for a picnic lunch.

Murray River canoe trails

These 4 canoe trails in Murray Valley National Park and Victoria's Barmah National Park offer something for every paddler. Canoe the flowing Murray River, secluded creeks or Barmah Lake.

Reed Beds Bird Hide boardwalk

It's an easy walk along the boardwalk to Reed Beds Bird Hide, with fun things to do along the way. Listen to see how many different bird calls you can hear on the way.
Forestry history
The magnificent river red gums have made this an important area for forestry and milling since the mid-nineteenth century. By the 1870's, construction of railway lines brought great demand for red gum sleepers; logging became a key feature of this area's industry. Wood-chopping events have long been a feature of local festivals and many people who live in Mathoura are third and fourth-generation timber workers.
Gulpa Creek walk

Gulpa Creek walk, in Murray Valley Regional Park, is an easy path to walk along with your dog and great for birdwatching with opportunities to go canoeing or kayaking, not far from Mathoura.
River red gum country
This iconic landscape features the huge river red gums soaring from the banks of the Murray and wetlands that make up this part of the Riverina's important ecosystem. This new park, formed from a number of former state forests, is part of the largest continuous river red gum forest in the southern hemisphere and is an important and unique ecosystem.
Moira Drive

The scenic Moira drive takes you through the gorgeous river red gum forest around the mighty Murray River. Walk to the water bird observatory and stop for a picnic lunch.

Ski Beach picnic area

Ski Beach picnic area is a fantastic spot to picnic with your family at the old Murray River punt site, and only minutes from town. The picnic area, in Murray Valley Regional Park, boasts a great rive...
Plants and animals you may see
Animals
Plants
River red gum

(Eucalpytus camaldulnesis)

Australian native plants, majestic river red gum trees are widespread across Australian inland river systems. The river red gum is a dominant tree species of the Murray-Darling basin which spans NSW, Queensland and Victoria. This iconic native eucalypt grows to a height of 30m and is thought to have a lifespan up to 500-1000 years.
Look out for...
Trichosurus vulpecula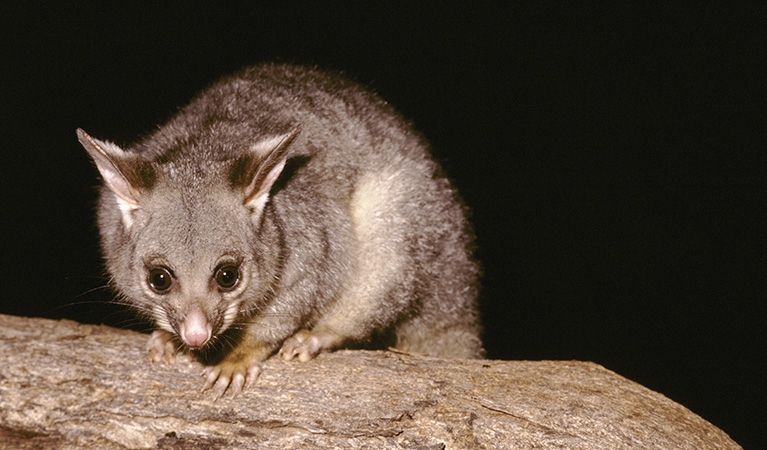 One of the most widespread of Australian tree-dwelling marsupials, the common brushtail possum is found across most of NSW in woodlands, rainforests and urban areas. With strong claws, a prehensile tail and opposable digits, these native Australian animals are well-adapted for life amongst the trees.
Environments in this park
Education resources (1)
Naturescapes e‑newsletter