Thredbo Valley track adventure rides
Thredbo-Perisher area
Overview
Experienced mountain bike riders can get their thrills on Thredbo Valley track in Kosciuszko National Park. From the world-class 35km ride, to short technical sections, try these adventure options.
Where

Accessibility

Distance

5 - 35.1km one-way

Time suggested

1 - 9hrs

Price

Free

Entry fees

Park entry fees apply

Opening times

November to May: Open for cycling when the track is dry.
June to October: All bikes, including fat bikes, only permitted on the gravel track section between Bullocks Flat and Thredbo Diggings campground.
Check conditions and closures before you set out.

What to
bring

Drinking water, snacks, suitable clothing, helmet, bike repair kit, first aid kit, hat, sunscreen, mobile phone, personal locator beacon
Thredbo to Gaden Trout Hatchery: 35km one way


Grade: Green - Easy to Blue - Intermediate
Distance: 35.1km one way
Time: 3-8hrs
Season: November to May. Closed to bikes in winter.
Intrepid mountain bike riders can now tackle the extended 35.1km Thredbo Valley track ride from Thredbo to Gaden Trout Hatchery.
Cruise, climb and downhill through the ever-changing Snowy Mountains scenery on one of Australia's best mountain bike day rides.
Setting off from Thredbo's Friday Drive, the easy flow single track follows the pretty Thredbo River valley. Enjoy smooth, mostly downhill riding to the first 3 suspension bridges crossing the river, before hitting some rolling contours and tight corners en route to Ngarigo campground.
With the legs warmed up, the pitch kicks up and the track throws in technical treats including climbs, descents, berms, gnarls and switchbacks, as you head to Thredbo Diggings.
Catch your breath back in the green zone on the compacted gravel section to Bullocks Flat through black sallee woodland. For a more demanding option without clocking up extra kms, take Muzzlewood track between Thredbo Diggings and Bullocks Flat.
Bullocks Hut is a top spot to rest and regroup before tackling the final 18.4km lower Thredbo Valley track stretch to Gaden Trout Hatchery. Recommended for physically fit, self-sufficient and experienced riders only, this long, challenging section is packed with technical features as it follows the river downstream through remote sub-alpine landscapes.
There are no exit points or facilities until you reach the trout hatchery, off Kosciuszko Road. It's best to organise a car shuffle or pickup.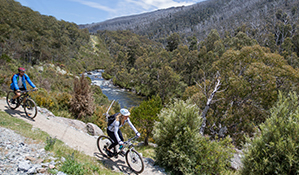 Ngarigo to Thredbo Diggings: 4.8km one-way

Grade: Blue - Intermediate
Distance: 4.8km one-way, 9.6km return
Time: 0.75-2hrs
Season: November to May. Closed to bikes in winter.
This ride is a blast if you're short on time or want a taster of Thredbo Valley track's more technical single track.
There are some short steep climbs in both directions, including 1 just out of Ngarigo, giving you excellent mid-slope flowing track, with rolling contours, fun berms and switchbacks. Cover the breaks so you don't overcook the corners, keep an eye out for slower riders and traffic coming the other way.
A couple of long, elevated platforms offer great views of the Thredbo River. Keep an eye out for the 'secret' rest stop above the track, just after the second platform out of Ngarigo.
If you're thirsty for more, add on a 5.5km loop from Thredbo Diggings to Bullocks Flat combining the intermediate Muzzlewood track.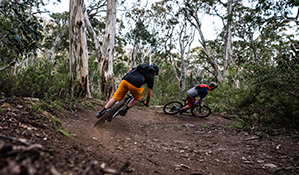 Bullocks Flat to Gaden Trout Hatchery: 18.4km one way

Grade: Blue - Intermediate
Distance: 18.4km one way
Time: 1.5-4hrs
Season: November to May. Closed to bikes in winter.
This lower Thredbo Valley track extension is a thrilling new option for adventure riders keen to test their legs on a more challenging, and remote section of the iconic track.
Starting from the northern side of the Skitube bridge at Bullocks Flat, the first 3km is an easy to moderate ride before the track gets more technical and the landscape more remote. If you're struggling it's recommended you turn back, as there are no exit points until Gaden Trout Hatchery, located off Kosciuszko Road.
Best cycled west to east, this purpose-built lower section of Thredbo Valley track is packed with challenges including tight switchbacks, high berms, rocky surfaces, and steep gradients. Boulder lookout, around 10.4km from Bullocks Flat, is a scenic rest stop along the way.
Opened in 2019, it's a rewarding ride on its own for physically fit, experienced and well-equipped riders. For a longer adventure, it's easily combined with other sections of Thredbo Valley track.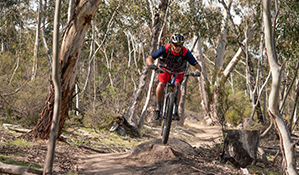 Thredbo to Bullocks Flat: 16.7km one way


Grade: Green - Easy to Blue - Intermediate
Distance: 16.7km one way
Time: 1.5-4hrs
Season: November to May. Closed to bikes in winter.
The original Thredbo Valley track packs in flowy single track, climbs, and technical trail features to make a physically challenging ride, with plenty of cruisey neutral sections.
Starting from Friday Drive in Thredbo village, the track meanders along the pretty Thredbo River valley, crossing 5 suspension bridges on the way to Ngarigo campground. Breathe in the mountain air as you ride by the rushing river, through tall mountain gum forest, snow gum woodland, and open grasslands.
There are a few short climbs and switchbacks to get you primed for the more gnarly technical obstacles you'll attack between Ngarigo and Thredbo Diggings.
Keep spinning along the easy last leg from Thredbo Diggings to Bullocks Flat, or take Muzzlewood track, which needs a bit more skill to navigate.
Convenient riverside rest stops, plus toilet facilities, are available at Ngarigo campground, Thredbo Diggings campground, and Bullocks Hut. They're also handy pick-up points if you run out of gas, or the weather turns.
At Bullocks Flat, you can cruise around 1km to Lake Crackenback Resort where you and your bike can be collected. Fees apply. Book well in advance.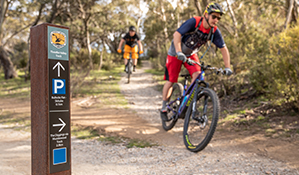 Thredbo Mountain Bike Park



Grade: Green - Easy, Blue - Intermediate, Black - Advanced
Distance: 25km of trails
Season: Mid November to end April
Thredbo Mountain Bike Park, run by Thredbo Resort, is home to 25km of epic alpine riding for adventure riders.
There's chairlift-accessed gravity trails, skills parks, a linked network of cross country trails, and a fun flowing pump track, all easily combined with Thredbo Valley track.
Warm up on the rollers, smooth berms and steady gradient of Kosciuszko Flow trail. Head up to 1930m for unrivalled views down the valley before the adrenaline rush of the All-Mountain trails. Or, take it easy on one of the village loops.
Thredbo's favourite vertical run for advanced riders, the Cannonball Downhill, is packed with drops, jumps, wall-rides and other features. Full-face helmet compulsory.
Bike rental, clinics and programs are all available in Thredbo village to take your mountain bike skills to the next level. Visit the Thredbo resort website for more information.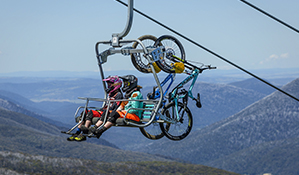 Please note
Arrange a car shuffle or pickup if cycling one way.
Local shuttle services operate between Thredbo village and Lake Crackenback Resort in summer. Fees apply. Book well in advance. Ask our friendly staff at Snowy Region Visitor Centre for more details.
Please give way to walkers along this track, and be considerate of beginner and slower riders, including children.
Check conditions and closures before you set out.
Kosciuszko National Park is a mountain bike rider's paradise, and the iconic Thredbo Valley track is one Australia's best day rides.
Take to 2 wheels on an epic day in the saddle on the extended 35km ride, from Thredbo to Gaden Trout Hatchery, only 9km from Jindabyne.
Tackle the remote lower Thredbo Valley track for a challenging and uninterrupted 18.4km ride between Bullocks Flat and the hatchery. Or, test your skills on a shorter technical ride like Ngarigo to Thredbo Diggings.
Check out guided bike tour options. Families and first-time riders may prefer our Thredbo Valley track easy ride options.
Park info
in Thredbo-Perisher area in the Snowy Mountains region
The Thredbo-Perisher area is open all year, but some roads and trails may close due to weather conditions or park management issues. Kosciuszko Road is closed between Perisher and Charlotte Pass in winter (June to October long weekends).

Park entry fees apply on Alpine Way and Kosciuszko Road

Winter (June to October long weekends): $29 per vehicle per day (24hrs from purchase); motorcycles $12; bus passengers $11.45 per adult, $3.60 per child per day. Find out more about the winter entry surcharge.

Rest of Year: $17 per vehicle per day (24hrs); motorcycles $7; bus passengers $6.60 per adult, $2.20 per child per day.

Passes: Day passes, multi-day passes and annual All Parks Pass available from NPWS visitor centres, local agents and operating vehicle entry stations. Read our Annual Pass FAQs for information. Short Breaks Pass: $68 for 5 days park entry at price of 4 days (not valid winter). Eligible pensioners can apply for a complementary NPWS concession pass, to get free park entry. Download the exemption form (154KB doc).

Buy annual pass.
See more visitor info
Visitor info
All the practical information you need to know about Thredbo Valley track adventure rides.
Getting there and parking
The full Thredbo Valley track runs from Thredbo village, via Bullocks Flat, to Gaden Trout Hatchery, outside Kosciuszko National Park.
To get there from Jindabyne:
Leave Jindabyne on Kosciuszko Road
After 3km, turn left onto Alpine Way and continue 31km
Then turn right onto Friday Drive to enter Thredbo village
Thredbo Valley track starts from Friday Drive, on your right, before the round-a-bout.
To reach Gaden Trout Hatchery, follow Kosciuszko Road around 7km then turn left onto Gaden Road and follow 2.5km to the designated carpark and picnic area.
To get there from Khancoban:
Head south on Alpine Way and follow for 74km
You can turn left onto Banjo Drive to reach Thredbo, or continue 1.5km along Alpine Way and turn left onto Friday Drive.
You can also access Thredbo Valley track from Thredbo Diggings campground, Ngarigo campground, or at Bullocks Flat Skitube carpark 'D', off Alpine Way.
Road conditions
Roads can close in extreme weather, so it's a good idea to check alpine weather and road conditions before setting out.
Vehicle access
Weather restrictions
Snow chains required after snow
Parking
Parking is available at either end of this track, on Friday Drive in Thredbo and at Gaden Trout Hatchery, outside the national park.
No parking or entry to private property. Please park in designated areas only.
You can also park at access points at Thredbo Diggings campground, Ngarigo campground, and Bullocks Flat Skitube carpark D.
Facilities
Thredbo Alpine Village offers a range of facilities including public toilets, picnic tables, supermarket, hire gear, drinking water, shops, cafes and restaurants, ATM, public phone, and fuel.
Non-flush toilets, picnic tables and fire-rings are located along Thredbo Valley track at Ngarigo campground and Thredbo Diggings campground. There's also a non-flush toilet at Bullocks Hut.
There are public toilets and limited parking at Gaden Trout Hatchery. Please do not enter or park in private property.
Carpark
Maps and downloads
Permitted
Cycling
November to May: You can cycle the full Thredbo Valley track in summer. Section may close due to poor weather or track conditions.
June to October: All bikes, including fat bikes, only permitted on gravel section between Thredbo Diggings campground and Bullocks Flat. Some sections may open if conditions allow.
Fishing
You can fish in rivers and streams between the October and June long weekends. A current NSW recreational fishing licence is required to fish in all waters. Fishing in dams and lakes is permitted year-round, but some waterways may close temporarily or have restrictions. Refer to the NSW Recreational Freshwater Fishing Guide for information.
Prohibited
Drones
Flying a drone for recreational purposes is prohibited in this area. Drones may affect public enjoyment, safety and privacy, interfere with park operations, or pose a threat to wildlife. See the Drones in Parks policy.
This area may be a declared Drone Exclusion Zone, or may be subject to Civil Aviation Safety Authority (CASA) rules for flying near airports, aerodromes and helicopter landing sites. See CASA's Drone Flyer Rules.
Commercial filming and photography
Commercial filming or photography is prohibited without prior consent. You must apply for permission and contact the local office.
Horses
Pets
Pets and domestic animals (other than certified assistance animals) are not permitted. Find out which regional parks allow dog walking and see the pets in parks policy for more information.
If you're transiting through a national park or reserve on a public road, pets must remain within the vehicle.
Smoking
NSW national parks are no smoking areas. The alpine resorts of Thredbo, Perisher, Charlotte Pass, Selwyn, Ski Rider and Kosciuszko Tourist Park are exempt, though some commercial and outdoor places within these resorts may have no smoking areas.
Visitor centre
Learn more
Thredbo Valley track adventure rides is in Thredbo-Perisher area. Here are just some of the reasons why this park is special:
Explore the rooftop of Australia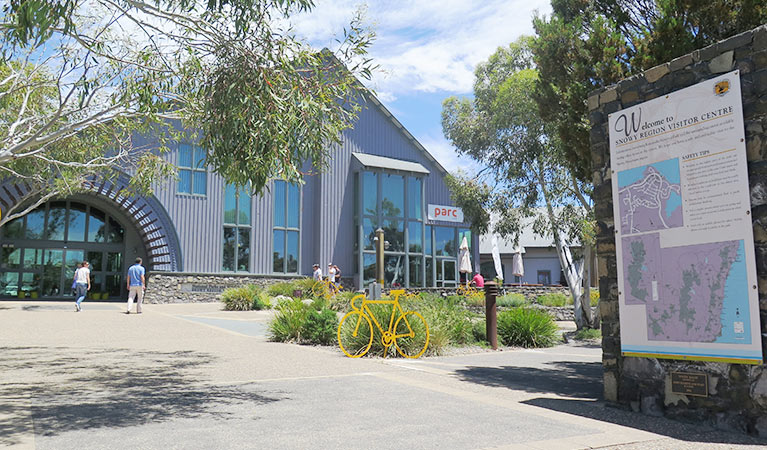 World-class wilderness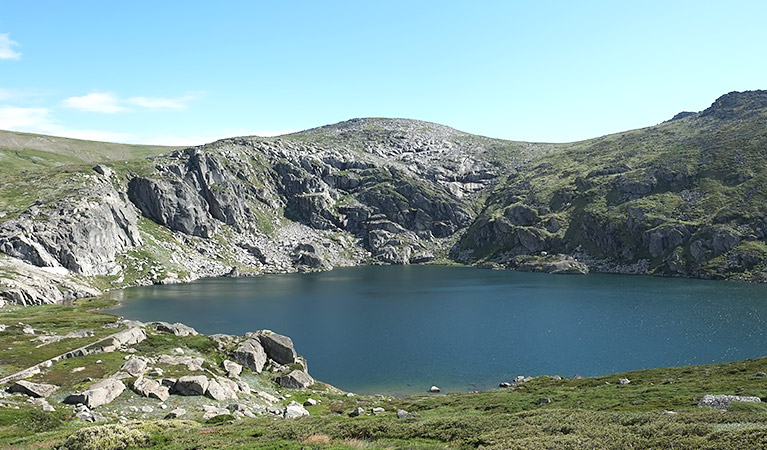 In recognition of Kosciuszko's unique value as a conservation area, it's been named a UNESCO Biosphere Reserve. More than half of the area of the park, over 350,000ha, has been declared wilderness, including the rugged Western Fall wilderness of the Main Range. It also contains Blue Lake, a rare cirque lake formed by the head of a glacier. Blue Lake is a listed Ramsar site, recognised for the role it plays in preserving rare and threatened species. The Australian Alps received National Heritage recognition in 2008, and were named one of Australia's National Landscapes.
Schlink Hut walking track

Schlink Hut walking track is a high alpine hiking or mountain biking adventure near Perisher, visiting 3 historic huts in Kosciuszko National Park. Winter access is by snowshoe or cross-country skiing only.
Alpine plants and animals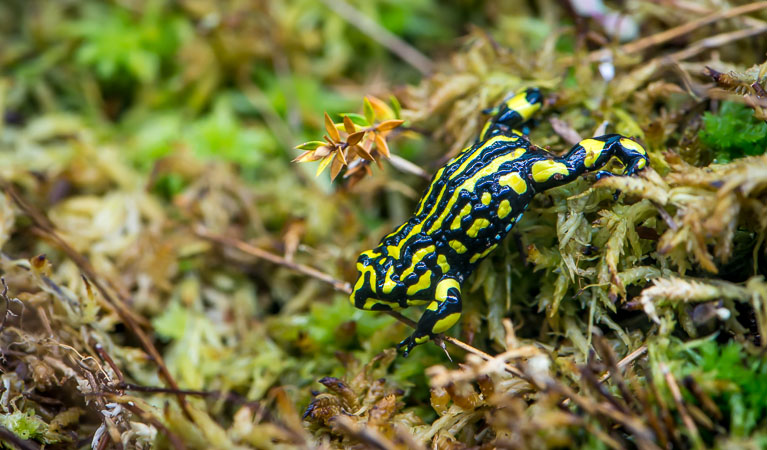 The park has over 200 species of alpine flowering plants and provides important habitat to nationally endangered species, such as southern corroboree frogs and broad-toothed rats. Ancient snow gums, twisted and stunted from the blasting effects of wind, snow and ice, mix with alpine ash and fragrant alpine mint bush. Above the treeline only heath, snow grass and the hardiest plants face the cold. Slow-growing mountain plum pine, some over 500 years-old, cling to boulders for warmth, providing shelter and food for threatened mountain pygmy-possums. Bogs of spongy sphagnum moss soak up the snow melt, to be released into alpine streams. From late spring to early summer, the heath is dotted with patches of wildflowers like alpine sunrays and snow daisies, yellow billy buttons, and the anemone buttercup, found only in Kosciuszko National Park.
Unique landscapes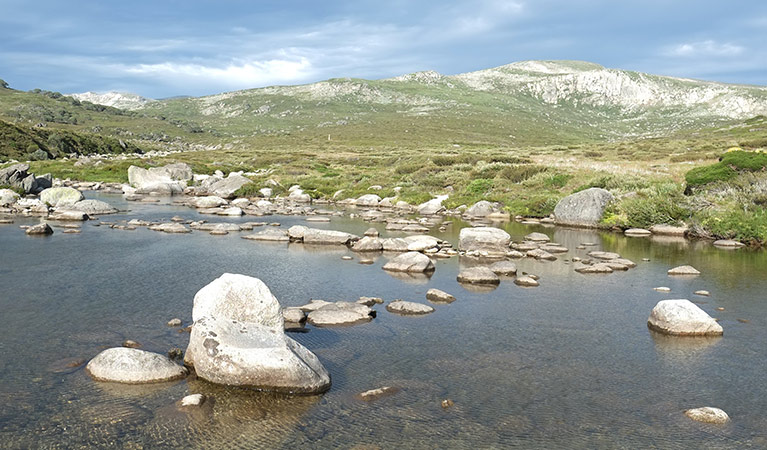 Kosciuszko National Park is a huge park containing Australia's only true alpine environment, the highest part of the Great Dividing Range, and all of NSW's ski resorts. Above the treeline of snow gums - the only trees to grow at this altitude - is a unique landscape of alpine herb fields, feldmark, bogs and tarns. A walk to the highest peak in mainland Australia, Mount Kosciuszko, is the perfect way to see this landscape. Walk from Thredbo or Charlotte Pass, and marvel at the huge granite tors and lakes carved out during Australia's last Ice Age, between 35,000 and 10,000 years ago.
Plants and animals you may see
Animals
Plants
Billy buttons are attractive Australian native plants that are widespread throughout eastern NSW in dry forest, grassland and alpine regions such as Kosciuszko National Park. The golden-yellow globe-shaped flowers are also known as woollyheads. Related to the daisy, billy buttons are an erect herb growing to a height of 50cm.
Environments in this park
School excursions (28)