Special Offer
Guthega skink
The endangered Guthega skink is the highest recorded skink in Australia. It lives only in alpine Kosciuszko National Park, and the Victorian Alps, above 1600m.
Read more about Guthega skink
The Guthega skink is a medium-sized lizard that grows up to 11cm long from snout to vent. Animals are blackish-brown or greyish-brown in colour, with side stripes and pale spots on their bodies that are much more clearly defined on young skinks.
Skink sky islands
These endangered reptiles make their home in Australia's stunning alpine habitat, at altitudes between 1600m and 2170m. Prime real estate includes rocky outcrops, open snow gum woodland with grassy or shrubby understoreys, dry tussock grassland, and tall and short heath.
They live in burrow systems and occupy a small home range, where they have a communal burrow network, and favourite foraging and basking areas. They can live for over 10 years (that we know of so far). It's thought they reach maturity around 3-4 years-old, and after mating in later spring or early summer, give birth to between 3 and 4 live young during summer.
Big sleepers, big eaters
Guthega skinks hibernate for 5 months, sleeping through the cold alpine winter under the snow. In summer, adult skinks and their young are often spotted basking in the sun on earth platforms they've made outside their burrows.
Their main diet is invertebrates, which are cold-blooded animals with no backbone, like insects, spiders, worms and snails. The skinks are crucial to keeping the alpine ecosystems in balance. Without them, seasonal increases in grasshoppers, crickets, and beetles could destroy the precious alpine vegetation.
3 facts about the Guthega skink
1. Set to the seasons
In summer, Guthega skinks are often spotted basking in the sun on rocks or earth platforms they've made outside their burrows. In winter, the sleep through the cold alpine weather under the snow, hibernating for 5 months.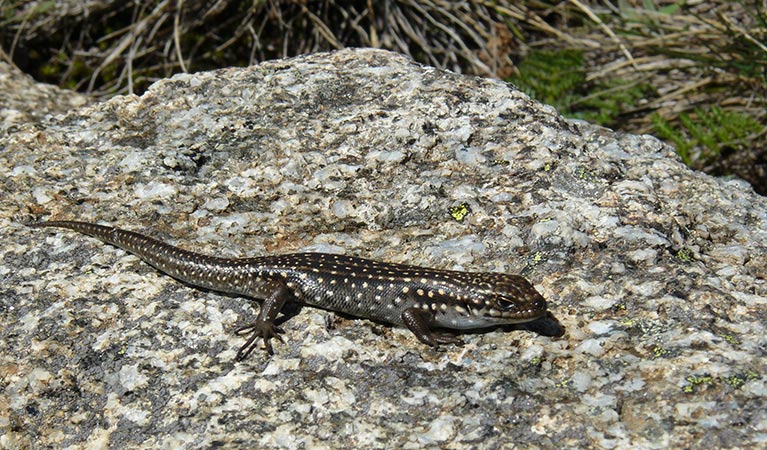 2. Fading with age
Guthega skinks have stripes along the sides of their body and light-coloured spots. These markings are much more prominent on young skinks.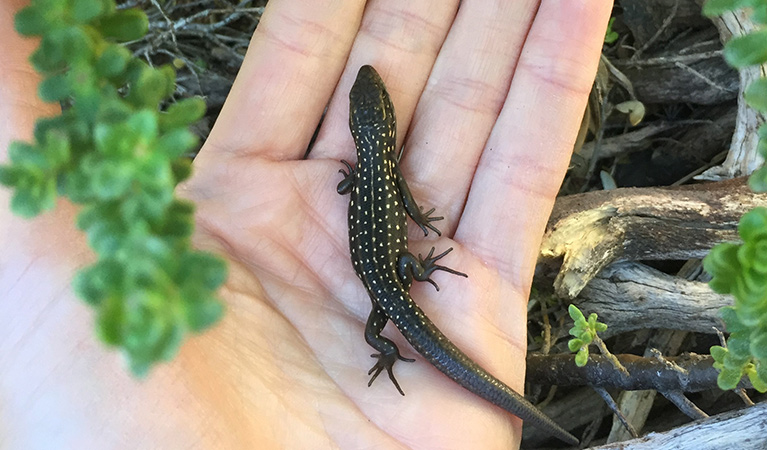 3. Living the high life
The Guthega skink is the highest recorded skink in Australia. It lives at the top of Australia at altitudes between 1600 and 2170m.
Animal facts
Common name

Guthega skink

Scientific name

Liopholis guthega

Conservation status in NSW

Endangered

Under threat

The skinks' natural predators include reptiles and birds. Unfortunately, feral animals like rats, cats and foxes also have a taste for these endangered skinks. Feral herbivores like pigs deer, and rabbits, along with introduced weeds, damage habitat.

Their habitat is also at risk from bushfires that destroy the vegetation, have killed skinks, or made them vulnerable to predators. Living at the top of Australia means that there's nowhere for them to go as seasonal temperatures rise with climate change.

Protecting this key indicator species

In NSW, the Guthega skink is a key indicator species. This means it's very sensitive to environmental changes in the ecosystem and can give an early warning that a habitat is suffering.

It's protected as an Asset of Intergenerational Significance (AIS), which adds strong legal protections and management requirements for its critical habitats.

A targeted conservation strategy under the Saving our Species (SoS) program includes monitoring, habitat mapping, genetic data capture, controlling feral pest species, and managing fire and human disturbance.

How you can help: If you're visiting Kosciuszko National Park, help prevent the spread of weeds and soil-borne diseases that can harm the Guthega skink's delicate habitats by ensuring boots are clean. Stay on tracks, avoid moving rocks that might be animal habitat, and please carry all rubbish with you, including organic litter.
You might also like
Assets of Intergenerational Significance (AIS) are declared to bolster protections for an area with exceptional environmental or cultural values, like...

Around 85% of the approximately 900 threatened species in NSW are found in our national parks and reserves. Find out what we're doing to protect threa...

Today, we're at risk of losing nearly 1000 of our state's native animals and plants. That's why the NSW Government established Saving our Species. It'...
Parks in which this animal is found