Special Offer
Assets of Intergenerational Significance (AIS)
Our strongest protections for environmental and cultural values in NSW national parks
Assets of Intergenerational Significance (AIS) are declared to bolster protections for an area with exceptional environmental or cultural values, like important habitat for the iconic Wollemi pine, koala and the greater bilby.
AIS areas have been declared to provide increased legal protections for the habitat of some of the most threatened and irreplaceable animals and plants in our parks. So far, we have:
279 AIS areas declared across
127 national parks and reserves in NSW, protecting key habitat for
108 threatened plant and animal species
Future AIS declarations may include significant wetlands or important cultural heritage values.
Interactive AIS map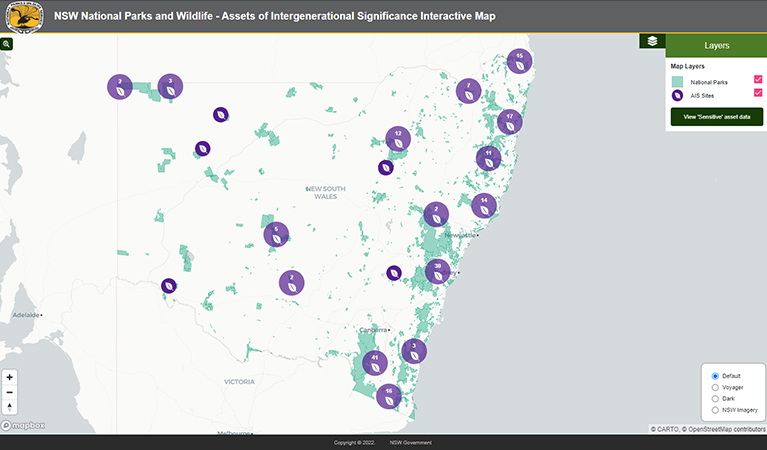 Explore our interactive map of AIS areas in NSW national parks and reserves. Search by park or species, zoom and click the map to see AIS areas and the plants and animals they protect.
Click the 'View sensitive data' button to see a list of sensitive AIS areas that aren't shown on the map.
The National Parks and Wildlife Act 1974 was amended to allow the Minister for Environment to declare an area to be an AIS. Under the Amendment Act 2021, it's now an offence for person to interfere with, damage, harm or disturb an environmental or cultural value of any land declared as an AIS.
What does AIS mean for threatened species?
Practically, it means that the NSW National Parks and Wildlife Service (NPWS) will have increased ability to prioritise management at these sites and identify emerging threats, so rapid interventions can take place.
We'll prepare dedicated Conservation Action Plans (CAPs) for each AIS. Visit our AIS Conservation Action Plans webpage to check CAPs currently on exhibition and provide feedback. View adopted CAPs.
AIS will play a critical role in meeting our zero extinctions objective.
Meet some of our AIS-protected animals and plants
Why do we need AIS now?
The 2019-20 summer bushfires highlighted the need to improve ways to identify and protect environmental and cultural assets, well in advance of bushfire or other emergency events. Proactive intervention saved the Wollemi pine during the 2019-20 bushfires.
While all our national parks are valuable and deserve protection, it's clear there are a number of irreplaceable environmental and cultural values in them that we must work even harder to protect.
Visit the Assets of Intergenerational Significance project page to find out more.
You might also like
Around 85% of the approximately 900 threatened species in NSW are found in our national parks and reserves. Find out what we're doing to protect threa...

Today, we're at risk of losing nearly 1000 of our state's native animals and plants. That's why the NSW Government established Saving our Species. It'...

The NSW National Parks and Wildlife Service (NPWS) Threatened Species Framework outlines a series of actions to meet our commitment of zero extinction...