Special Offer
Grey-headed flying-fox
The grey-headed flying fox is Australia's largest native bat, with a wingspan up to 1m. This threatened species travels up and down south-eastern Australia and plays a vital role in pollinating plants and spreading seeds in our native forests.
The grey-headed flying-fox is easily recognised by its rusty red-brown collar of neck fur, with a light grey head, dark-grey body, and leg fur that extends to the ankle. Endemic to south-eastern Australia, they inhabit woodlands and rainforests from South-East Queensland along the NSW and Victorian coasts. Habitat loss means they're also increasingly found in urban areas.
Precious pollinators
Grey-headed flying-foxes are unsung heroes when it comes to pollinating many of our native plants. Their diet consists of over 80 types of fruit and blossoms, in particular from our iconic eucalypt trees and native figs.
They roost by day and fly out at night to feed. Guided by excellent night vision and sense of smell, they forage up to 50km from their roost. Because they travel so far, they can carry pollen over greater distances than birds or bees and also disperse seeds further than other animals.
This makes them vital to the health and regeneration of our remaining forest along the east coast. Without these flying farmers, the beautiful eucalyptus trees we associate with the Aussie bush may cease to exist.
Happy campers
These nomadic bats congregate at roost sites known as camps. These sites are typically near waterways and in stands of vegetation with large trees, however increasing changes to landscapes have seen flying-foxes adapt to urban areas for roosting as well. Camps can be permanent, seasonal or temporary places to roost by day, with bats numbering from a few dozen to hundreds of thousands.
Mating starts around late January and conception can occur at any time until May. Females give birth in spring, typically only producing 1 pup per year. Newborns are dependent on mum for the first few months of their life, and cling to her when she flies out from camp to feed. This low birth rate makes the species vulnerable to threats.
5 reasons to love flying-foxes
1. Ecosystem engineers
Unlike other pollinators, like bees and birds, the grey-headed flying-fox can transport pollen over vast distances and can disperse larger seeds. They travel up to 50km in a single trip, and can pass seeds within 30mins of eating.
These flying farmers play an essential role in ensuring the regeneration, genetic diversity and survival of our native forests, especially after bushfires.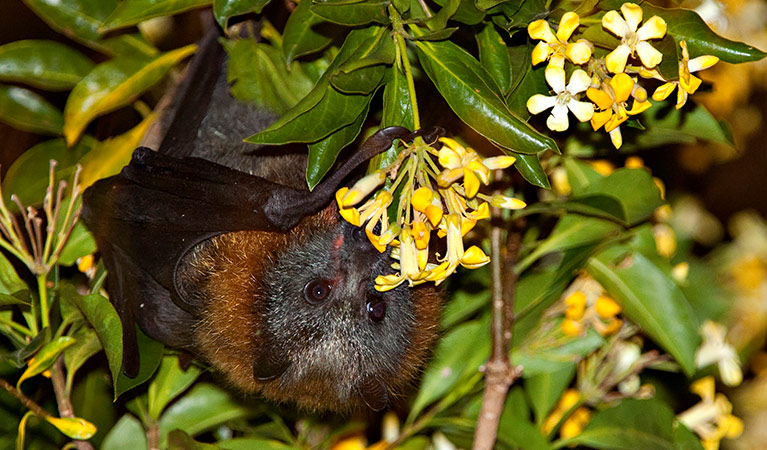 2. Unique mammals
Grey-headed flying-foxes are Australia's largest native bat and the only true flying mammal (gliders glide rather than fly).
Their legs have small muscles which make them light enough to fly, but they're not strong enough to stand upright. Special locking mechanisms in their legs allow them to hang upside down easily, and they simply let go to take flight by dropping from a height.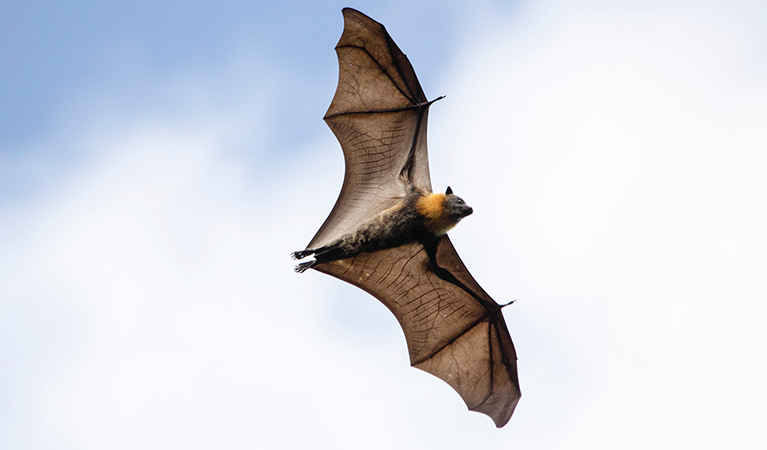 3. Social and vocal
Like us, flying-foxes like spending downtime with family and friends. Though they often forage alone at night, these social animals spend their days roosting in camps that can be a few dozen or swell to hundreds of thousands.
Sometimes very noisy, they're known to have over 30 different calls which are used to attract mates, find their young, and defend their territory. Mothers that have lost their pups to predators have been recorded calling for their young for up to a week.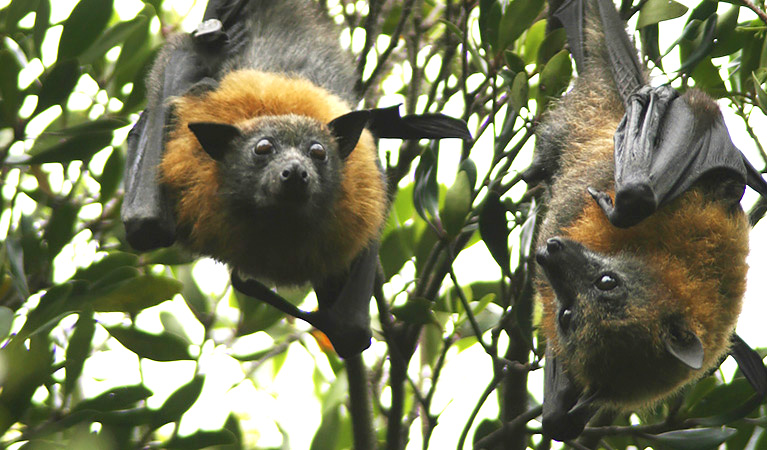 4. Important Aboriginal totems
Flying-foxes are known to hold cultural value for many Aboriginal people. They've historically been important as clan totems and art subjects. For example, the 'wirambi', or flying-fox, is the totem for the Darug Boorooberongal male.
Wingham Brush Nature Reserve, near Taree, is the only known continuously occupied roosting and maternity site for this vulnerable species between Bellingen and the Hunter Valley. 'Wingan' in the local Aboriginal language of the Biripi Country means 'where bats come to drink'.
5. Only in Australia
Two of the 4 flying-fox species on the Australian mainland are found nowhere else in the world. The grey-headed flying-fox and the little red flying-fox are endemic to Australia, while the spectacled flying-fox and black flying-fox are also found in Papua New Guinea and parts of Indonesia.
The grey-headed flying-fox is listed as vulnerable and is protected as a threatened species. Several areas in NSW national parks that provide important habitat for the grey-headed flying-fox have been recognised as Assets of Intergenerational Significance (AIS), giving them extra special protections.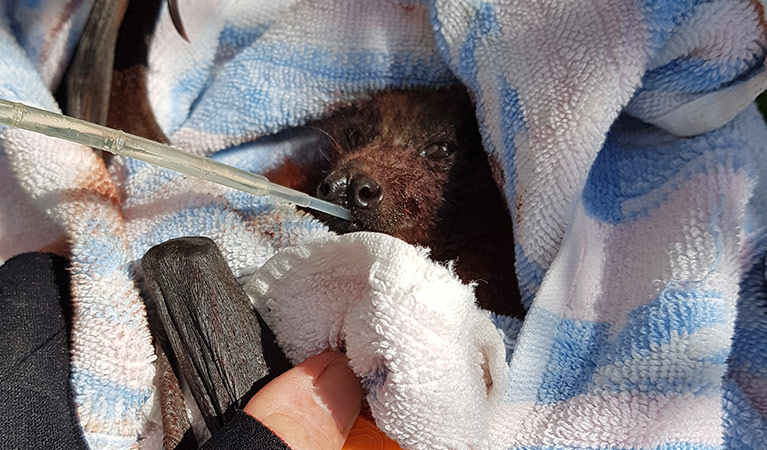 Animal facts
Common name

Grey-headed flying-fox

Scientific name

Pteropus poliocephalus

Conservation status in NSW

Vulnerable

Threatened species

While you might see thousands of flying-foxes in a camp, they continually move between camps in response to food availability. This creates the illusion that they always occur in large numbers. In fact, grey-headed flying-fox numbers are declining. Once numbering in the millions, today there may be fewer than 400,000, and they're protected as a vulnerable species under both NSW and Federal law.

Habitat loss is a key threat to the grey-headed flying-fox. Land clearing, urbanisation and extreme climate events all contribute to natural habitat decline. The resulting urbanisation of flying-foxes leads to conflict with humans. Changes in climate also increases risk of food shortages, bushfires and heatwaves, which can cause flying-fox deaths.

Several areas within NSW national parks and reserves have been declared Assets of Intergenerational Significance (AIS) to provide the strongest protections for grey-headed flying-foxes and their habitat. These include:
You might also like
Assets of Intergenerational Significance (AIS) are declared to bolster protections for an area with exceptional environmental or cultural values, like...

Around 85% of the approximately 900 threatened species in NSW are found in our national parks and reserves. Find out what we're doing to protect threa...

Today, we're at risk of losing nearly 1000 of our state's native animals and plants. That's why the NSW Government established Saving our Species. It'...
Parks in which this animal is found