Blue Gum loop trail
Barrington Tops National Park
Learn more
Learn more about why this park is special
Blue Gum loop trail is in Barrington Tops National Park. Here are just some of the reasons why this park is special:
World Heritage-listed rainforests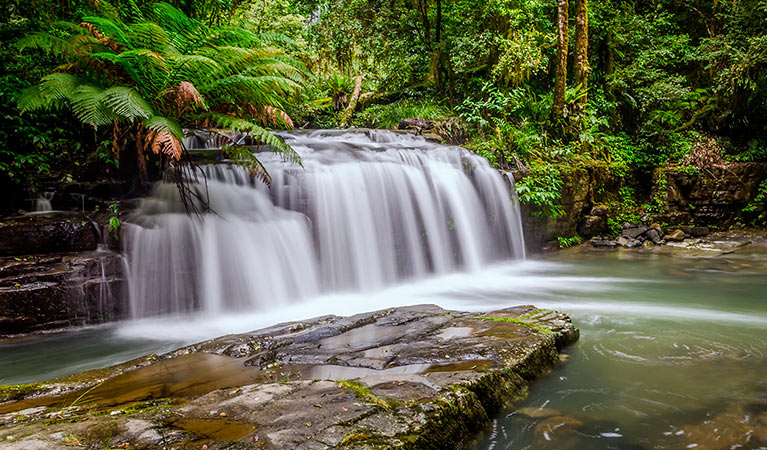 The rainforests in Barrington Tops National Park are part of the Gondwana Rainforests of Australia World Heritage Area; the most extensive strip of diverse rainforest anywhere on earth. The World Heritage Area is a direct window into the past and the future, providing a link to the ancient pre-human world and a stunning and irreplaceable record of life on our planet. You can explore the rainforest on one of the park's many walking tracks, like the Honeysuckle Forest track, the Rocky Crossing walk or the Antarctic Beech Forest track. Listen out for the lyrebird whose mimicking calls ring out through the rainforest.
Antarctic Beech Forest walking track

Antarctic Beech Forest walking track offers rainforest, cascades, scenic views, and birdwatching in Barrington Tops National Park, near Gloucester.

Careys Peak walking track

Easy Careys Peak walking track offers picnicking, scenic views, birdwatching, and historic heritage in the sub-alpine region of Barrington National Park, near Scone.

Cobark Park picnic area

Take a break at Cobark Park picnic area to plan your adventures in the plateau region of Barrington Tops National Park—1 hour from Gloucester.
An ancient landscape
Barrington Tops National Park and the adjoining State Conservation Area are the traditional land of several Aboriginal groups, including the Worimi and Biripi people, the Gringai clan of the Worimi people and Wonnarua people. The rainforests of Barrington Tops offered a wealth of resources for Aboriginal people, including many edible fruits, like the native cherry, lilly pilly and figs. Today, the history of Aboriginal people in Barrington Tops is recorded in oral history and in the presence of Aboriginal sites. Barrington Tops National Park protects ancient campsites, scarred trees and sacred ceremonial places.
A dramatic wilderness
Most of Barrington Tops National Park is declared wilderness; large, natural areas of land that, together with their native plants and animal communities, remain essentially unchanged by modern human activity. Wilderness areas in NSW represent the largest, most pristine natural areas within NSW - the last of Australia's wild and untamed places. The edges of the wilderness area of Barrington Tops are easily accessible; some of the most spectacular views in the park are from Careys Peak and Devils Hole and Thunderbolts lookouts. You'll notice the varied textures of the forest below you, with the ranges of the Barrington Wilderness running east and south from the plateau like the fingers of an outstretched hand.
Plants and animals protected in this park
Look out for...
Alectura lathami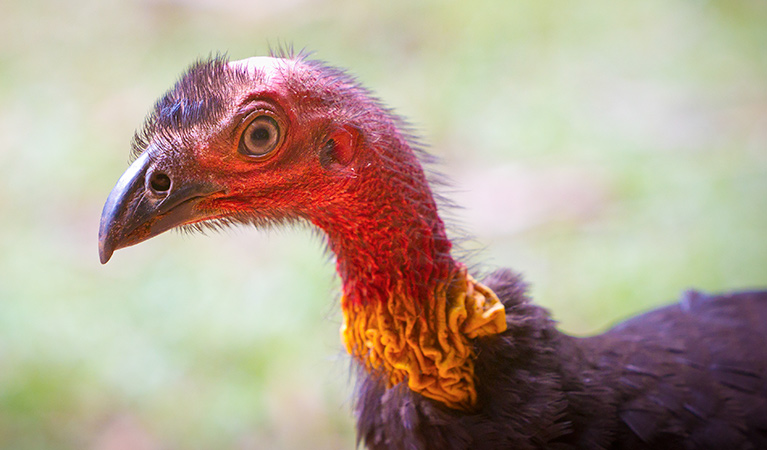 The Australian brush turkey, also known as bush or scrub turkey, can be found in rainforests along eastern NSW. With a striking red head, blue-black plumage and booming call, these distinctive Australian birds are easy to spot while bird watching in several NSW national parks.
Environments in this park
Education resources (1)
Naturescapes e‑newsletter