Colo Meroo campground
Wollemi National Park
Learn more
Learn more about why this park is special
Colo Meroo campground is in Wollemi National Park. Here are just some of the reasons why this park is special:
Ancient connections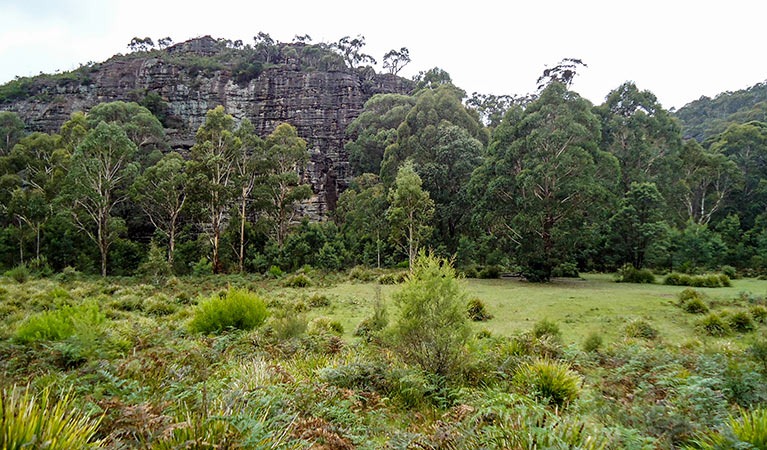 The area that is now Wollemi National Park has held significance to Aboriginal people for at least 12,000 years. Evidence of this connection can be seen throughout the park, including ceremonial grounds, stone arrangements, grinding grooves, scarred trees and rock engravings. There are around 120 known Aboriginal sites in the park and probably many more yet to be discovered. The Wiradjuri, Dharug, Wanaruah and Darkinjung people have a strong and ongoing cultural association with their traditional lands and waters.
Guided kayak tours of Ganguddy-Dunns Swamp

Experience the natural beauty of escarpments, gorges and wildlife on a guided paddling tour of Gunguddy-Dunns Swamp with Southern Cross Kayaking.

Pagoda Lookout walking track

Pagoda Lookout walking track is a short but steep walk near Rylstone in Wollemi National Park. Enjoy incredible views over ancient pagoda rock formations and the Cudgegong River.
Geological marvels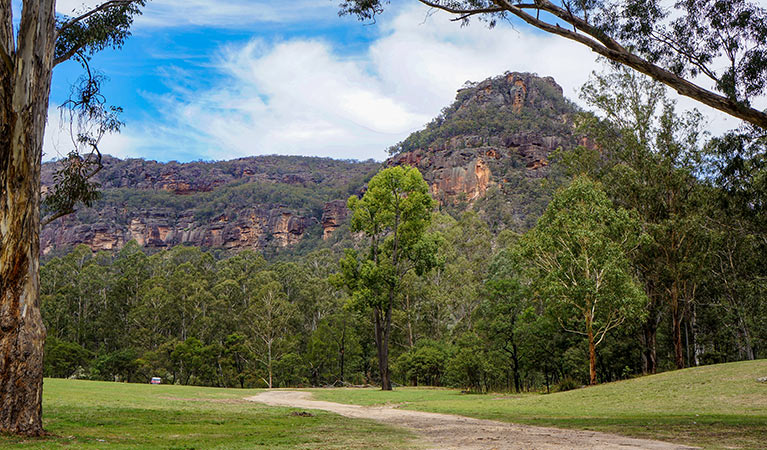 Wollemi's landscape has been sculpted over millennia into a magnificent network of soaring sandstone escarpments, plunging gorges and canyons, winding river valleys and awe-inspiring geological and geomorphological features such as pagoda rock formations, basalt-capped mountains and diatremes. The spectacular Colo gorge and its tributaries form the most extensive sandstone canyon system in eastern Australia. Grab your camera and discover for yourself the breathtaking vistas and natural marvels that make this a World Heritage treasure.
Nature's haven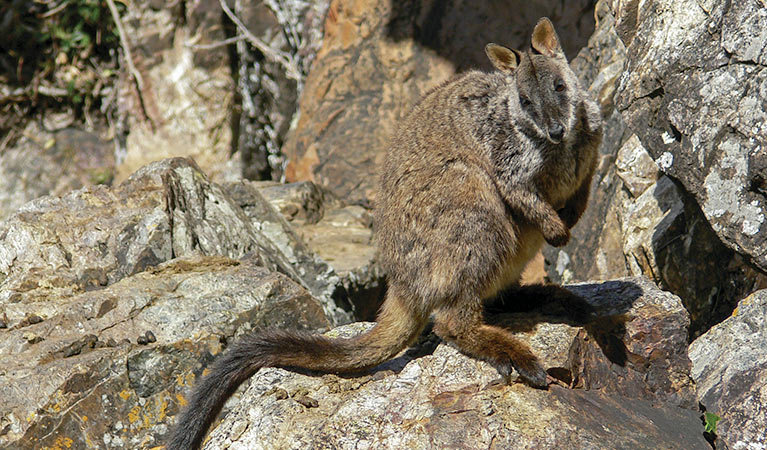 It's little surprise that Wollemi's spectacular landscape shelters a rich diversity of plants and animals. The rare Wollemi pine - a 'living fossil' whose closest relatives thrived some 90 million years ago was rediscovered here in 1994, and the park protects an incredible array of botanical species and communities, from open eucalypt forest and woodlands including Hawkesbury and grey box, to rainforests and perched swamps. This variety makes it an appealing habitat for eastern grey kangaroos, red-necked wallabies and the elusive brush-tailed rock wallaby, as well as the beautifully marked broad-headed snake, regent honeyeater and glossy black cockatoo. Around 55 species of butterfly have also been recorded.
Wollemi guided Glow Worm Tunnel walk

Join Wolgan Valley Eco Tours on the popular Glow Worm Tunnel walking track in Wollemi National Park and see the magical natural light show created by thousands of glow worms.
Outdoor adventure
Pitch a tent at one of Wollemi's great campgrounds, like the secluded Colo Meroo backpack campground, the car-accessible Coorongooba campground or the dramatically-situated, car-accessible Newnes campground. With your base set up, you're free to get out and enjoy the park's fantastic outdoor attractions, be they more relaxed pursuits such as picnicking, canoeing and swimming or something more adventurous like rock climbing, horseriding and hiking.
Plants and animals protected in this park
Animals
Plants
Smooth-barked apple gums, also known as Sydney red gum or rusty gum trees, are Australian native plants found along the NSW coast, and in the Sydney basin and parts of Queensland. Growing to heights of 15-30m, the russet-coloured angophoras shed their bark in spring to reveal spectacular new salmon-coloured bark.
Look out for...
Ninox novaeseelandiae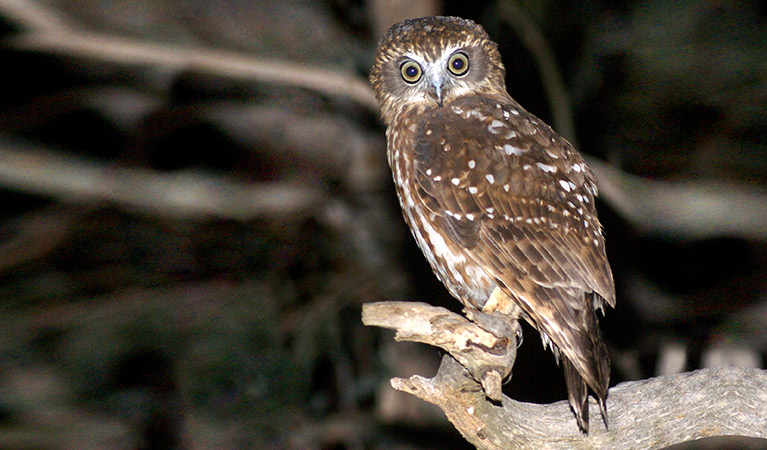 The southern boobook, also known as the mopoke, is the smallest and most common native owl in Australia. With a musical 'boo-book' call that echoes through forests and woodlands, the southern boobook is a great one to look out for while bird watching.
Environments in this park
Education resources (1)
Naturescapes e‑newsletter