Special Offer
Spotted-tailed quoll
The spotted-tailed quoll is the largest remaining carnivorous marsupial on the Australian mainland. It's protected as a vulnerable species in NSW.
Also known as tiger quolls, spotted-tailed quolls are the largest of the 4 species of quoll in Australia. The size of a domestic cat, with shorter legs and a pointed face, they have rusty-brown fur with white spots that continue down the tail.
A fierce hypercarnivore
Spotted-tailed quolls are hypercarnivores - animals whose diet is over 70% meat. They eat more than 22 species of mammals, from rats and rabbits, to possums, birds, bandicoots and gliders.
This threatened species has the most powerful bite for their body size of any predatory mammal in the world, after their close relative the Tasmanian devil.
Quolls adapt to take advantage of whatever prey is most abundant. Observations of radio-tracked animals and analysis of quoll scats show their fondness for dining on brushtail possums and greater gliders. A hunting quoll will systematically sniff the base of hollow-bearing trees, only climbing those where an unsuspecting sleeping possum or glider is likely to be resting in its daytime den.
6 facts about spotted-tailed quolls
1. Top of the food chain
While quolls get the gold medal for being the largest marsupial carnivore on mainland Australia, it wasn't always so. They once competed with their larger relatives, the Tasmanian devil and the Tasmanian tiger, which existed on the mainland until around 3,200 years ago.
For much of the last 2 million years, quoll ancestors were underdog to the 160kg apex-predator Thylacoleo carnifex, which was the largest 'marsupial lion' the world has ever seen.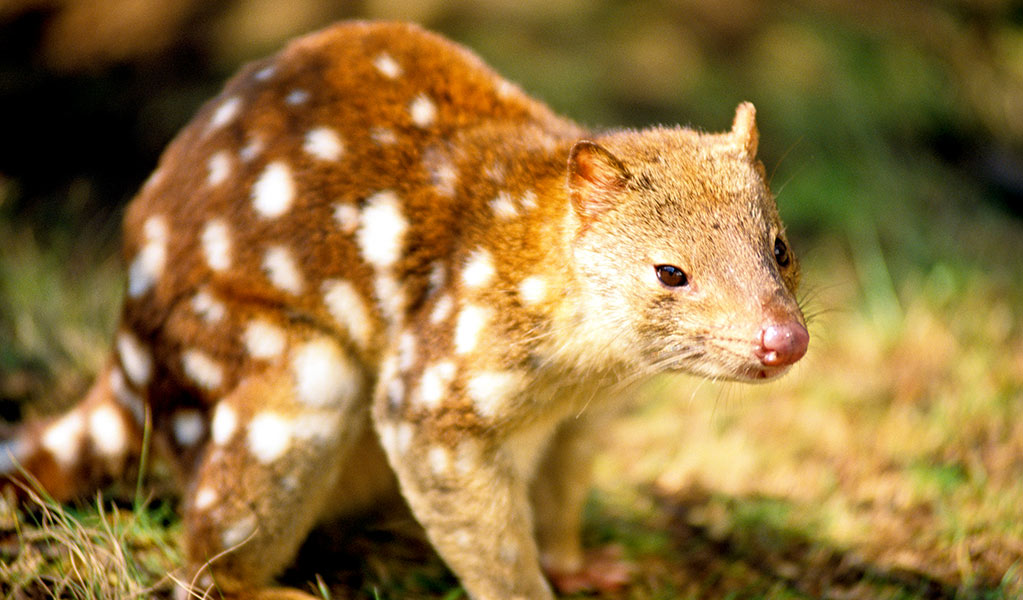 2. Growth spurt
Every quoll's life begins in the warm environment of their mother's temporary pouch, which she only develops fully during breeding season (between April and July). When born, pups are about the size of a grain of rice.
The young stay in the pouch until they're big enough to be left in the den while mum hunts for food. Adult males can ultimately grow up to 3.5-4kg, with adult females averaging 2kg. That's a big growth spurt!
3. Spot the difference
The naked skin of each tiny spotted-tailed quoll pup is already imprinted with the unique pattern of spots that will display on their fur. These spots also help researchers identify one quoll from another as they grow to maturity.
Quolls only live 3 or 4 years but become sexually active in the first year.
4. Quoll communal toilets
During the breeding season these usually solitary animals are known to visit outdoor latrine sites to 'communicate' with other quolls. Scat and scent marking indicates if a female quoll is likely to be receptive to potential mates and means males don't have to fight to win a breeding opportunity.
These quoll communal toilets are often on flat rocks among rocky outcrops and cliff lines or along rocky creek lines. They're recognisable by the accumulation of the characteristic 'twisty-shaped' scat.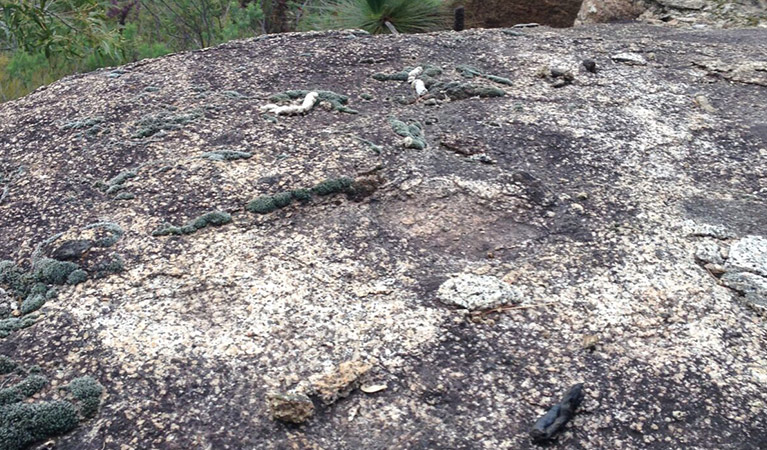 5. A resilient, adaptable hunter
Radio-tracking and diet analysis before and after the 2003 wildfires in Kosciuszko National Park shows quolls remarkable resilience. They not only survived fires by sheltering in rabbit or wombat burrows, they also adapted quickly.
Immediately after the fire, quolls fed on the carrion of less fortunate animals, like wombat and kangaroo. In the weeks and months that followed, quolls shifted their usual possum-based diet to favour rabbits and hares, which were quicker to recover and became the most abundant medium-sized mammal prey.
6. A century of persecution
When early Europeans set up farms in Australia, it wasn't long before quolls took an interest in the poorly defended poultry. A reputation for chook-killing ultimately lead to thousands of quolls (mostly eastern quolls) being shot and trapped.
If not for the refuge offered by the rugged Great Eastern Escarpment the spotted-tailed quoll might not have survived. Their kin, the eastern quoll, has been considered extinct on the mainland since the 1990s. Still widespread in Tasmania, the eastern quoll is the focus of reintroduction efforts on the mainland.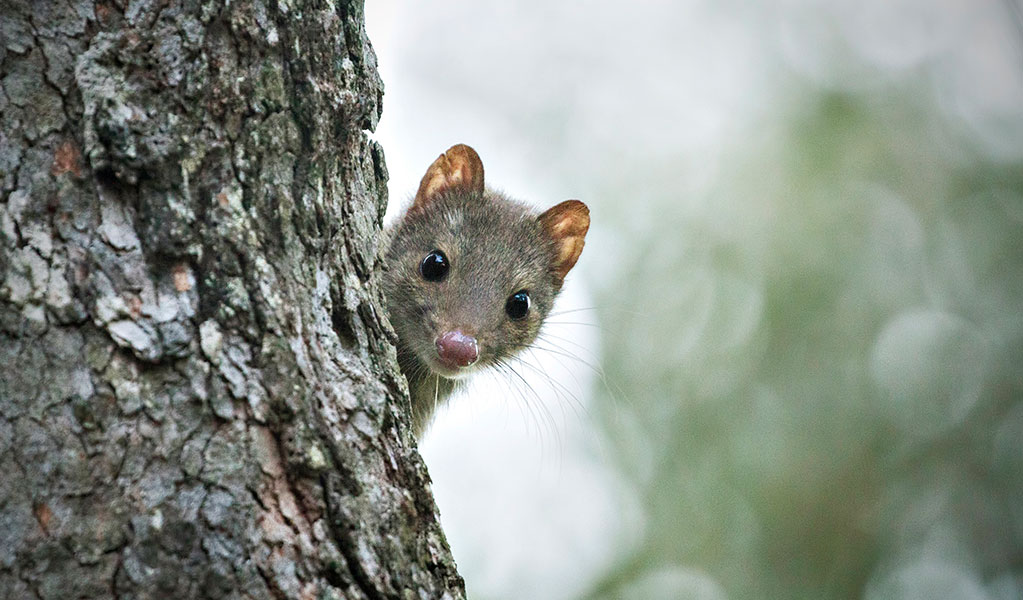 Room to roam
These mostly nocturnal animals live in a variety of environments including rainforests, woodlands, forests, heathlands and sometimes open country. They're found on both sides of the Great Dividing Range, in NSW, Victoria, Queensland, as well as in Tasmania.
Large, connected forest landscapes are key to quoll survival. Individual males roam vast areas often more than 1,000 hectares, which overlaps with the range of other males and females. Females have smaller, non-overlapping ranges around 200 hectares, where they establish maternity dens in late-winter and early spring. Female territories occur in areas with abundant prey and suitable denning resources, like hollow logs, rock outcrops, small caves, and tree hollows.
Animal facts
Common name

Spotted-tailed quoll

Scientific name

Dasyurus maculatus

Conservation status in NSW

Vulnerable

Threats and conservation

Studies indicate that populations are likely stable across south-eastern Australia's remaining areas of large, connected forest landscapes. Outside these large reserves, quoll numbers are more vulnerable to threats including habitat loss and fragmentation, changes in climate, increasing wildfire, competition with foxes and feral cats, roadkill and persecution by people, who often blame quolls for harming poultry.

The NSW Government's Saving our Species conservation program is working to reduce threats and safeguard a future for these native animals. Learn more about the Quollidor Project, which is contributing to improved management and monitoring of quolls in Barren Grounds Nature Reserve and Budderoo National Park, south of Sydney.
You might also like
Today, we're at risk of losing nearly 1000 of our state's native animals and plants. That's why the NSW Government established Saving our Species. It'...

Around 85% of the approximately 900 threatened species in NSW are found in our national parks and reserves. Find out what we're doing to protect threa...
Parks in which this animal is found