Wombeyan Karst Conservation Reserve
Learn more
Learn more about why this park is special
Wombeyan Karst Conservation Reserve is a special place. Here are just some of the reasons why:
On show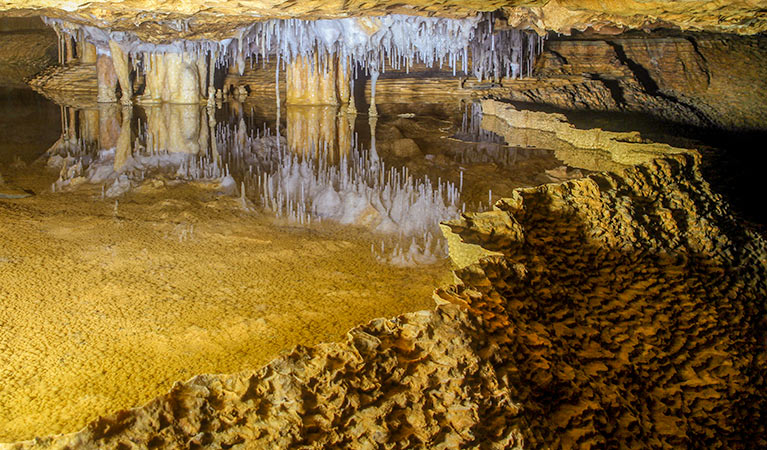 The limestone caves of Wombeyan Karst Conservation Reserve are between 400 and 430 million years old. The geological processes that have created the magnificent cave system you see today continue to work their magic; you'll notice the impressive cave decorations including stalactites and stalagmites that are created by the infiltration of water into the caves. Take a guided Discovery tour to find out more about the history and geology of the caves.
Dennings Labyrinth

Dennings Labyrinth, in Wombeyan Karst Conservation Reserve, is a guided tour through one of the park's show caves.

Fig Tree Cave

Be sure to take the self-guided tour of the impressive Fig Tree Cave while you're at Wombeyan Karst Conservation Reserve. The cave decorations are a sight to see.
Life in the air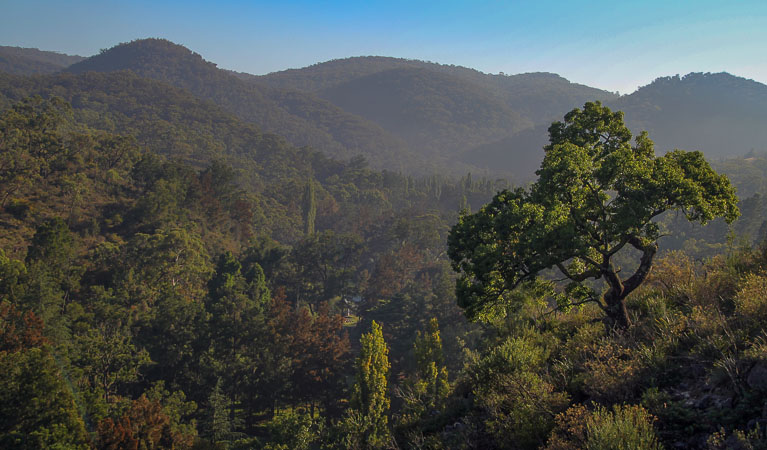 Wombeyan Karst Conservation Reserve plays a special role in the conservation of some of Australia's precious native flora and fauna. The moist forest that surrounds the park's creeks are home to superb lyrebirds, the eastern whipbirds and flycatchers; look for lyrebird scratches around on the forest floor. Keep your eyes in the sky around the park's rocky outcrops for birds of prey, including brown goshawks and wedge tailed eagles. You'll have to look particularly carefully to see a tawny frogmouth; their camouflage is excellent- staying very still and upright- you might mistake them as part of the branch.
Mares Forest Creek walking track

Tracking through a marble karst area along a stream, Mares Forest Creek walking track in Wombeyan Karst Conservation Area takes you to Tinted Cave.

Victoria Arch walking track

A short walk on Victoria Arch walking track, in Wombeyan Karst Conservation Reserve, takes visitors through the bush to a remarkable natural formation.
Aboriginal connections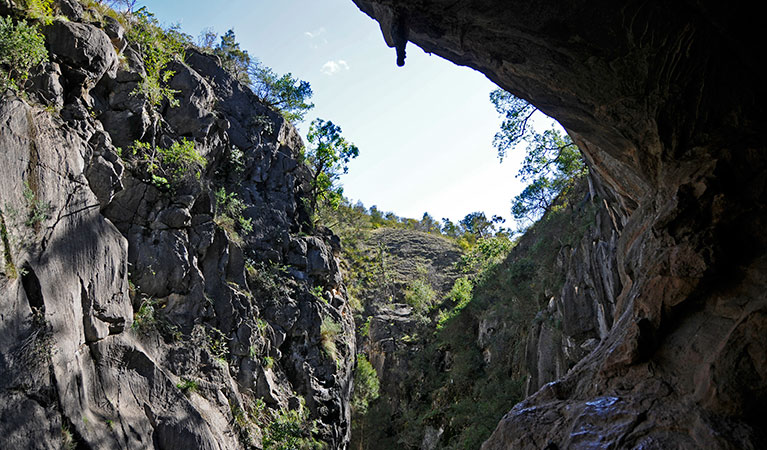 Wombeyan Karst Conservation Reserve is located within the traditional land of the Gundungurra People, with the word Wombeyan coming from local language meaning 'grassy valley between mountains'. It's believed that Wombeyan Caves were part of an Aboriginal travel route that coincided with seasonal availability of food and the caves may have provided reliable shelter. The Dreamtime myth of Gurrangatch relates to the forming of Wombeyan and Jenolan Caves. The caves are said to have been formed during a contest between Gurangatch, a mythical being that was part fish and part reptile, and Mirragan, a legendary tiger cat.
Plants and animals you may see
Look out for...
Miniopterus schreibersii oceanensis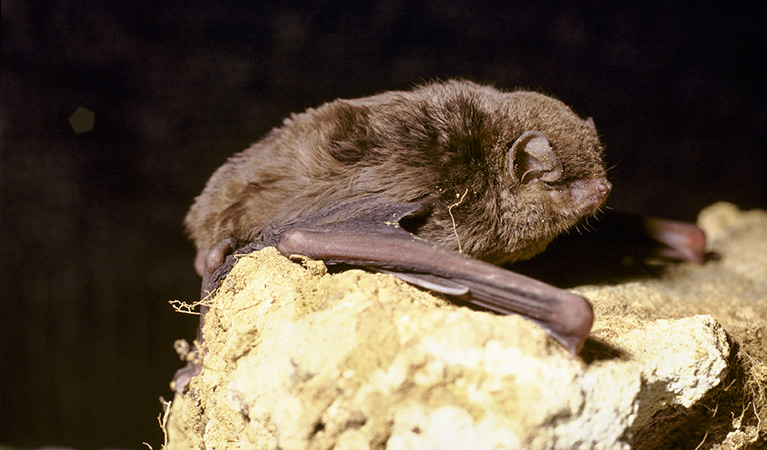 In colonies numbering up to 150,000, eastern bentwing-bats congregate in caves across the east and north-west coasts of Australia. These small Australian animals weigh around 13-17g and can reach speeds of up to 50km per hour. Eastern bentwing-bats use both sight and echolocation to catch small insects mid-air.
Environments in this park
Education resources (1)
Naturescapes e‑newsletter