Murramarang 3-day guided coastal journey
Murramarang National Park
Learn more
Learn more about why this park is special
Murramarang 3-day guided coastal journey is in Murramarang National Park. Here are just some of the reasons why this park is special:
Bird watching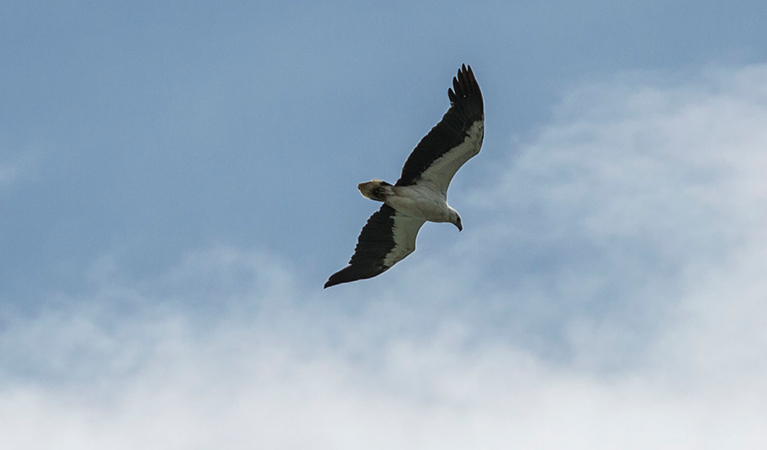 Birdwatchers are in for a treat; the park boasts more than 90 species of birdlife including three owl species, peregrine falcons, sea eagles, gannets, shearwaters, white-faced storm petrels, sooty oystercatchers, eastern yellow robins, satin bowerbirds, the rufous fantail and even a penguin colony. Look for the sea eagles and peregrine falcons soaring above the park's cliffs and headlands and the rufous fantails and eastern yellow robins in rainforest gullies around Durras Mountain. You're most likely to see sooty oystercatchers wading around the edges of lake areas.
Native animals
There's an abundance of wildlife living in Murramarang National Park, but by far one of the highlights is seeing eastern grey kangaroos that spend their days dozing near the beaches and by campgrounds until dusk when they gather to feed. In the moist forests of the park you might see lyrebirds fossicking in leaf litter. Look for the stately, strutting wonga pigeon with its pastel blue-grey back feathers and black dotted stomach. If you don't see it, you may well hear its repetitive, deep 'whoop, whoop' call that carries through the forest.
Burrawang walking track

Burrawang walking track, across Depot Beach Headland, features scenic coastal views, forests and birdwatching in Murramarang National Park, near Batemans Bay.

Richmond Beach

Richmond Beach is one of Murramarang's hidden treasures. Just 50m from the carpark on an easy walking track you can enjoy picnicking, swimming, snorkelling, fishing and paddling.
Native vegetation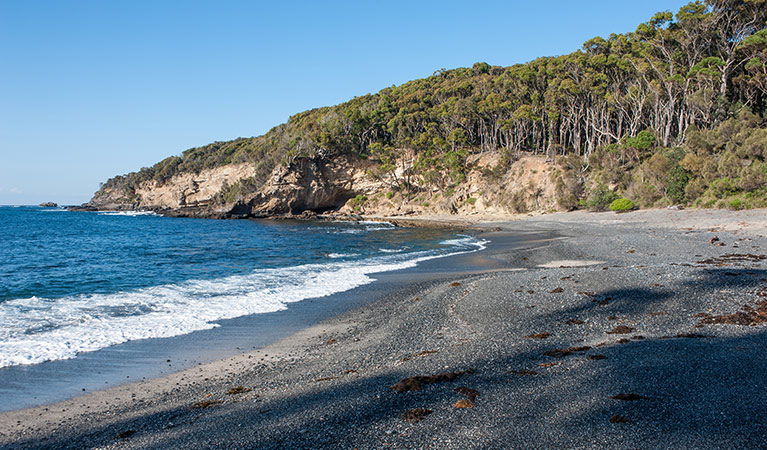 One of the really special things in Murramarang is the forest of majestic spotted gums; it's one of the biggest continuous stands in NSW. With an understorey of burrawang palms, the forest stretches right down to the ocean and is truly a sight to see. You'll easily recognise the spotted gums – they have a smooth, dimpled bark which is shed in summer to produce a mottled cream and grey 'spotted' appearance.
Dark Beach walking track

Dark Beach walking track leads to a secluded beach with unique rock formations in Murramarang National Park. Ideal for fishing, swimming and snorkelling.

Depot Beach Rainforest walk

Depot Beach marks the start and end of this easy walk through lush littoral rainforest. Go for a swim, surf, snorkel or paddle in the clear waters when you return.

Rock Platform walk - Depot Beach

Rock Platform walk near Depot Beach is a short walk to fascinating rockpools offering excellent birdwatching and scenic ocean views of the South Coast, just north of Batemans Bay.
Rich Aboriginal cultural heritage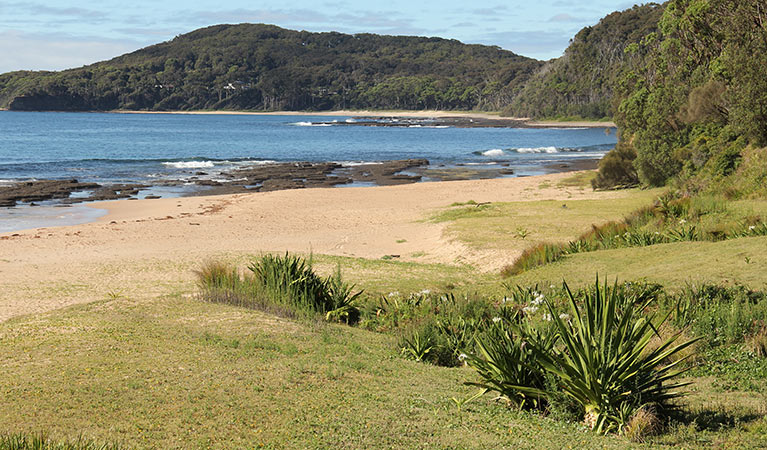 Aboriginal people have a long connection with the Country of Murramarang National Park, and this continues to the present day. The south coast headlands have long been a focus for economic life, giving easy access to the food resources of both the sea and the land, and plants within the park provided medicines and shelter. There is much evidence of the past today, including shell middens, tool manufacturing sites and indications of a specialised industry producing bone points and fishing hooks. Take a walk around Murramarang Aboriginal Area, near Bawley Point - there's a complex of middens that are of great cultural value.
Plants and animals protected in this park
Animals
With vibrant blue-violet eyes and curious antics, the satin bowerbird is a favourite for bird watching and easy to spot as it forages for food in open forest. Relatively common across eastern Australia, in NSW they're found in coastal rainforests and adjacent woodlands and mountain ranges.
Plants
Look out for...
Allocasuarina littoralis
The black sheoak is one of a number of casuarina species found across the east coast of Australia and nearby tablelands. Growing to a height of 5-15m, these hardy Australian native plants can survive in poor or sandy soils. The barrel-shaped cone of the black sheoak grows to 10-30mm long.
Environments in this park
Education resources (1)
School excursions (3)
Naturescapes e‑newsletter