Woody Head cottages and cabins
Bundjalung National Park
Learn more
Learn more about why this park is special
Woody Head cottages and cabins is in Bundjalung National Park. Here are just some of the reasons why this park is special:
An ancient landscape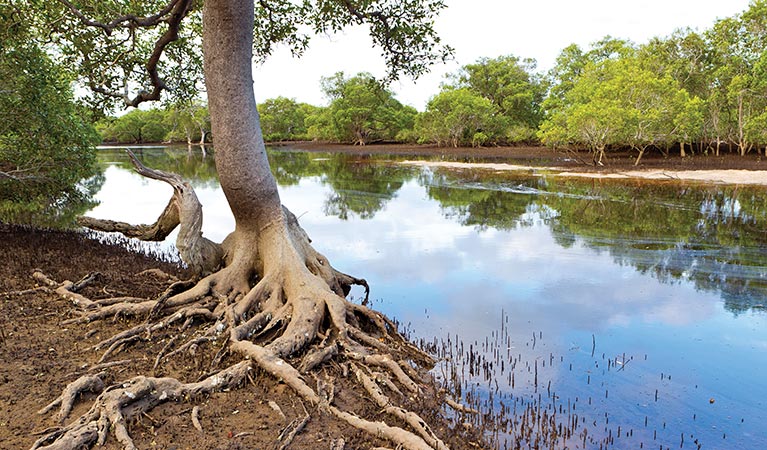 At Bundjalung National Park you can visit Gummigurrah, an area that was used as a winter camping ground by the Bandjalung People. This park is one of a group where the Bandjalang People's native title rights have been recognised and is only the third determination of native title rights in New South Wales. Native title rights come from the Bandjalang People's traditional laws and customs and legally recognise the Bandjalang People's connection to Country. This means that these lands will continue to be places of ceremony, learning and inspiration for generations to come.
Meet the locals
The varied habitat of Bundjalung National Park is home to over 140 species of fauna. Wake to the morning melodies of eastern whip-birds, bower birds and the rare barred cuckoo-shrike. At dawn and dusk, you might find eastern grey kangaroos, red-necked wallabies and swamp wallabies congregating around your campsites. Scour the tops of nearby trees and you might also catch a glimpse of a sleeping koala or two.
Iluka Bluff lookout

Stay as long as you like to enjoy the views at Iluka Bluff lookout, near Yamba. Not only is it an excellent whale watching spot, it's also a great place to picnic.

Jerusalem Creek walk

Keep your eyes peeled for birds nesting along the creek along the Jerusalem Creek walk. Enjoy the hike as a day walk or shorter walk and finish up with a picnic lunch.
Water world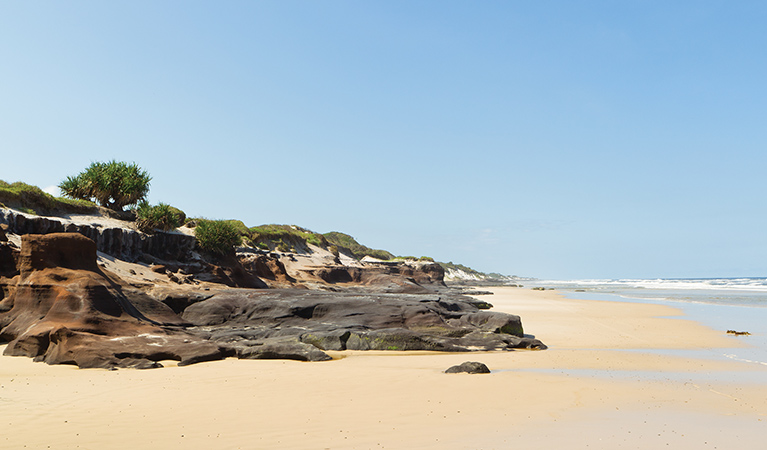 Bundjalung protects a variety of environments that feature water, including beaches, rivers, wetlands and lagoons. You'll find different types of plants, animals and birds in each one; look for coast banksia, coast she-oak and coastal wattle on the dunes that back onto the beach. Immerse yourself in this world by canoeing the waterways, rambling in the rock pools and swimming in the ocean.
Plants and animals protected in this park
Look out for...
Varanus varius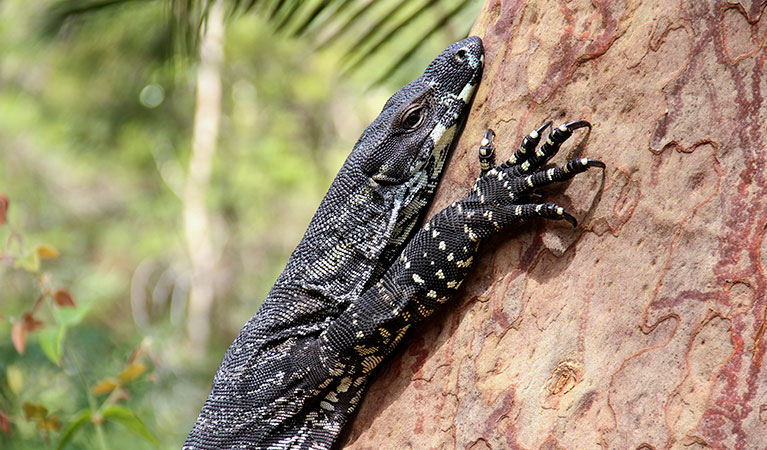 One of Australia's largest lizards, the carnivorous tree-dwelling lace monitor, or tree goanna, can grow to 2m in length and is found in forests and coastal tablelands across eastern Australia. These Australian animals are typically dark blue in colour with whitish spots or blotches.
Environments in this park
Education resources (1)
Naturescapes e‑newsletter