Newbys lookout
Coorabakh National Park
Learn more
Learn more about why this park is special
Newbys lookout is in Coorabakh National Park. Here are just some of the reasons why this park is special:
A legacy of timber harvesting
Before it was a national park, Coorabakh had a long history of forestry operations. This was once a centre of intensive logging - particularly during the World Wars - and visitors can still find physical remnants of the industry. One evocative site is the Langley Vale tramway, which was originally used to transport timber 21km from Old North Camp to Langley Vale, first by horse and later by steam engine. The line was abandoned in the 1940s, but relics still remain: timber bridges, elevated platforms, offcuts left to moulder in the forest, reclaimed by nature.
Eighteen forest ecosystems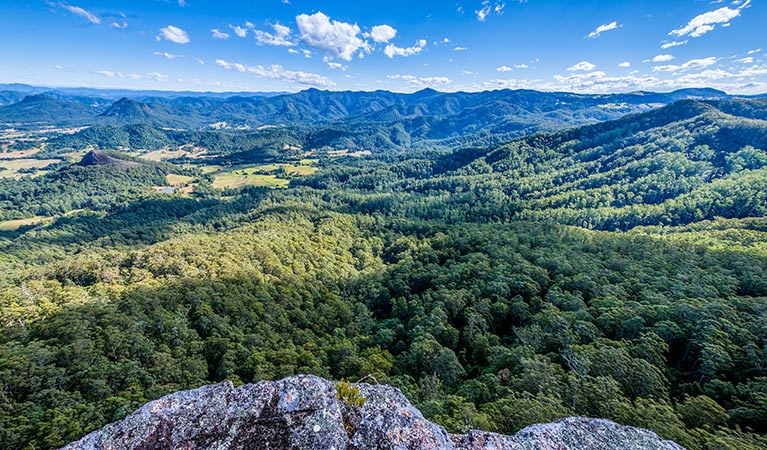 The astonishing variety of forest ecosystems in Coorabakh vary from wet foothills covered in blackbutts to subtropical rainforest. This makes a visit a fascinating experience as you range from high lookouts over eucalyptus canopies to cool mossy creekbeds.
Big Nellie lookout and picnic area

Big Nellie, in Coorabakh National Park, and the scenic lookout at its base offers a vantage point for photography and birdwatching, as well as a great place to picnic.

Flat Rock lookout

Flat Rock lookout offers scenic views over the Coxcomb, Goonook and Killabakh nature reserves, as well as great picnicking and birdwatching opportunities.

Newbys lookout

Newbys lookout, on the edge of the Landsdowne escarpment, offers scenic views over Manning Valley as well as opportunities for birdwatching and picnicking.
Home to rare native species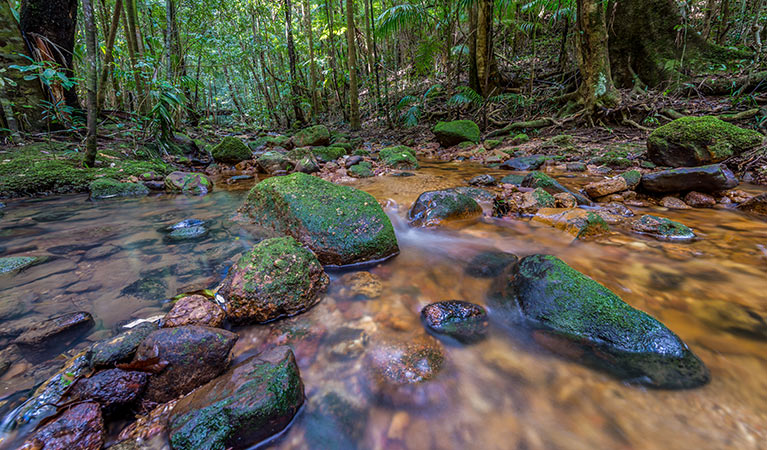 The park is important at a regional level for a number of rare and significant plant species. There are also several species of threatened animal, including the spotted-tailed quoll, yellow-bellied glider, powerful owl and stuttering frog. Don't forget your camera.
Newbys Creek walk and caves

A short walk along Newbys Creek in Coorabakh National Park takes visitors to a scenic cave, where a large overhanging rock creates a natural shelter above the stream.

Starrs Creek picnic area

Great for picnicking and birdwatching, Starrs Creek picnic area in Coorabakh National Park also offers an elevated boardwalk that opens up the rainforest on an easy walk.
The Aboriginal connection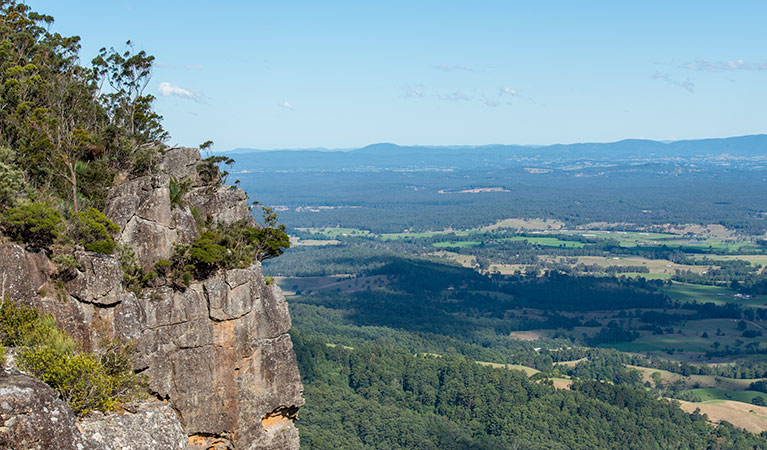 Before Europeans arrived, the area was the traditional domain of the Ngaamba People. Research suggests that they once used the dramatic cliff lines and distinctive volcanic formations to navigate the region. They may also have been important for cultural practices, sites of sacred ceremonies and other social gatherings.
Education resources (1)
Naturescapes e‑newsletter