Myanba Gorge lookout
South East Forest National Park
Learn more
Learn more about why this park is special
Myanba Gorge lookout is in South East Forest National Park. Here are just some of the reasons why this park is special:
Ancient connections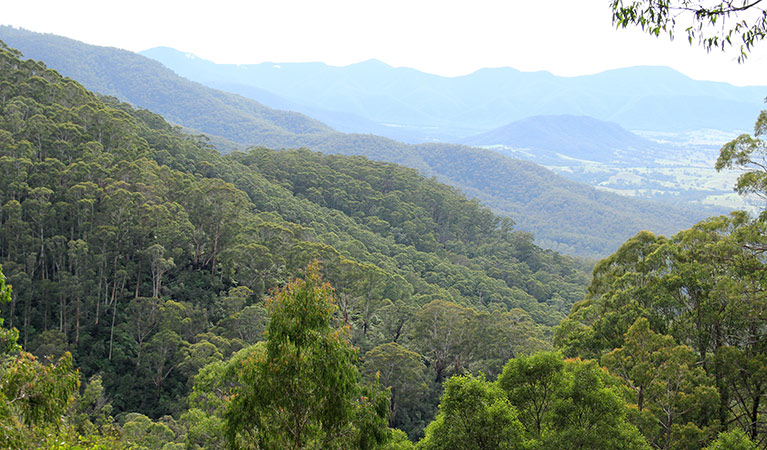 South East Forest National Park is part of the traditional country of the Yuin People, who had a diverse economy and cultural links with neighbouring Aboriginal clans and tribes. South East Forest National Park and the surrounding area provided a diverse food source of animals and fish, a rich resource for weapon and tool construction, as well as a source of medicines and transport. The park protects a number of Aboriginal sites and remains an important landscape for Aboriginal people today.
Old-growth
In the early 19th century, explorers, miners, squatters and timber getters led the way into the area that is now South East Forest National Park. The forests within the park were utilised as resources for many years up until the 1980's when their transition to national park commenced. The old-growth forest contains eucalypt trees in their final cycle of growth; trees that provide many different types of nest or home sites for wildlife. Some animals, like large forest owls and glider possums depend on these forests for hollows that develop over long periods of time. Pipers lookout in the northern part of the park is a good place to see old growth forests. Take the short loop walk to see magnificent views of Bemboka and the Bega Valley below, and walk through towering old growth forest.
Rock on
South East Forest National Park protects unique physical features that are sure to appeal to budding geologists, keen photographers and nature-lovers alike. The huge granite tors at Pheasants Peak are the result of volcanic activity and millions of years of weathering and erosion. For a close up view, take the challenging Pheasants Peak walk, you'll also be rewarded with stunning views towards the Snowy Mountains and down the south coast escarpment. Don't miss the elliptically shaped Jingera complex at Jingera Rock near the town of Wyndham; a sheer syenite rockface that is the first reported complex of its type in Australia.
Wildlife haven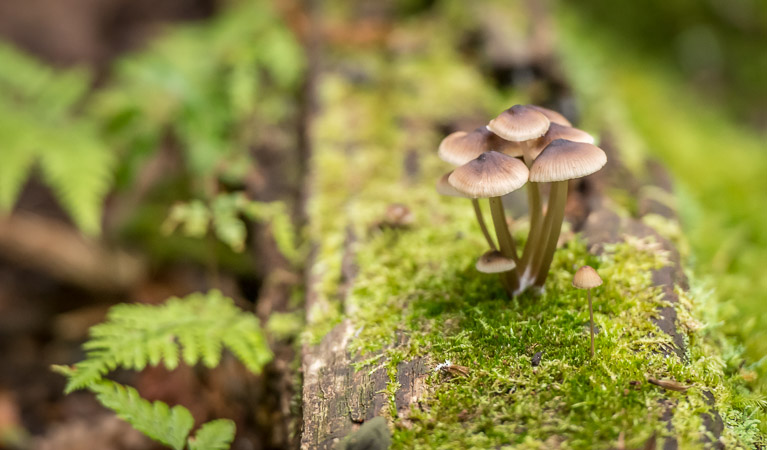 Koalas, powerful owls and giant burrowing frogs are among the threatened species protected within South East Forest National Park. The park also shelters the state's only known populations of endangered long-footed potoroos. Head to White Rock picnic area and look for small conical pits in the ground - evidence of a potoroo's night-time search for fungus. If you're camping overnight at Six Mile Creek or Nunnock campgrounds, listen and watch for nocturnal creatures like gliders and possums.
Goodenia Rainforest picnic area

Combine a barbecue with birdwatching at Goodenia Rainforest picnic area, near Merimbula. The easy Goodenia Rainforest walk starts from this scenic picnic area.

Waalimma picnic area

Located near both Bega and Bombala on the NSW south coast, Waalimma picnic area in South East Forest National Park is great for birdwatching, bushwalking and camping.
Plants and animals protected in this park
Look out for...
Ninox novaeseelandiae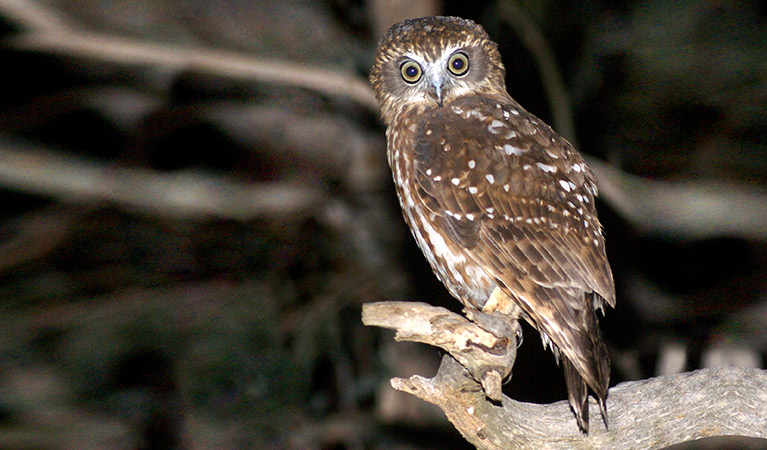 The southern boobook, also known as the mopoke, is the smallest and most common native owl in Australia. With a musical 'boo-book' call that echoes through forests and woodlands, the southern boobook is a great one to look out for while bird watching.
Environments in this park
Education resources (1)
Naturescapes e‑newsletter