Brambles Green campground
Myall Lakes National Park
Learn more
Learn more about why this park is special
Brambles Green campground is in Myall Lakes National Park. Here are just some of the reasons why this park is special:
Ancient connections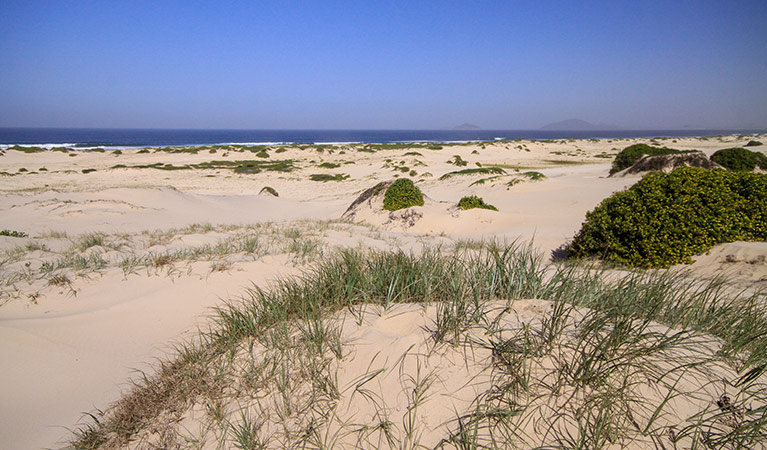 Myall Lakes National Park is part of the Country of the Worimi Aboriginal people, who used the area's natural resources, like freshwater lakes, the ocean and native flora and fauna to live a traditional fisher-hunter-gatherer lifestyle. Much evidence of their long connection with this Country can be seen today throughout the middens in the park. The landscape of Myall Lakes includes important spiritual sites that are an important part of the identity of local Aboriginal people. Make sure you visit Dark Point Aboriginal Place while you're at visiting the park. This rocky headland has been of significance to Worimi people for at least 4000 years. The clans or nuras (family groups) within the Worimi people would gather together here for ceremonies and feasts.
Dark Point Aboriginal Place

Dark Point Aboriginal Place, in southern Myall Lakes National Park, is a culturally significant site for the Worimi people with scenic coastal views across to Broughton Island.

Mungo walking track

Mungo walking track offers a variety of Aboriginal and historic sites, diverse vegetation, and mountain biking in Myall Lakes National Park, near Hawks Nest.
Go fish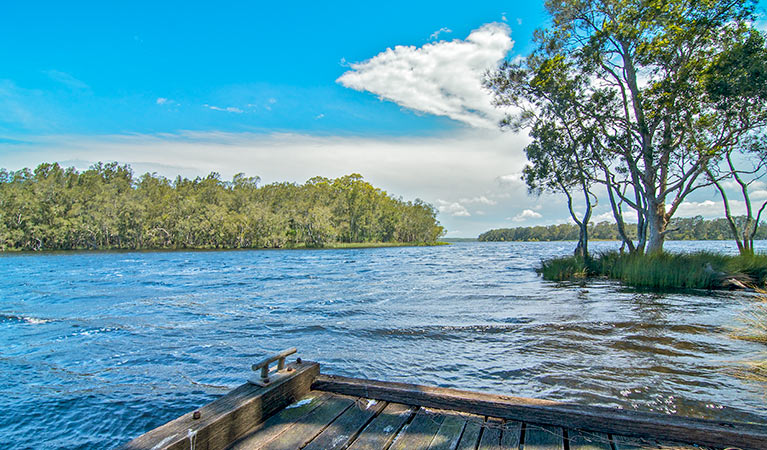 Fishing is a popular activity in Myall Lakes, with catches likely to include bream, whiting, Australian salmon, flathead and mullet. There are lots of great places in the park to throw in a line, like the beaches, lakes or rivers. Try fishing from your boat or for a relaxing day on the water you could try a spot of kayak fishing. At Myall Lakes you can also go camping, boating, swimming and canoeing. And when you've tried all of those, you can explore the park on foot, by 4WD or bike, stopping for a spot of bird watching or to enjoy a picnic or barbecue lunch along the way. Whatever your interests, there is bound to be something that takes your fancy.
Mining Road to Old Gibber Road cycling trail

Mining Road to Old Gibber Road cycling trail is an easy bike ride within Myall Lakes National Park. You can complete the ride in one day or take your tent to camp overnight.

Mungo Rainforest walk

Enjoy a short and easy rainforest walk with the birds in Myall Lakes National Park, not far from Buladelah. Afterwards, you can enjoy a picnic or barbecue at Mungo Brush.
Internationally recognised wetlands
Since 1999, this internationally recognised wetlands site, has been listed under the Ramsar Convention due to its diverse mosaic of near-natural wetlands, within a relatively unmodified coastal lake system. There are 18 different wetland types with extensive interconnected lake and river systems within the forested wetlands and swamps that fringe the waterways, rocky and sandy shores, and offshore islands off the coastline. This wetland site houses a complex variety of habitats with rich biodiversity, including threatened species and migratory birds protected under international agreements. The Myall Lakes wetlands also have a high cultural and social value as they occur within the traditional lands of the Worimi Aboriginal people, where the varied wetlands, environments and abundant resources provided an ideal living environment. Evidence of this traditional occupation exists across the landscape, including the Dark Point Aboriginal Place.
Plants and animals protected in this park
Animals
Plants
With glossy green leaves spanning 3-4m in length and a trunk reaching a height of up to 30m, the cabbage tree palm, or fan palm, is one of the tallest Australian native plants. Thriving in rainforest margins along the east coast of NSW, in summer this giant palm produces striking spikes of cream flowers which resemble cabbages.

The wonga wonga vine is a widespread vigorous climber usually found along eastern Australia. A variation of the plant occurs in the central desert, where it resembles a sprawling shrub. One of the more common Australian native plants, the wonga wonga vine produces bell-shaped white or yellow flowers in the spring, followed by a large oblong-shaped seed pod.
Look out for...
Perameles nasuta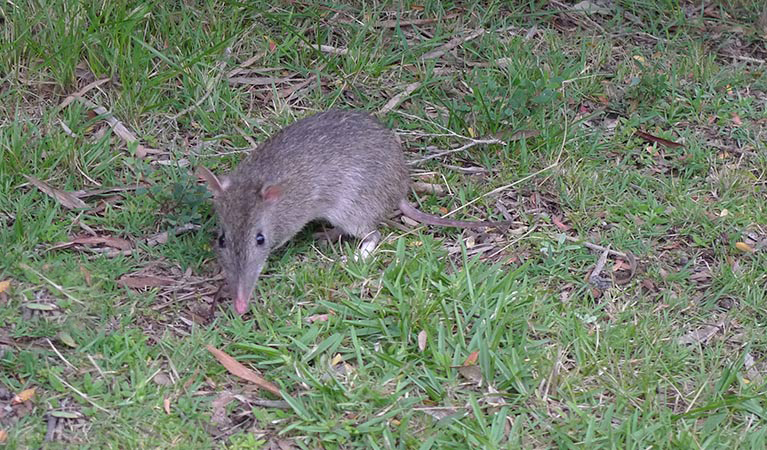 A nocturnal marsupial and one of the smaller Australian native animals, the long-nosed bandicoot is found across eastern Australia. Populations in the Sydney region have dwindled since European settlement, leaving only endangered colonies in inner western Sydney and at North Head, near Manly. The long-nosed bandicoot has grey-brown fur and a pointed snout which it uses to forage for worms and insects.
Environments in this park
Education resources (1)
Naturescapes e‑newsletter