Caleys lookout track
Bents Basin State Conservation Area
Learn more
Learn more about why this park is special
Caleys lookout track is in Bents Basin State Conservation Area. Here are just some of the reasons why this park is special:
Aboriginal heritage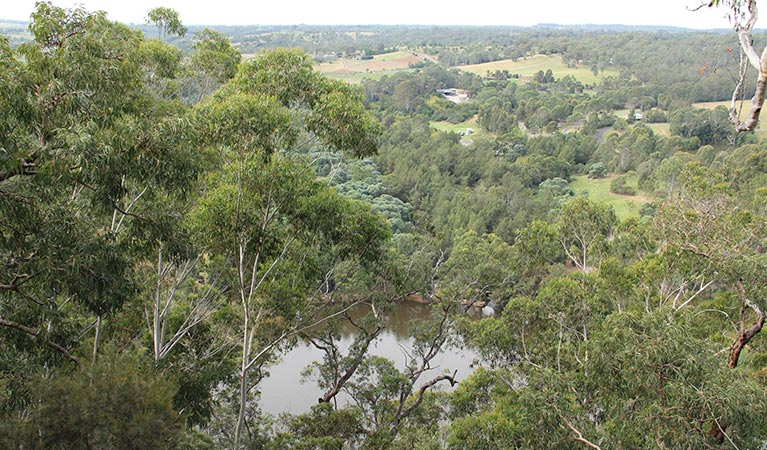 Bents Basin State Conservation Area is the traditional land of the Gundungurra, Dharawal and Darug people. Also known as Gulguer (meaning whirlpool or spinning), Bents Basin is associated with an awful aquatic creature called Gurungadge or Gurungaty. This creature is prominent in the area's ancestral stories. Archaeological finds suggest the area was also an important trading place. Bents Basin and the adjoining Gulguer Nature Reserve protect a variety of Aboriginal rock art and artefacts.
Bygone days
Explorer and botanist George Caley was the first European to visit the area in 1802 and afterwards collected plant specimens for preservation. The area was later used as a stopping point for early settlers travelling from the developing east. If you're interested in the local history of western Sydney, be sure to check out the historic inn, established in the 1860's and listed on both the state and National Heritage Register, you'll find it near Peppercorn picnic area.
Fascinating and fun
The basin itself is what draws most people here. Known as a scour pool, this geological formation is like a small lake, created over time by fast-flowing floodwaters exiting the gorge about 30-40km/hr. At 22m deep, its waters travel 150km before reaching the ocean. In addition to that, it's heaps of fun to visit for a spot for swimming, fishing, paddling and liloing.
Rare communities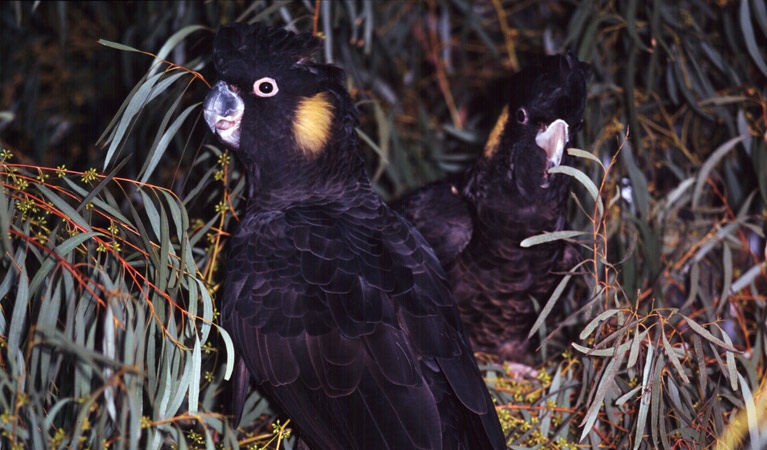 A visit to the park allows you to see majestic Camden white gums in one of only two known naturally-occurring populations. Look out also for Cumberland Plain woodland which once blanketed almost 30% of the Sydney Basin. Today, its scattered fragments cover less than 6% and remain under threat. Important fauna species include the regent honey eater, Cumberland Plain land snail, eastern bentwing bat, sooty owl and the glossy black cockatoo.
Caleys lookout track

Caleys lookout track is a short and steep walk through bushland of Bents Basin State Conservation Area near Penrith. Take your lunch – it's a great spot for a picnic.
Plants and animals protected in this park
Look out for...
Trichosurus vulpecula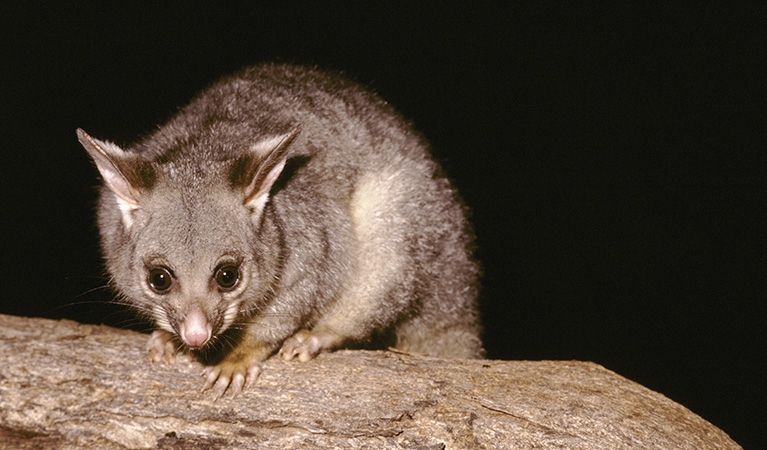 One of the most widespread of Australian tree-dwelling marsupials, the common brushtail possum is found across most of NSW in woodlands, rainforests and urban areas. With strong claws, a prehensile tail and opposable digits, these native Australian animals are well-adapted for life amongst the trees.
Environments in this park
Education resources (1)
Naturescapes e‑newsletter