Brunswick Heads guided beach fishing adventures
Brunswick Heads Nature Reserve
Learn more
Learn more about why this park is special
Brunswick Heads guided beach fishing adventures is in Brunswick Heads Nature Reserve. Here are just some of the reasons why this park is special:
A home by the beach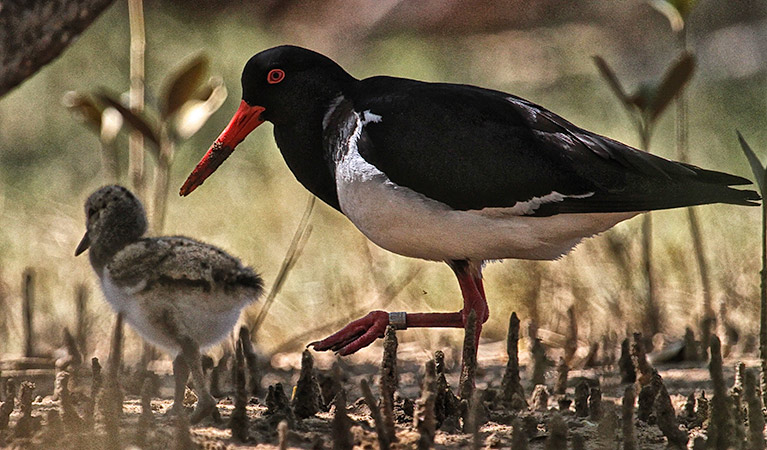 Forty-three threatened animal species have been recorded in and around the reserve. Humpback whales can be seen off the coast during the migration period, and the world's smallest fruit bat called common blossom, which is just 6cm long, can also be seen. Other animals include the grey-headed flying fox, wallum froglet, long-nosed potoroo and koala. Critically endangered loggerhead turtles and vulnerable green turtles sometimes nest on New Brighton Beach. Brunswick Heads Nature Reserve is also home to threatened pied oystercatchers, sooty oystercatchers and beach stone-curlews.
Land of plenty
Brunswick Heads Nature Reserve lies within the traditional land of the Bundjalung people. The area, once a campground, continues to provide a ready source of food such as dugum (pipis) and julum (fish). Harrys Hill is known as "Durrungbil', which means "water rat". When viewed from the south side of Brunswick River at the right angle, the profile of that water rat can clearly be seen.
Safe haven
Thirty-six threatened plant species have been recorded in the reserve. Brunswick Heads is a stronghold for many endangered rainforest plants that are either at the southern limit of their distribution or not found in many other places in New South Wales. These include Queensland xylosma, scented acronychia, durobby and white lace flower. The reserve also supports six endangered ecological communities (EEC), including littoral rainforest, swamp sclerophyll forest and coastal saltmarsh.
Brunswick River picnic area

Brunswick River picnic area is a great place to enjoy this peaceful reserve, with scenic views, easy access to fishing and plenty of birdwatching opportunities.

Byron Bay river tour and paddle

This 3-in-1 adventure with Bryon Bay Eco Cruises & Kayaks is your chance to experience a boat cruise, go paddling in a kayak, and try a stand up paddle board, or SUP on the beautiful Brunswick River.

North Head walking track

A short easy walking route on North Head walking track through coastal rainforest to Brunswick River with scenic views and chances for picnicking, whale watching and birdwatching.
Education resources (1)
Naturescapes e‑newsletter