Coonemia Creek
Jervis Bay National Park
Learn more
Learn more about why this park is special
Coonemia Creek is in Jervis Bay National Park. Here are just some of the reasons why this park is special:
Ancient connections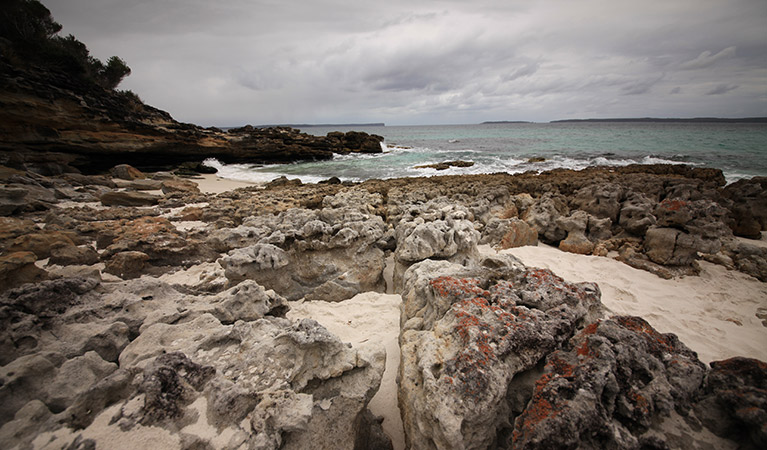 Jervis Bay sits within the lands of the South Coast (Yuin) Aboriginal people of the Dharawal-Dhurga language group. Research shows the area has the highest density and most diverse range of archaeological site types anywhere on the south coast, making this precious park an important place for the preservation of Aboriginal sites, like coastal middens, stone artefacts, rock art, and axegrinding grooves.
Diverse habitats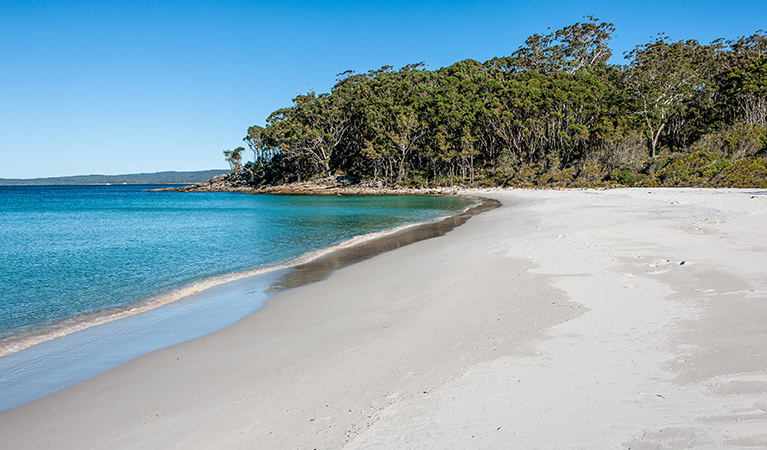 A walk through the park reveals its varied vegetation – from endangered bangalay sand forests to ubiquitous eucalypt woodlands. In the park's protected gullies you'll spot rainforest species like lilly pilly and water vine. And if you stop by Carama Inlet or Moona Moona creek, you'll see saltmarsh and mangroves. Be ready to spot plenty of wildlife among coastal heathland on the sandstone plateau near Vincentia, as well as unique flora in the park's northern clay-soiled heath.
Picture-perfect beaches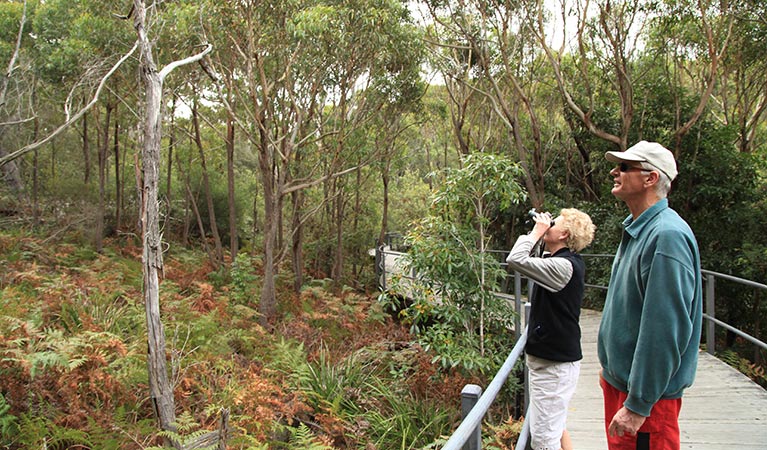 Arriving in this pristine haven, you could be forgiven for thinking you're in paradise. The region's crystal clear waters and impossibly white sand are among its biggest drawcards – the sea is ideal for fishing, swimming and snorkelling. Be sure to enjoy a wander along Hyams Beach to experience its icing-sugarsand – it's said to be the world's whitest.
Coonemia Creek

Coonemia Creek in Jervis Bay National Park is a great spot for fishing, kayaking, birdwatching or a picnic.

Greenfield Beach picnic area

Greenfield Beach picnic area in Jervis Bay National Park is perfect for a barbecue. After a tasty lunch, go for a walk or head down to the beach for a swim or snorkel.
Protected birds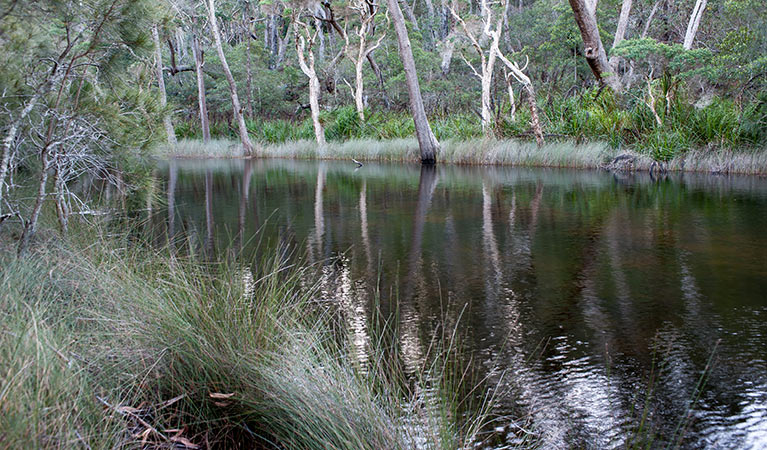 This gorgeous landscape is home to several threatened bird species that dependon the park for survival. The chance of seeing these special birds thriving makes the park a must for everyone, not just birdwatchers. Head to Lake Wollumboola to see waders and water birds or visit the heathland areas, which support eastern bristlebirds and ground parrots. You might see glossy black cockatoos among casuarina forest and powerful owls in woodland.
Hyams Beach trail

Hyams Beach trail, also known as the Bird Spotter's walk is great for birdwatching in Jervis Bay National Park. Continue the walk to Seamans Beach for a refreshing swim, and loop back along Hyams Beac...
Plants and animals protected in this park
Animals
Plants
Black sheoak

(Allocasuarina littoralis)

The black sheoak is one of a number of casuarina species found across the east coast of Australia and nearby tablelands. Growing to a height of 5-15m, these hardy Australian native plants can survive in poor or sandy soils. The barrel-shaped cone of the black sheoak grows to 10-30mm long.
Look out for...
Pelecanus conspicillatus
The curious pelican is Australia's largest flying bird and has the longest bill of any bird in the world. These Australian birds are found throughout Australian waterways and the pelican uses its throat pouch to trawl for fish. Pelicans breed all year round, congregating in large colonies on secluded beaches and islands.
Environments in this park
Education resources (1)
School excursions (4)
Naturescapes e‑newsletter