Sherwood Nature Reserve
Learn more
Learn more about why this park is special
Sherwood Nature Reserve is a special place. Here are just some of the reasons why:
Precious plant life
Sherwood Nature Reserve protects one of the few subtropical lowland floodplain rainforests remaining on the NSW North Coast, as well as dry and warm temperate rainforest and old-growth forest. A highlight is the magnificent stand of blue quandong around Woolgoolga Creek, with its whitish trunk covered in lichen and large buttresses. You might also spot the giant climbing orchid, the only known climbing orchid in Australia.
Falls walking track

Falls walking track in Sherwood Nature Reserve is an easy walk through the rainforest, offering spectacular waterfall views of Woolgoolga Creek Falls and fantastic birdwatching.

Sherwood Forest drive

Enjoy driving through diverse landscapes on Sherwood Forest Drive. This scenic trail offers picturesque places to picnic, lookouts and spectacular views along the way.
Changing landscapes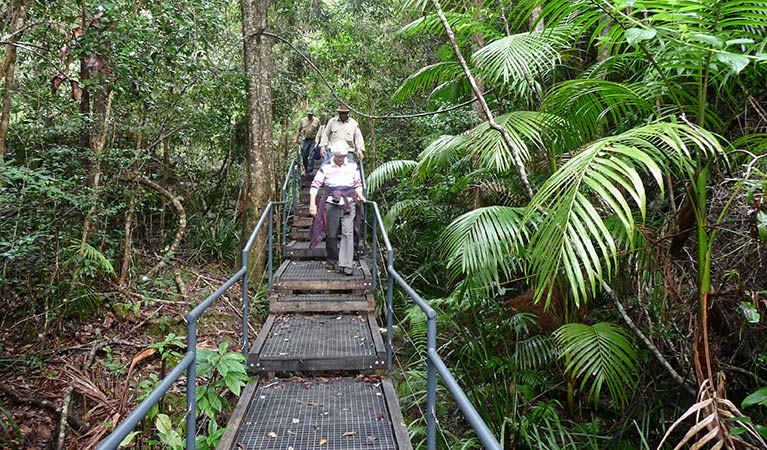 Early settlers began logging here in the 1800s, and this continued right up to 1961, when it was prohibited. In 1907, they built a tramline to take timber to the mill in Woolgoolga. In the early 1900s, banana plantations were established and from the 1960s, parts of the rainforest were cleared for plantations of flooded gums and bunya pines, some of which you can still see today. Along Falls walking track, you may also see remnants of a pipeline, built in 1966 to take water from Woolgoolga Creek Falls to Woolgoolga township.
Bird watching paradise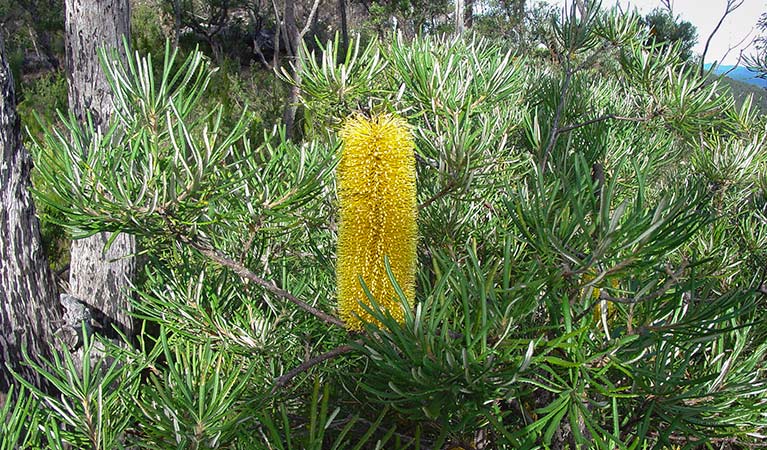 Birdwatchers will find an incredible diversity of birdlife at Sherwood. Wander through the rainforest on a spring or summer morning and you'll see and hear up to 30 different species. It's home to white-eared monarch and other common species like yellow-throated scrub wren, rufous fantail, little shrike thrush, noisy pita and log runner. It's also an important place for threatened migratory pigeons such as the rose-crowned fruit dove and wompoo fruit dove.
Aboriginal culture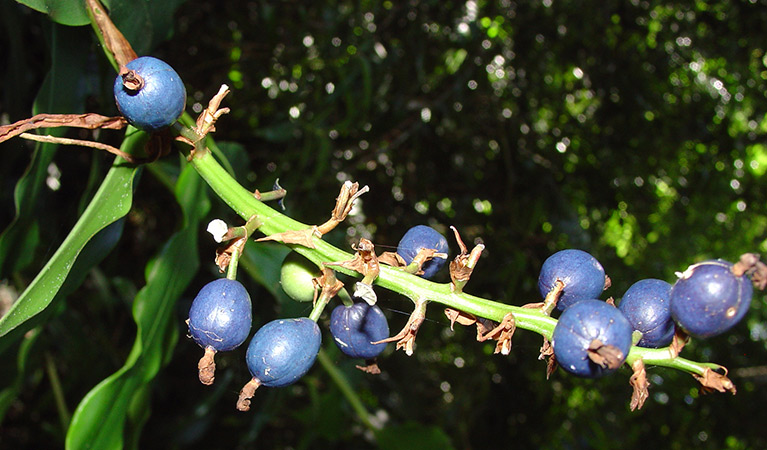 The landforms, creatures and plants of Sherwood continue to have cultural significance for the Gumbaynggir People. Plants found in the rainforest such as figs, rosella leaves, tamarinds, ginger fruit and wombat berries are important for local cultural knowledge. There are also many special Aboriginal sites in the reserve, like Woolgoolga Creek, which is important for Gumbaynggir Women. This gives visitors a fascinating insight into Aboriginal culture and heritage.
WildThings at Sherwood Nature Reserve

Join us and discover the WildThings of Sherwood Nature Reserve in this science and technology excursion for Stage 1 (Years 1-2) students. Together we'll investigate the living world, using our senses ...

WildTracker at Sherwood Nature Reserve

Join us and walk on the wild side on WildTracker – an excursion for Stage 2 (Years 3-4) students. Together we'll carry out investigations under the towering flooded gums and blue quandongs of Woolgool...
Education resources (1)
School excursions (2)
Naturescapes e‑newsletter