Waterfall walk
Willi Willi National Park
Learn more
Learn more about why this park is special
Waterfall walk is in Willi Willi National Park. Here are just some of the reasons why this park is special:
An ancient story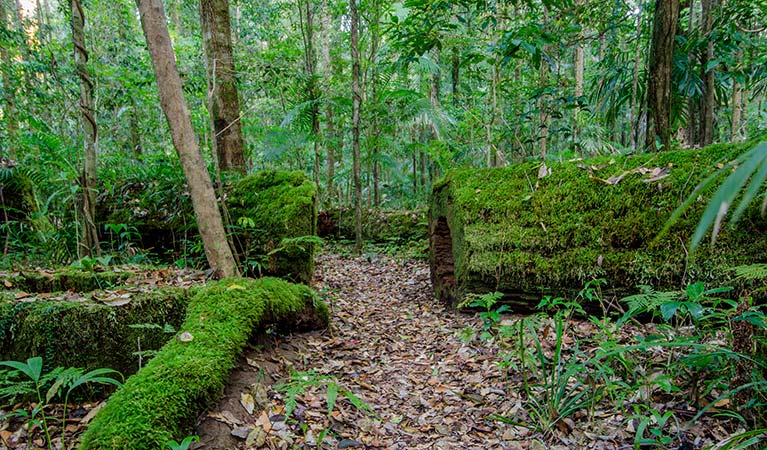 Today's lush rainforests are direct relations of the ancient forests of Gondwana within the Antarctic Circle. Around 80 million years ago, the ancestral continent broke up and Australia started moving north, which eventually reduced most of the rainforests to a narrow strip along south-eastern Australia. As well as World Heritage-listed rainforests, the park protects a diversity of vegetation, including old growth eucalypt forests and open heath. This diverse vegetation provides food and shelter for a medley of creatures; small ground mammals and bats, the endangered Hastings River mouse, the yellow-bellied glider. Australia's largest marsupial carnivore, the spotted-tailed quoll, also calls Willi Willi home.
Botanic walk

A short stroll not far from Wauchope, Botanic walk heads through World Heritage rainforest and is great for birdwatching and relaxing with the family over a picnic.
Ground beneath our feet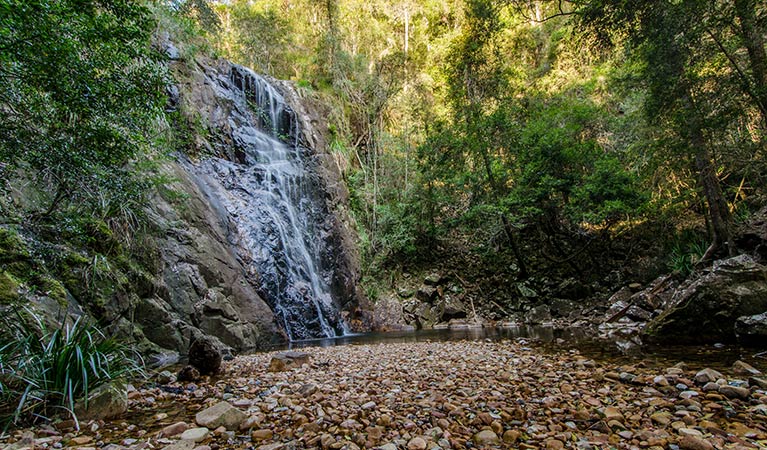 The geology of Willi Willi National Park is for the most part mudstone, sandstone and conglomerate, making the terrain exceptionally steep and rugged. These rocks are more resistant to erosion than the sedimentary beds, making them the cause of such rippled landscapes and the spectacular angles of the park.
Hastings Forest Way touring route

See Gondwana rainforest, go camping, birdwatching and enjoy amazing scenery on a scenic drive through Hastings Forest Way touring route near Port Macquarie and Wauchope.

Waterfall walk

This medium-difficulty trail, not too far from Kempsey, walks you through flourishing World Heritage-listed rainforest of Willi Willi National Park. You can also picnic by waterfalls and swim in a nat...

Wilson River picnic area

Wilson River picnic area near Wauchope is the ideal place to begin your driving or walking adventures. Bring a picnic, explore rainforests on a walking track and swim near the waterfall.
The land provides balance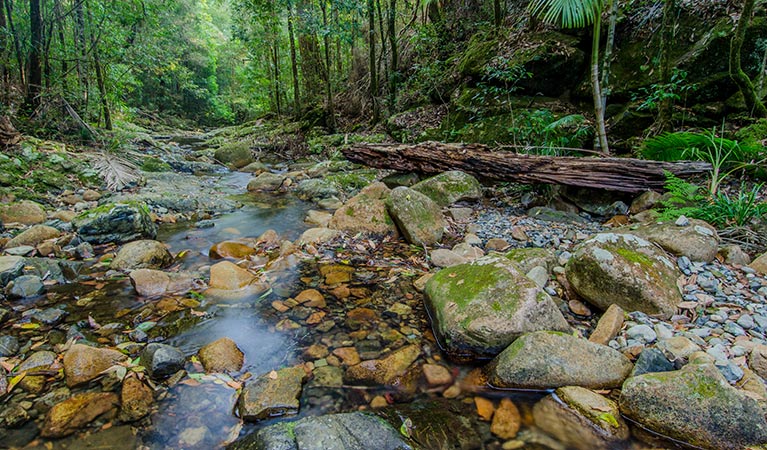 The name Willi Willi National Park is derived from the local Dunghutti Aboriginal word 'willai' meaning possum. The repetition of the word indicates a plural form translating roughly as "many possums". Dunghutti Aboriginal Nguloongooras (wise elders) would perform secret 'increase rituals' on sacred mountain tops such as Kemps Pinnacle, near the western boundary of the park, to extend their food supply. Placing limits on certain species during seasonal variations allowed for a natural increase in food resources. It was the wish of their great deity, Woormprahl, for them to create this balance with nature.
Education resources (1)
Naturescapes e‑newsletter