Figure Eight Pools
Royal National Park
Overview
Figure Eight Pools is located on a dangerous rock shelf in Sydney's Royal National Park near Burning Palms Beach. Plan your trip using the wave risk forecast.
Overview
Figure Eight Pools is located on a dangerous rock shelf in Sydney's Royal National Park near Burning Palms Beach. Plan your trip using the wave risk forecast.
Don't risk it - plan your trip
Getting there – it's a long walk!
It's a long, hard 6-9km walk on a steep, narrow, slippery track in a remote area.
The walk takes 2 to 2.5 hours each way. Give it a miss if you're not feeling fit.
Aim to get to Figure Eight Pools before midday. No one wants to walk back up that hill in the dark, and park gates are locked by 8.30pm.
Take care, the terrain is uneven and not suitable for young children or prams.
If you must visit, look at a map first and wear the right shoes. This isn't the place for thongs or high heels.
Walking directions
Start the walk at Garawarra Farm carpark, off Garie Road
The track winds down a steep hill, before it meets The Coast Track which you follow to Burning Palms Beach
Continue walking south from Burning Palms Beach to Figure Eight Pools.
Return the same way
This is a 6km-return walk and takes 2 hours each way
Only visit at low tide
Use our risk forecast to plan your trip. Don't go if it's mid tide, high tide, or if stormy weather is forecast.
Never turn your back on the ocean.
When you get to the rock shelf, stop and watch the waves for a bit before walking to the rock pools.
Surf conditions at Figure Eight Pools change quickly. The ocean can be calm for a couple of minutes before a series of big waves can suddenly smash the rock shelf.
Regular injuries
Injuries happen at Figure Eight Pools all the time. Don't let it be you.
People often get dragged across the rock shelf by freak waves. We've seen head injuries, broken bones, and bad cuts and bruises from slipping on rocks.
Some injured people had to stay overnight because there's no emergency access. Think it can't happen to you?
Emergency rescue
In case of an emergency, ring Triple Zero (000) if you can get mobile coverage, which is limited.
There are no lifeguards or rescue services nearby so you could be waiting a long time for help if you're injured.
If Emergency Services have to attend, they'll either have to walk down, or in extreme cases, you may need to wait overnight…and then have to pay for it!
So, before you go, tell someone your plans and what time you're coming back.
What to bring
It's a hot, thirsty, difficult walk and there are no facilities. No toilet, no water, no food, no bins.
If you must visit, pack this:
2 litres of water per person
Snacks
Hat
Sunscreen
Closed shoes
Fully-charged mobile phone
First-aid kit
Visit Figure Eight Pools on a guided tour
Despite warnings, some can't resist the temptation for a selfie. If you have to go, take a safe option and go there on a guided tour with Barefoot Downunder.
They're a NSW National Parks Certified Tour Operator. Their tours will only operate during low tide, low swell and safe ocean conditions.
Have a backup plan and pick another place to visit if conditions are dangerous on the day you planned to go.
Type

Lookouts

Where

Price

Free

Please note

You are at risk if you go to Figure Eight Pools

Don't visit at mid tide or high tide
Check the swell or wave size before setting off

Don't go if there are big waves or storms

Surf conditions change quickly, stay alert at all times.
When conditions are dangerous, go somewhere else.

Injuries happen at Figure Eight Pools all the time. Don't let it be you.

People have suffered large cuts, bruises and scratches from being washed over the rock platform.
Sprained ankles and wrists are not uncommon after people slip on rocks or take the wrong track
Injured people have had to stay overnight because there is no emergency access

The walk is long and hard


Be ready to walk at least 3 hours – it's hard.
The track is slippery, steep and rocky.
Allow at least 4 hours for the whole journey from Garrawarra Farm car park
Leave extra time for the trip back uphill

In an emergency:

Call Triple Zero (000)
There is no quick access to the rock platform
There is limited mobile coverage

Going anyway and want that perfect photo?

Only go at low tide and when the waves are small

Morning sun is better for that perfect shot

Don't wait in line – avoid the crowds by going in the week.

Do the right thing

Take your rubbish home with you
Don't leave toilet paper
Stay on designated tracks
Keep a low voice through the forest to reduce animal disturbances and increase sightings
Take photos, not souvenirs.



Royal National Park sure is beautiful, and it sure is popular. Avoid the traffic jams and crowds by cruising straight into its stunning neighbour and weekend paradise: Heathcote National Park.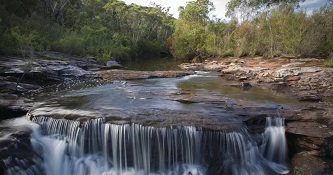 The free NSW National Parks app lets you download maps and explore parks, things to do and places to stay—all without mobile reception.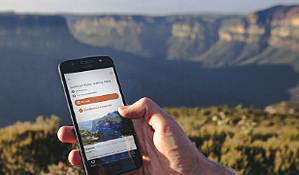 Tours and events at this location
If you're looking for a tour that includes hiking, swimming and stunning scenery in Royal National Park, then this is for you. Taking a guided tour is a safe and fun way to see Figure Eight Pools.