Bungonia guided wilderness expeditions
Bungonia National Park
Learn more
Learn more about why this park is special
Bungonia guided wilderness expeditions is in Bungonia National Park. Here are just some of the reasons why this park is special:
Endless caving opportunities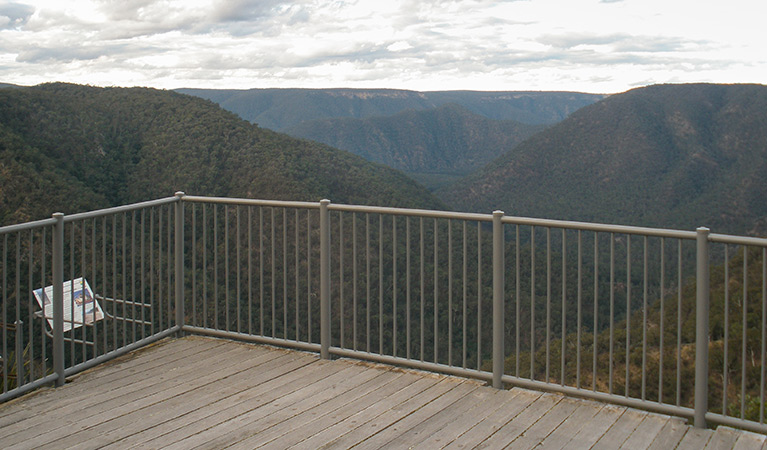 Known as the adventure capital of the Southern Tablelands, Bungonia is a place to really test your limits. There are around 200 wild caves in the park, many of which are open for experienced cavers to explore. For an exciting journey of waterfalls and plunge pools, Bungonia Creek and Jerrara Creek are the most popular canyoning spots. Bungonia Slot Canyon provides one of the few opportunities in Australia for climbing limestone and is as dramatic a place to scale a rock wall as its name suggests.
De Kerrilleau picnic area

Bungonia National Park, in easy reach of Canberra, is an outdoor adventure playground offering caving, canyoning, rock climbing, abseiling, hiking and impressive views.

The Lookdown lookout

It's an easy walk from the carpark at the end of Lookdown Road to Bungonia lookdown, which offers superb scenic views into Bungonia Creek Gorge and beyond.
Once upon a time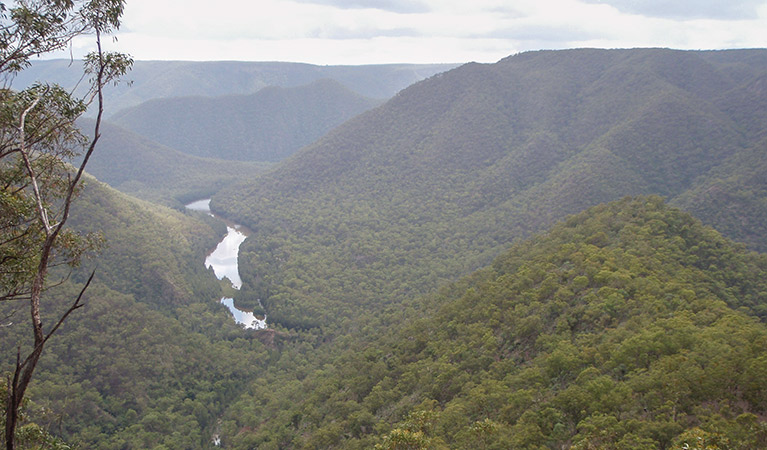 The park lies across the traditional lands of the Njunawal tribal group, the northwest corner of the Wandandian tribal territory and the southern boundary of the Gandangara tribal group. The ridge tops were almost certainly travel routes as people shifted in accordance with the seasonal availability of food. Evidence of campsites exists on the main plateau and limestone dolines contain edible plants consumed or used by Aboriginal people.
One of our oldest parks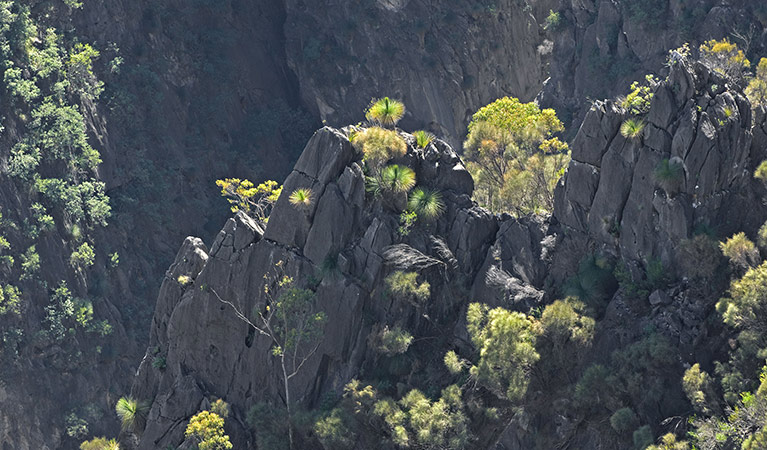 This park is one of the oldest in New South Wales. It was first protected as a water reserve in 1872, which was also the same year the world's first national park - Yellowstone, in USA - was established. Just as Yellowstone's geothermal features pull the crowds, Bungonia's geomorphology, both above and belowground, are its main draw. Louis Guymer was the park's first caretaker (1889-1909), who discovered caves and erected gates and ladders, some of which you may use during your visit.
Bungonia Gorge guided adventure treks

Go on a day hike or weekend trek to Bungonia Gorge with 100% Adventure. It's a great way to experience Bungonia National Park, the adventure capital of the Southern Tablelands.
Winged and furry
The vulnerable large bent-wing bat calls Bungonia home, and certain caves are closed during the year to help provide a safe environment for breeding and hibernation. When open, look out for a colony, cloud or cauldron of bats as you explore the limestone labyrinths of their natural habitat. A small population of koalas, classified as threatened, also inhabit the park.
Adams lookout

Adams lookout, great for birdwatching and picnicking, is the only platform in Bungonia that offers a view of the magnificent limestone feature of Bungonia Slot Canyon.

Green track

Enjoy Green track's fairly easy hike, a walking track loop through woodlands, gullies, gorges and rainforest, taking in all the park's major scenic lookouts and wildlife.
Education resources (1)
Naturescapes e‑newsletter