Weddin Mountains National Park
Learn more
Learn more about why this park is special
Weddin Mountains National Park is a special place. Here are just some of the reasons why:
Where there's a will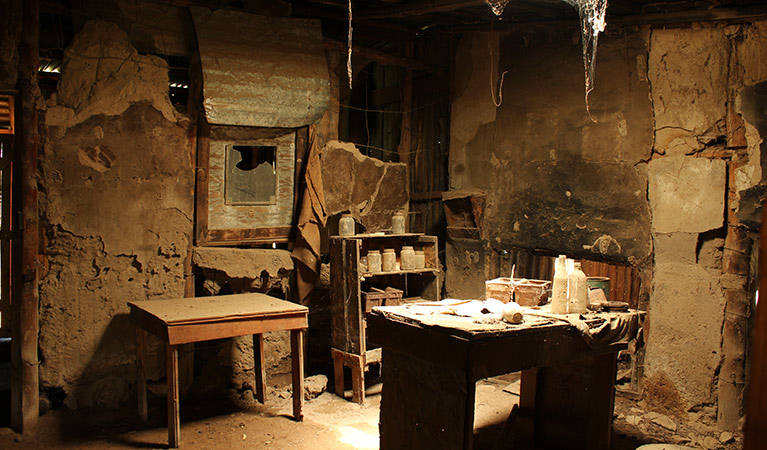 In 1936, the Seaton family began developing property on the western side of the Weddin Mountains as a pastoral enterprise. Money and resources were scarce during the Great Depression, so the farm was built using second-hand materials fashioned into solid structures. Seaton's Farm is a testimony to the ingenuity used by the Seatons when times were tough. It provides brilliant insight into how this farming family lived during the mid-1900s. The Weddin Mountains are also well-known as the hideout of bushrangers Ben Hall and John Bow, infamously involved in the Escort Robbery at Eugowra.
Seaton's Farm historic site

An easy scenic walk to a perfect picnic spot against a backdrop of historic agricultural relics. Binoculars are also a must for the enthusiastic birdwatcher.
Rock stars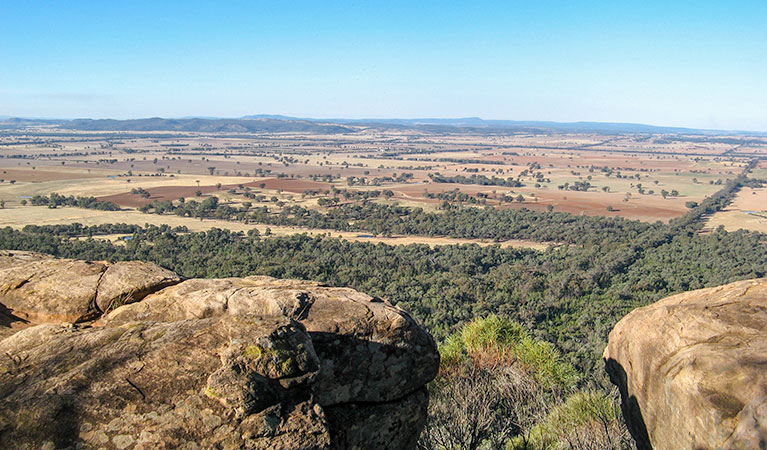 The Weddin Mountains are a large, crescent-shaped range that rises sharply from the surrounding plains. This prominent feature can be seen from up to 50km away. There are a number of interesting rock formations, cliff lines and small caves, particularly on the northern and eastern side of the mountain. Deep gullies between gentler slopes produce some lovely small waterfalls after a good rain.
Basin Gully to Eualdrie lookout track

Enjoy a challenging walk? Highlights on this fantastic hiking track include ridges, gullies and scenic views that stretch toward Grenfell, as well as great birdwatching.
Protected population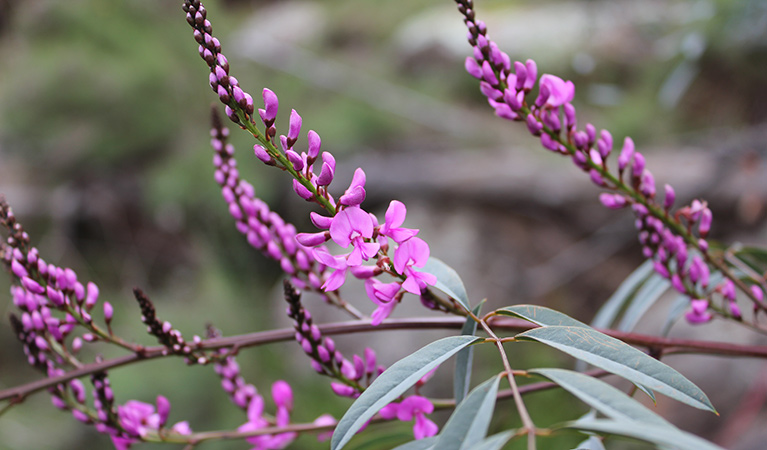 The Weddin Mountains harbour 12 threatened plant species and 39 threatened bird species. In spring, many lilies and orchids come into bloom, as do winged peppercress and slender darling pea. The diversity in vegetation from the base of the mountain to the top also accommodates a variety of bird species, from larger emus to smaller robins and thornbills. Raptors such as wedge-tailed eagles and peregrine falcons are often seen swooping and diving from the lookouts.
Bertha's Gully walking track

This medium difficulty walk near Grenfell passes small waterfalls and rock overhangs along Bertha's Gully. Stop by at the campground for a rest after your 6km walk.

Eualdrie walking track

Eualdrie walking track is a short hiking route that offers scenic views, birdwatching and spring wildflowers.

Lynchs loop trail

Lynchs loop trail is a short hike within Weddin Mountains National Park. The route is scenic and there are birdwatching opportunities.
Any way you like it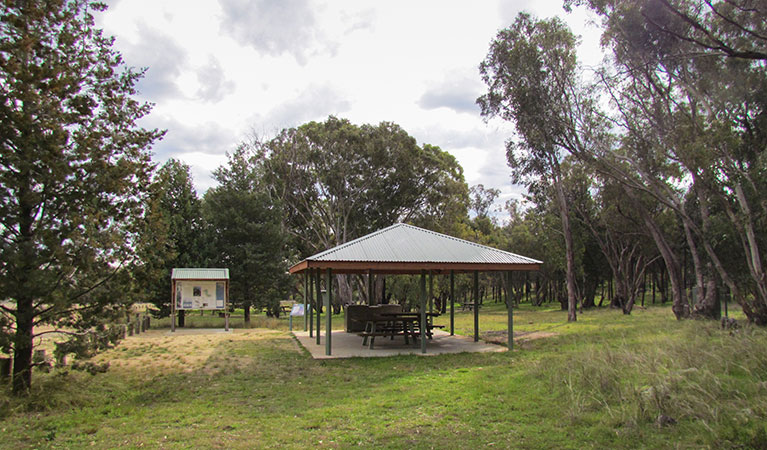 The park offers both relaxing and adventurous recreational opportunities. Picnickers can enjoy a campfire and barbecue at Ben Hall's campground, while more adventurous visitors can walk the mountain range on a variety of walking tracks.
Education resources (1)
Naturescapes e‑newsletter