Yerong walking track
The Rock Nature Reserve - Kengal Aboriginal Place
Learn more
Learn more about why this park is special
Yerong walking track is in The Rock Nature Reserve - Kengal Aboriginal Place. Here are just some of the reasons why this park is special:
Geological significance
The reserve sits on the boundary between two major biophysical regions: the Riverine Plains and the western slopes of the Eastern Highlands. This geographic mix gives the area a terrific diversity of landscapes and animal habitats. The Rock itself, unique in the district, is the result of a pressure uplift of sedimentary materials, and is the highest point of a hogback ridge running north to south (The Rock is at the northern end). The summit stands 364m above the surrounding plains.
The Towers

The Towers is a 100m stretch of the north-east face of The Rock, open to rock sports and also popular with photographers and birdwatchers who want to view peregrine falcons.
Living Aboriginal culture: Kengal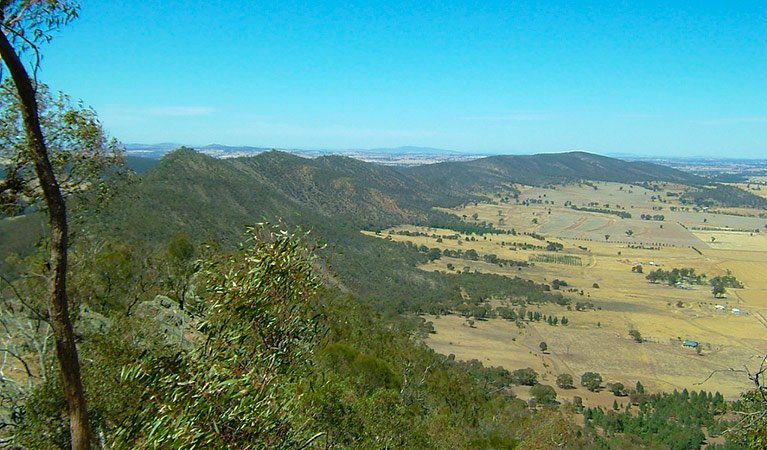 The dual name of the nature reserve (since 2005) acknowledges a Wiradjuri cultural presence that stretches back many generations. The Rock is also known as Kengal (meaning 'sloping hill'), a Dreaming place, lookout, and ceremonial site for the Wiradjuri People and their descendants. It was once used for male initiation rituals. Traditional lore has it that Kengal was created by Baiame, the creator who also taught the Wiradjuri People how to make fire and spears. When settlers arrived in the area, stories go, Baiame left his male and female dingo (Mirrigan) companions, who lay in wait for Baiame's return, forming The Rock.
'The Hanging Rock'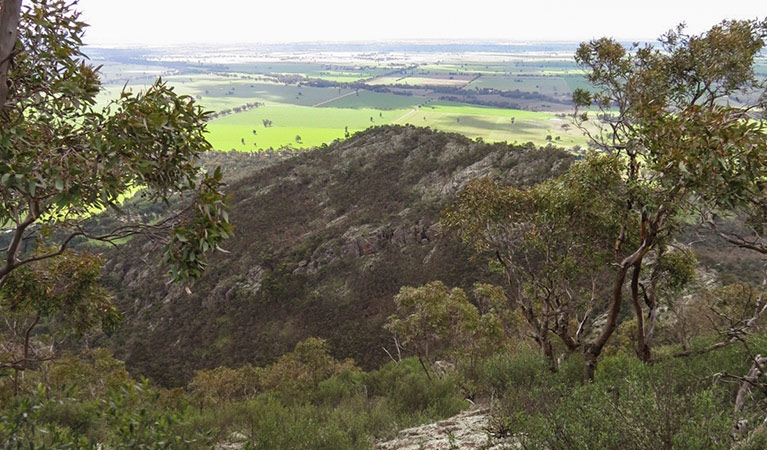 Charles Sturt first saw The Rock in 1829, though the area wasn't settled further by Europeans until 1874. They called the remarkable geological feature 'The Hanging Rock' because of an overhang on its eastern face. This collapsed in 1874, however, leading to the adoption of its current name – simply, 'The Rock'. For much of its modern life, the feature has sat on Crown land, and from 1891 its lower slopes were quarried for road base material to provide ballast on a Sydney-Melbourne rail line.
Education resources (1)
Naturescapes e‑newsletter