Mountain Brush circuit
Tapin Tops National Park
Learn more
Learn more about why this park is special
Mountain Brush circuit is in Tapin Tops National Park. Here are just some of the reasons why this park is special:
A botanist's dream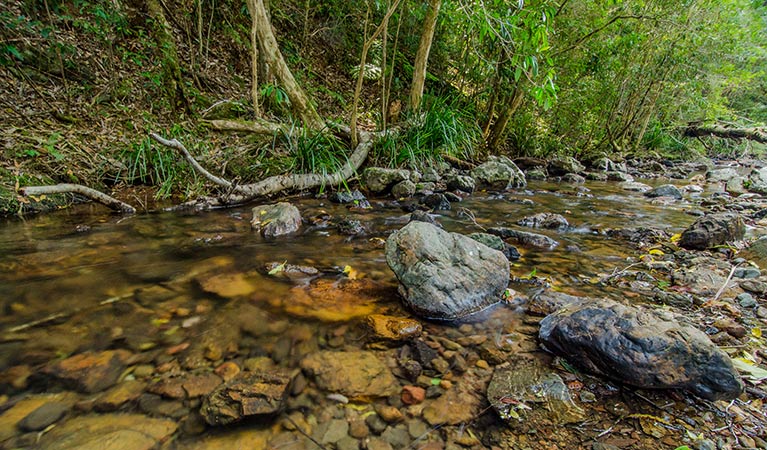 An impressive 20 different forest types have been mapped within the park, providing a fantastic variety of unique plants. The temperate, subtropical rainforest is dominated by corkwood, crabapple, sassafras and booyong with majestic yellow carabeen at higher altitudes. There's also myrtle-dominated rainforest and viney scrub. This diverse flora habitat has several threatened plants species, such as the endangered climbing vine and a rare, vulnerable orchid. A variety of different eucalypts can be seen in Tapin Tops, including brushbox, tallowwood, blue gum, bloodwood, silvertop stringybark and grey gum.
Mountain Brush circuit

This easy walk through the rainforest is a treat for birdwatchers and botanists alike with its lively array of interesting plants, birds and wildlife

Potoroo Falls walk

Take a walk along Potoroo Falls walk which leads from the picnic area through rainforest to the beautiful Potoroo Falls, with its tranquil swimming hole.

Rowleys Rock lookout

From Rowleys Rock lookout in Tapin Tops National Park, you can stand over 1000m above sea level and enjoy astonishing scenic views out over the park, Taree and beyond.
A long, rich, Aboriginal culture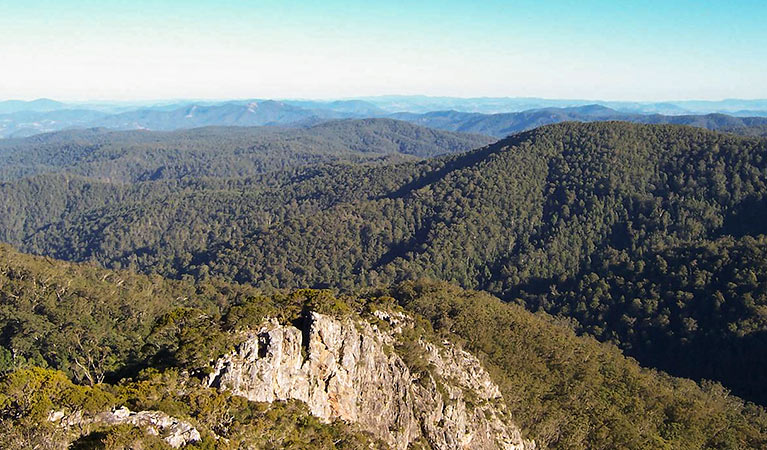 Tapin Tops National Park is part of the traditional lands of the Biripi People and this incredible landscape has helped them form their identity and spirituality. The name, 'Tapin', means 'dingo' in their language, as the park provides habitat to native wild dingos.
Part of our forestry past
Prior to becoming a national park, this area was part of Bulga and Dingo state forests, which were logged over the last 80 years. In the campground, you can see fascinating relics of road building and forestry operations that date back to pioneering days.
So many amazing animals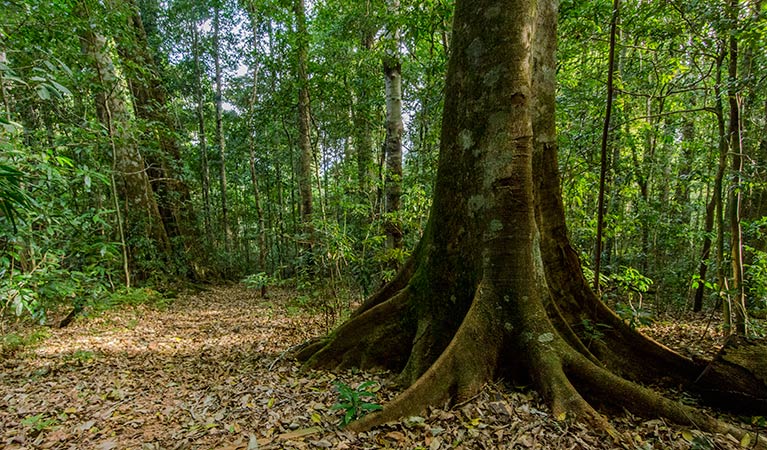 Birdwatchers will want to keep their eyes out for the black and gold regent bowerbird, the green catbird, and the topknot pigeons resting in the treetops. Three threatened species of owls have been recorded here (sooty, powerful and masked owls), although if you spot these rare creatures you are lucky indeed, as they are hardly ever seen. During the day, listen out for the superb lyrebird's call. Other incredible animals you might be lucky enough to encounter here include the parma wallaby, the spotted-tailed quoll, or brush turkeys scratching on the forest floor. Koalas are present feeding at night, moving between trees in search of the succulent leaves from the eucalypt. They then spend most of the day sleeping in the extensive canopy.
Mountain Brush circuit

This easy walk through the rainforest is a treat for birdwatchers and botanists alike with its lively array of interesting plants, birds and wildlife
Education resources (1)
Naturescapes e‑newsletter