Kings Plains Creek campground
Kings Plains National Park
Learn more
Learn more about why this park is special
Kings Plains Creek campground is in Kings Plains National Park. Here are just some of the reasons why this park is special:
All creatures, great and small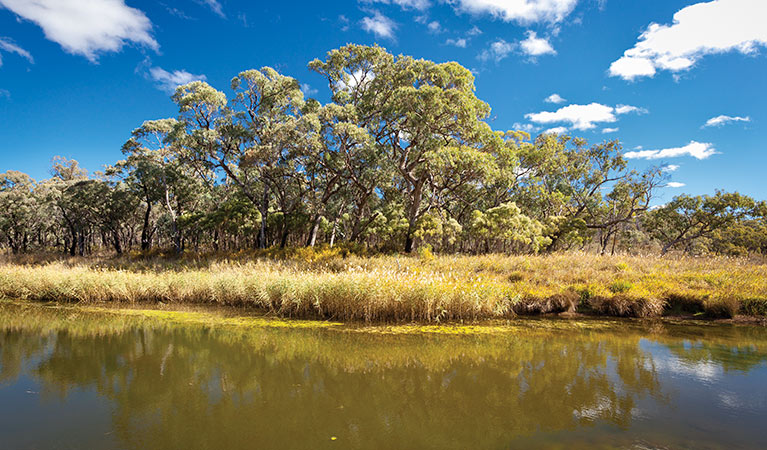 Wildlife is abundant in the park, and most easily spotted at dawn or dusk. Keep your eyes peeled for eastern grey kangaroos, wallaroos, swamp wallabies, red-neck wallabies and koalas. The shy platypus also lives along the creek. The park is home to more than 80 species of birds, from beautiful king parrots and yellow-tailed black cockatoos to wedge-tailed eagles and the rare peregrine falcon. Near the rivers, look for cormorants, tall white-faced herons and azure kingfishers. Stands of ironbark, cypress pine and yellow box all feature in the open woodland of Kings Plains National Park. There's even a rare patch of McKie's stringybark, a tall tree that flowers white between March and May. You'll also find uncommon and rare plant species - the grey guinea flower and the yellow-flowering Kings Plain homoranthus - in the park's heath areas. Wildflowers are at their best during spring.
Ancient cultures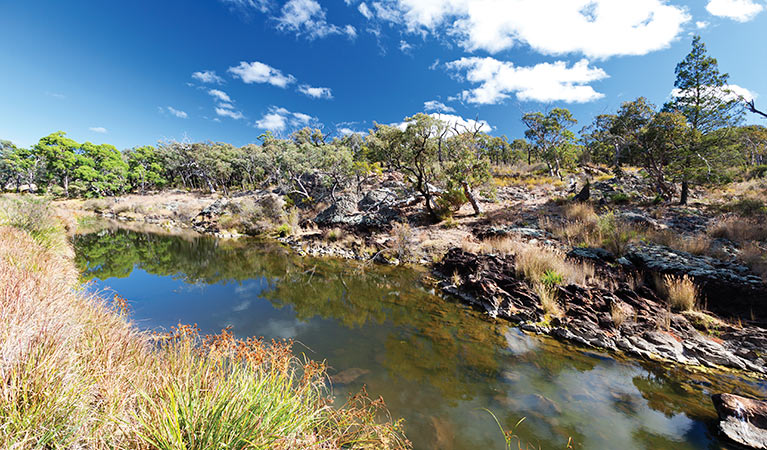 Kings Plains National Park is part of the traditional land of the Ngarrabul Aboriginal people, whose tribal totem is the koala, which they call 'boor-bee'. An Aboriginal person's totem is an animal or plant with a powerful spiritual connection and is never killed or eaten by that person, since it could be an ancestor. For thousands of years, this tradition has ensured koalas were conserved in this area.
Fascinating recent history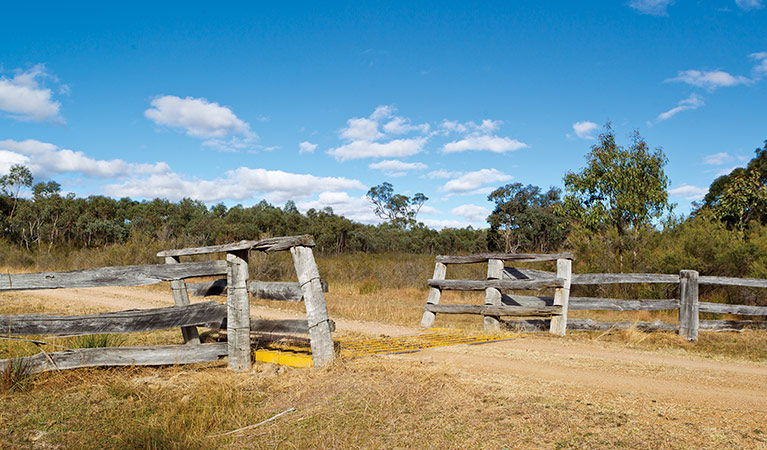 When he rode through the region in 1827, explorer and botanist Allan Cunningham found the first European settlers working the land. Kings Plains National Park was once part of the vast King Plains Station, established in 1838, and for many years an important cattle-grazing property. Today, you can still find evidence of early grazing and mining activity throughout the park, including the remains of huts, mining pits and mullock heaps.
Education resources (1)
Naturescapes e‑newsletter