Mount Grenfell art site walk
Mount Grenfell Historic Site
Learn more
Learn more about why this park is special
Mount Grenfell art site walk is in Mount Grenfell Historic Site. Here are just some of the reasons why this park is special:
Living off the land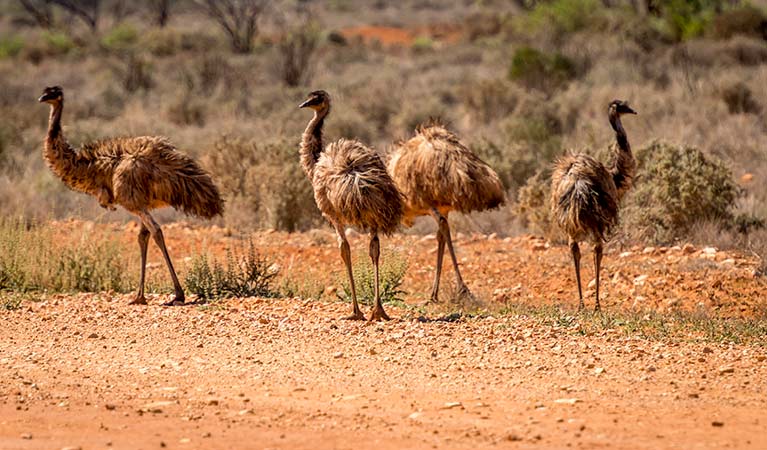 Emus and kangaroos inhabit Mount Grenfell and, on warmer days, you're likely to see bearded dragons, shinglebacks and geckos. Keep a careful eye out too for endangered kultarr (also known as jerboa pouched-mouse, wuhl-wuhl or pitchi-pitchi), which can best be described as a mouse that hops. While you're looking down for a pitchi-pitchi, you may also see a red-capped robin rifling through the leaf litter. This bird is often part of a mixed species feeding flock with other similarly sized birds such as thornbills, which also inhabit the park.
Making a scene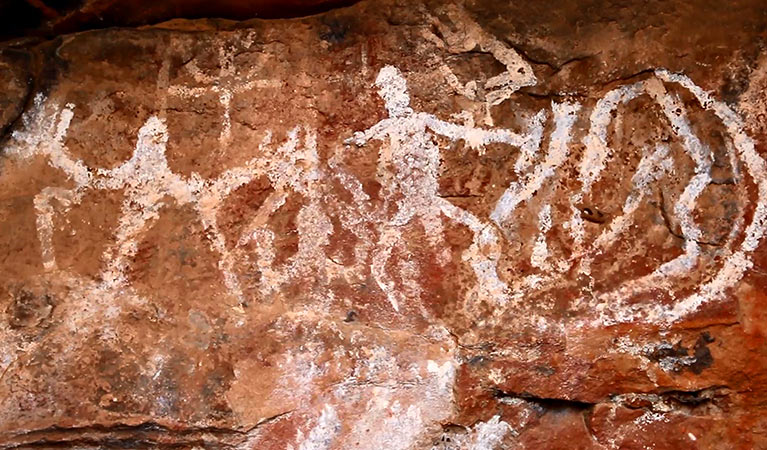 At Mount Grenfell, art featuring all facets of Aboriginal life covers rocky overhangs surrounding the park's waterhole. Many are linear paintings done by applying wet pigment with a fingertip or natural brush. Others are hand stencils. In some places, ochre and white pipeclay have been applied thickly and left to dry. More recent paintings have been superimposed over older ones. There are stick figures, human figures, images of birds and animals, medicine, food, the landscape and dreaming stories. This art remains deeply significant to Ngiyampaa people.
Ngiyampaa: Past, present and future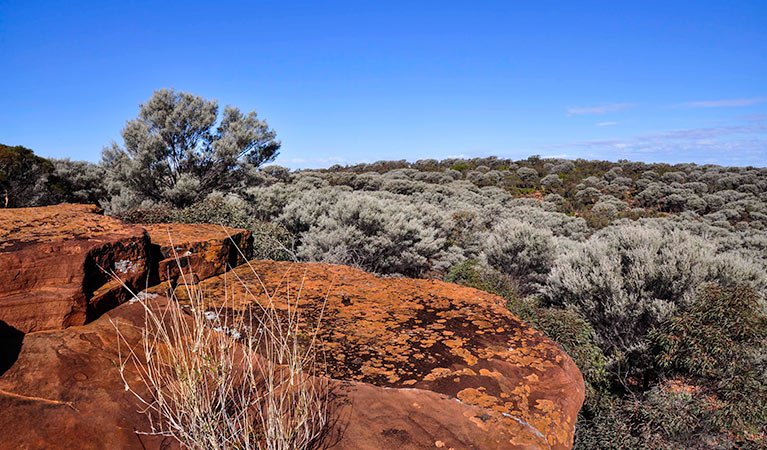 The Ngiyampaa (pronounced nee-yam-par) are dryland people associated with the arid plains and rocky hill country of Central West NSW bordered roughly by Lachlan, Darling-Barwon and Bogan Rivers. The semi-permanent waterhole at Mount Grenfell was an important meeting place for generation after generation of this Aboriginal group. Following European settlement, however, Ngiyampaa people were moved to stations northwest of Wiradjuri country and in the 1930s, many were relocated again to Murrin Bridge near Lake Cargelligo. On 17 July 2004, Mount Grenfell was handed back to traditional owners and is now jointly managed with NSW NPWS. Ngiyampaa people maintain strong connections with this area and continue to pass on cultural knowledge.
Education resources (1)
Naturescapes e‑newsletter