Greenglade picnic area
Nadgee Nature Reserve
Learn more
Learn more about why this park is special
Greenglade picnic area is in Nadgee Nature Reserve. Here are just some of the reasons why this park is special:
A spring treat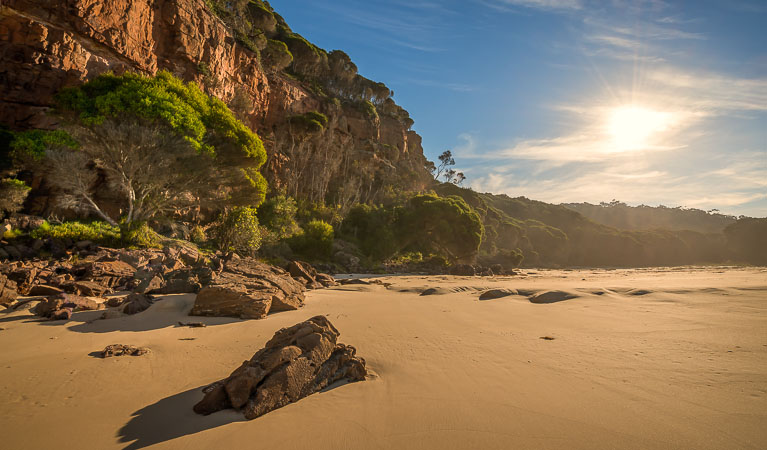 The vegetation in Nadgee has been almost undisturbed since European settlement. In the heath, you'll see the red and pink flowers of the common heath, masses of orange banksias, and the white blooms of the wedding bush. As summer approaches, breathe in the sweet aroma of the cream flowers of the giant honey myrtles that grow near Wonboyn Lake and the beach. With its combination of coastal heath, forest and shoreline, Nadgee is inhabited by many different species of birds. From catching glimpses of tiny wrens and ground parrots in the heathlands to staring awed at soaring white-bellied sea eagles along the coastline, you'll need your binoculars to make the most of bird watching opportunities.
Greenglade picnic area

From Greenglade picnic area you can explore one of the most magical and deserted beaches in Nadgee. Try your luck at fishing and spend the day relaxing at this convenient spot.

Jewfish walk

The easy Jewfish walk takes you through the forest to the edge of Wonboyn Lake, where you can enjoy swimming, birdwatching, fishing and picnicking.

Merrica River nature trail

Those seeking a bushwalk through pristine landscapes and along deserted beaches swimming, fishing and picnicking on the way – should head to Merrica Creek nature trail.
Living treasure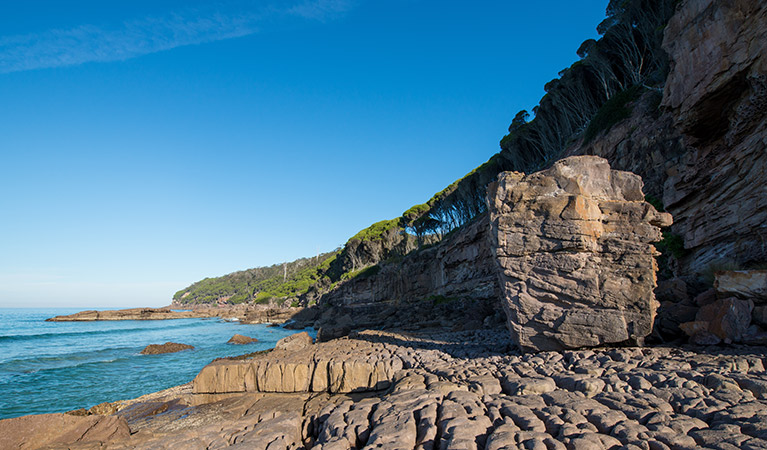 Whatever part of Nadgee you explore, you'll be rewarded with pristine landscapes and stunning vistas. The reserve sits within Australia's Coastal Wilderness, which runs from the south coast of NSW to East Gippsland in Victoria, one of the 16 areas named as Australia's National Landscapes because of their natural, cultural or spiritual significance. It really is a special place.
Bay Cliff walking track

Bay Cliff walking track offers families and bushwalkers an easy hike along the beach and the past the lake. Enjoy birdwatching and fishing along the way.

Nadgee wilderness walk

Nadgee wilderness walk is a spectacular 55km walk from Merrica River to Mallacoota, with coastal views. It's great for birdwatching, whale watching and camping.
People of the land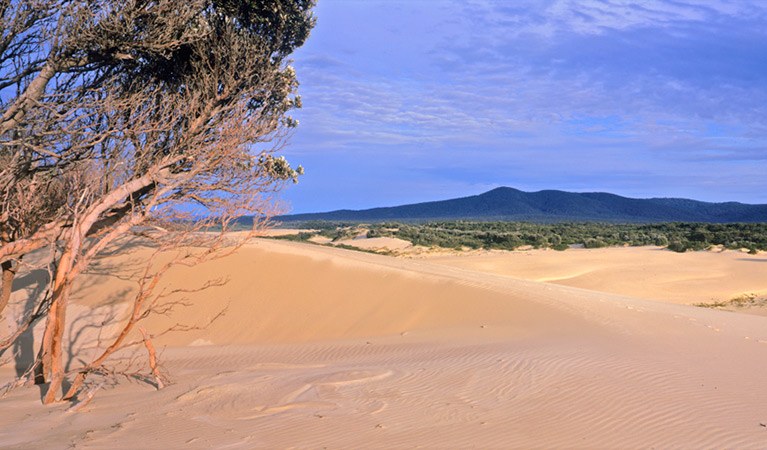 The area of the reserve is part of the lands of the Bidawal people and shared with the Dtharwa and Monaroo people. Aboriginal people have a long spiritual and cultural association with the area around Nadgee. Before settlement, they would travel from as far away as Wollongong, Mallacoota and Monaroo to places like Bay Cliff and Greenglade. Middens can be seen around Wonboyn Lake and along the shore.
Education resources (1)
Naturescapes e‑newsletter