Bournda Lagoon
Bournda National Park
Learn more
Learn more about why this park is special
Bournda Lagoon is in Bournda National Park. Here are just some of the reasons why this park is special:
Birdwatchers haven
With around 200 species of birds in the area, Bournda is a birdwatcher's paradise. The estuarine wetlands at the eastern end of Wallagoot Lake provide roosting and feeding areas for a large variety of waders and waterfowl. Keep your eyes out for threatened species like the little tern, hooded plover and pied oystercatcher. Bondi Lake is the largest freshwater lake situated behind coastal dunes in the region, and is another important habitat for waterbirds.
Get active
With so much to do, there's no excuse not to get active in Bournda. The beaches and waterways offer a range of options for watersport enthusiasts - waterskiing, boating, paddling, sail boarding, fishing, swimming and surfing. The coastal walk is perfect for hikers and those hoping to spot migrating whales. And for cyclists, the roads throughout the park are an extensive network to navigate on your bike.
Bournda workshops to awaken your wild side

Activate your wild self and boost your sense of well-being on these delightful workshops with Wild Cherry Nature Connection, inspired by the natural beauty of Bournda National Park, near Tathra.
Ships ahoy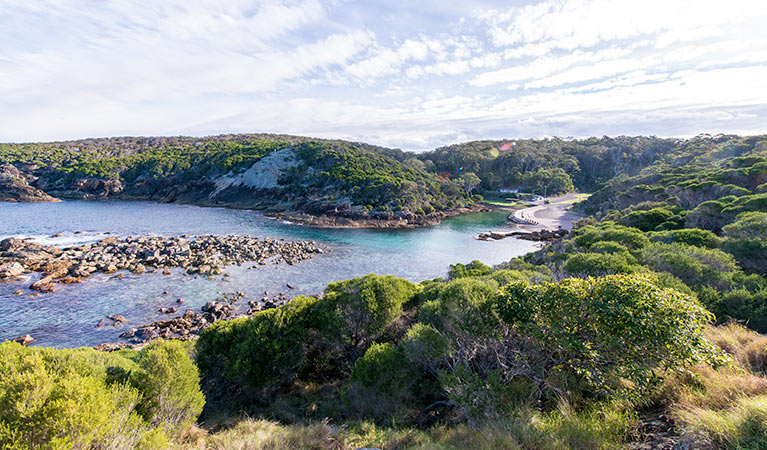 There's plenty of fascinating heritage in Bournda, dating back to the 1830s when European settlement of the district began. Today, you can still see anchor bolts at Kangarutha Point, which was established as a port with Kianinny Bay in 1859. It's also believed the existing track to the point, and parts of the coastal walk, were once used to supply ships anchored there, and transport produce and passengers. Some building remains can also be found around Games Bay, which was cleared for dairy farming by settler Mr Games.
The land of generations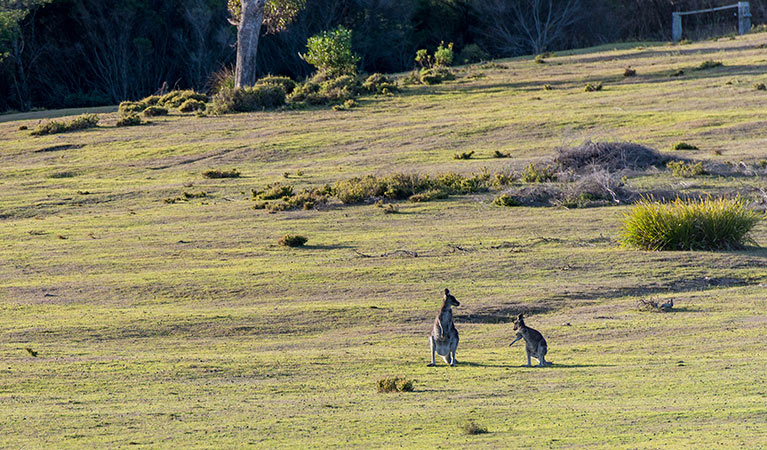 Bournda has been a special place for the Dhurga and Yuin people for thousands of years, with its plentiful food supply and quarry for making tools. As you explore the park and its wildlife, it'll be no surprise that 'Bournda' means 'place of tea tree and kangaroos'.
Bournda bush tucker tour

Walk alongside an NPWS Aboriginal Discovery Ranger on this easy stroll through Bournda National Park. Join the search for traditional bush tucker and medicine plants on this cultural tour near Bega.

Traditional weaving workshop: Bournda

Get creative on a traditional weaving workshop in Bournda National Park, near Bega. Learn Aboriginal weaving techniques and see how these ancient skills carry a strong connection to Aboriginal culture...
Education resources (1)
Naturescapes e‑newsletter