Pattimores Lagoon
Narrawallee Creek Nature Reserve
Learn more
Learn more about why this park is special
Pattimores Lagoon is in Narrawallee Creek Nature Reserve. Here are just some of the reasons why this park is special:
Ancient fishing grounds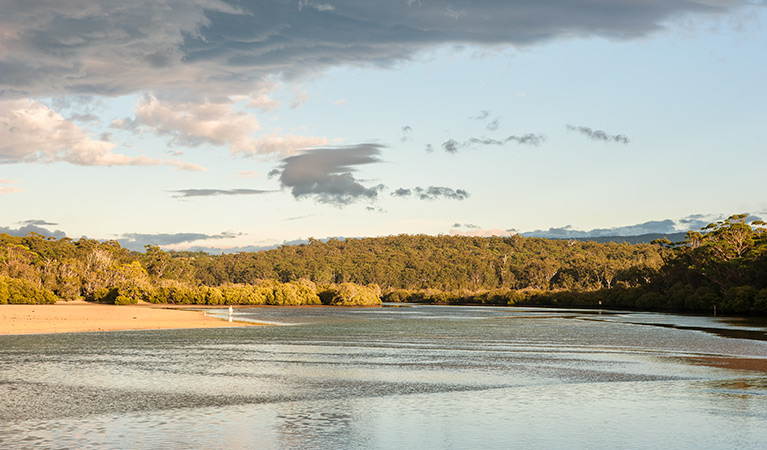 The reserve is situated within the traditional lands of the Wanda Wandian people and the Jerrinja Local Aboriginal Land Council. With nearby creeks, lagoons and beaches, this coastal oasis is likely to have been an important food-gathering area. The reserve protects Aboriginal middens and tool-making sites, as well as canoe and shield-making trees.
Diverse landscapes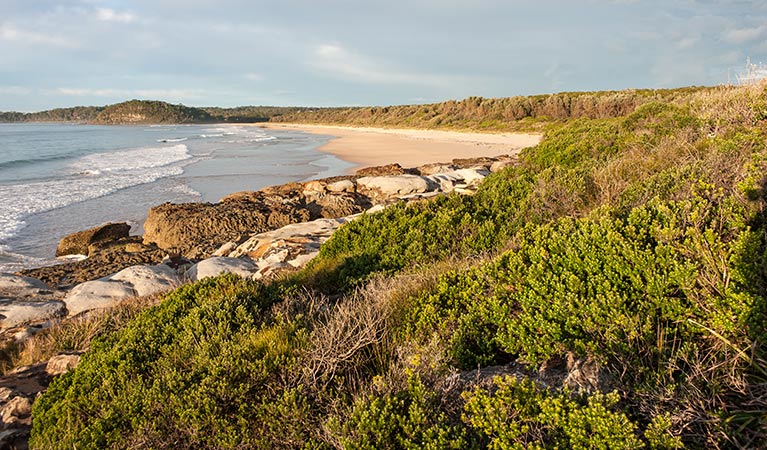 This unique reserve protects a staggering variety of landscapes in a relatively small area, making it a region of incredible beauty as well as conservation importance. Here you can wander a veritable smorgasbord of woodlands, swamps, lagoons and lakes. Explore the range of landscapes and see if you can spot the changing forests from swamplands to dunes.
Burrawang track - Conjola Beach to Buckleys Point

North of Ulladulla, Burrawang track leads from Conjola Beach to Buckleys Point, offering fantastic fishing and birdwatching in Narrawallee Creek Nature Reserve.

Pattimores Lagoon

Near Ulladulla on the NSW South Coast, tranquil Pattimores Lagoon in Narrawallee Creek Nature Reserve offers a viewing platform for birdwatching with scenic wetland views.
Historic remnants
Between the First and Second World Wars, silica was extensively mined near Pattimore's Lagoon. Now protected, you can wander the remains of the silica mining era and discover cuttings, mounds and even an old tram line that is now being taken back by mother nature. In the early 1900s, as well as a small amount of grazing, there was some selective logging of turpentine and blackbutt from the forests. There are still some tall stumps with notches that show where springboards were placed by the axemen.
Rare nesting grounds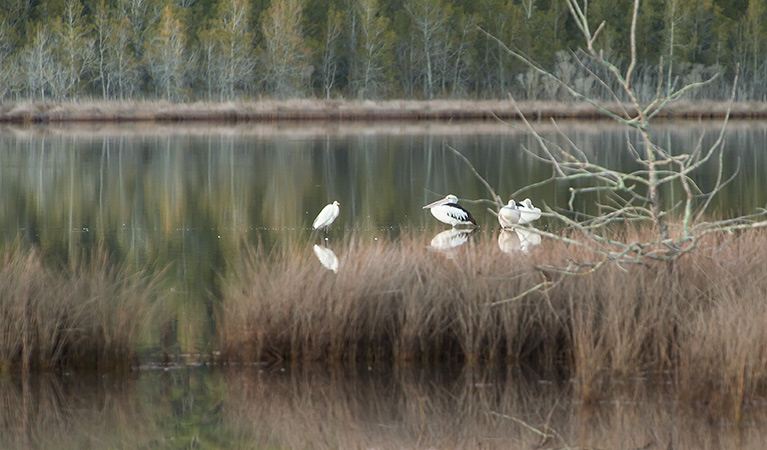 The beaches are some of the most important nesting and feeding areas for the critically endangered hooded plover and endangered pied oystercatcher. These distinctive birds can be seen nesting during spring and summer. This unique reserve protects a type of swamp forest that is dominated by the swamp mahogany, which in turn is an important food source for several threated species including the swift parrot, regent honeyeater and yellow-bellied glider.
Conjola Beach picnic area

Spend the day at Conjola Beach picnic area exploring remote beaches, bushwalking, whale watching and birdwatching, in Narrawallee Creek Nature Reserve, near Lake Conjola Village.

Narrawallee Inlet walking track

Enjoy walking or cycling through the coastal forests of Narrawallee Creek Nature Reserve along Narrwallee Inlet walking track, offering great birdwatching and fishing.
Education resources (1)
Naturescapes e‑newsletter