Forestry Hut
Werakata National Park
Learn more
Learn more about why this park is special
Forestry Hut is in Werakata National Park. Here are just some of the reasons why this park is special:
Blossoming with life
Spring wildflowers such as purple happy wanderer, yellow hairpin banksia and red mountain devil all bloom in Werakata National Park. There are also delicate ground orchids and lovely thyme honey myrtle sprinkled throughout the park. More than 200 native animal species have been recorded in the park and surrounds. You'll likely see tree-dwellers like gliders, possums and bats at night. Old favourites like wallabies can also be seen feasting on the luscious landscape. Lizards, like the common scaly-foot and Burton's snake lizard, might be a little harder to find, but keep looking. If you like birds, you'll love Werakata. The abundance of ironbark and spotted gum, which flower in winter, attracts the threatened swift parrot and regent honeyeater. The trees' blooms are an important winter food source for the birds and the park becomes a winter breeding ground. But there is a lot of birdlife all year round. Powerful owls, masked owls, various robins, and lorikeets can all be seen here, so be sure to bring your binoculars for some great bird watching.
Deadmans mountain bike loop

Deadmans mountain bike loop is an easy 8km cycle through rare Hunter Valley bushland. The trail starts near Astills picnic area and is a good choice for a family day trip.
Green in the valley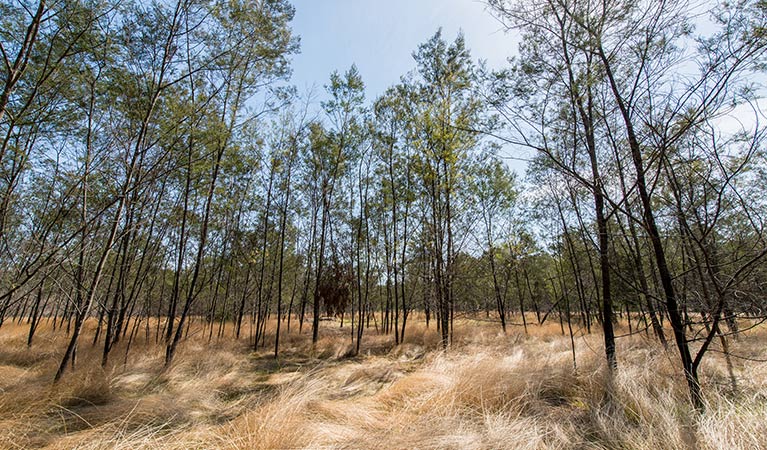 Conservation is a vital aspect of this national park. Check out Kurri sand swamp woodland and Hunter lowlands red gum forest, as they are home to endangered ecological communities. Werakata National Park has some special and endangered plants. Over 400 species of plants are known to exist here. Lower Hunter spotted gums and ironbark form part of the park's thick bushland, and are a rich source of food for the winter birds that flock here.
Education resources (1)
Naturescapes e‑newsletter