Yuranigh's Aboriginal Grave Historic Site
Learn more
Learn more about why this park is special
Yuranigh's Aboriginal Grave Historic Site is a special place. Here are just some of the reasons why:
See traditional Aboriginal tree carvings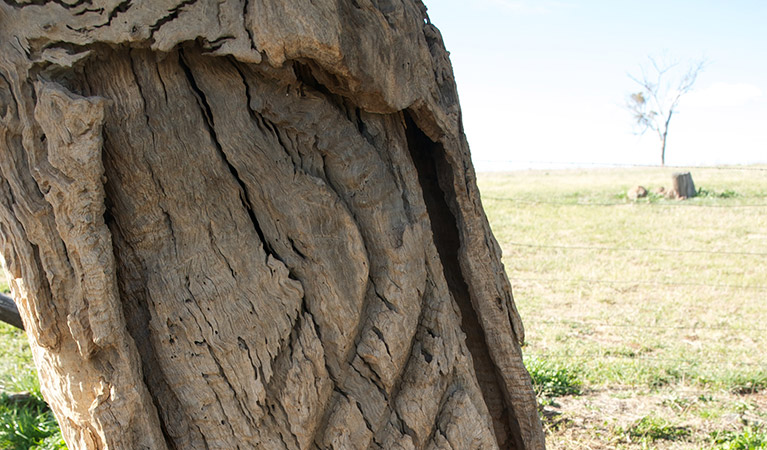 Carving of trees was once common in the central part of the state, where there were relatively few rocky areas for painting. Four carved trees present at the site feature striking traditional geometric designs. As one of the trees has fallen, the carving is now conserved underneath a shelter. The remaining three trees also contain carvings. One is clearly visible, one is partly obscured and the third is completely grown over. There are also signs with complete diagrams showing those parts of the carvings that are no longer clearly visible.
Native parrots and tall eucalypts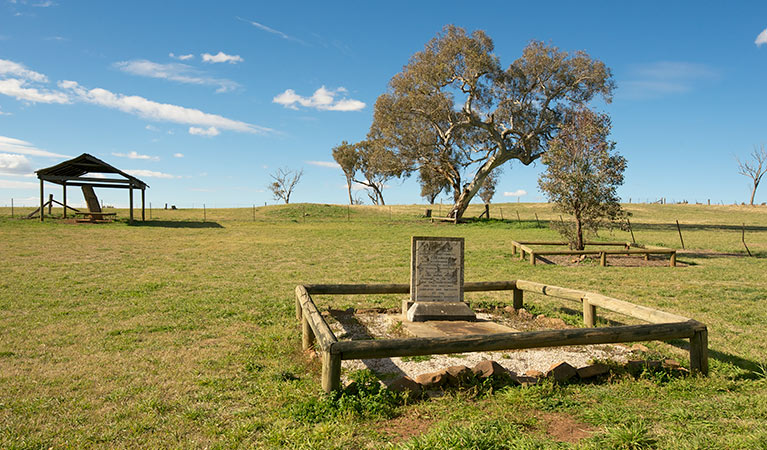 Although situated in a largely cleared farming landscape, the site contains a number of yellow box eucalyptus trees, typical of the grassy woodlands that would have been present prior to European settlement. If you're lucky, you may spot some of the many native parrots that visit the area resting in these trees, including beautiful eastern rosellas and crimson rosellas.
A story and symbol of cross-cultural cooperation
Yuranigh teamed up with Sir Thomas Mitchell as he passed through the region in 1845. He assisted Mitchell on his fourth-ever expedition, this time into the heart of Queensland. Upon hearing of Yuranigh's death in 1850, Mitchell arranged for the erection of a headstone to commemorate his trusted assistant. This combination of traditional Aboriginal tree carvings and a European headstone is not known of anywhere else in Australia.
Education resources (1)
Naturescapes e‑newsletter