Wyrrabalong National Park
What we're doing
Park management activities
Wyrrabalong National Park has management strategies in place to protect and conserve the values of this park. Visit the detailed park and fire management documents. Here is just some of the work we're doing to conserve these values:
Preserving biodiversity
Wyrrabalong National Park upholds its biodiversity by protecting vulnerable, threatened and endangered species. Conservation activities are carried out in this park and include surveys and data collection on species distribution and population.
Managing weeds, pest animals and other threats
Pests and weeds have a significant impact to the ecosystems within Wyrrabalong National Park. NPWS carries out risk assesments for new and emerging weeds as well as Bitou bush and boneseed control to protect biodiversity in this park.
Conservation program
Bitou bush poses a serious and widespread threat to threatened species populations and ecological communities on the NSW coast. The NPWS bitou bush threat abatement plan helps to reduce the impact of weeds at priority sites using control measures such as ground spraying, aerial spraying, biological control and physical removal.
Developing visitor facilities and experiences
Maintaining Wyrrabalong National Park's visitor facilities is an NPWS priority. Programs relating to the upkeep and enhancement of the park's lookouts, tracks, trails and other offerings are ongoing.
Contact
in the Sydney and surrounds region

Wyrrabalong National Park is open from 5.30am to 8pm during daylight saving and 5.30am to 6pm rest of year.

Lake Munmorah office
02 4972 9000
Contact hours: Monday to Friday, 8.30am to 4pm.
1 Blue Wren Drive, Wybung NSW 2259

More

Girrakool office
02 4320 4200
Contact hours: Monday to Friday, hours vary.
59 Girrakool Rd, Somersby, NSW 2250

More
See more visitor info
Upcoming alerts
For all planned management events such as hazard reduction burns and pest control operations see the alerts page.
Get involved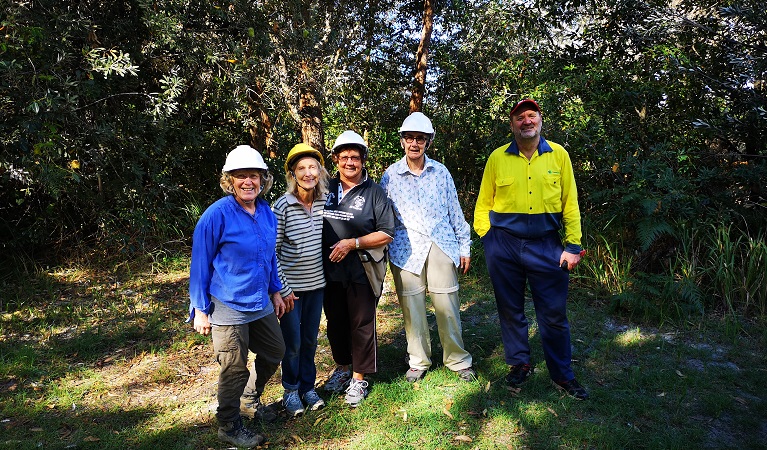 If you're interested in gardening and helping the environment, join this bushcare volunteer group at Bateau Bay, near The Entrance. They've made a real difference in the fight against bitou bush.
Donate to NSW National Parks
Valuable conservation work is being done in our national parks through the Foundation for National Parks and Wildlife, a not-for-profit organisation with the mission to care for Australia's native plants, animals and cultural heritage.