Koreelah National Park
Learn more
Learn more about why this park is special
Koreelah National Park is a special place. Here are just some of the reasons why:
World Heritage plant life
Whether you're driving, walking, or just sitting by the creek relaxing, you'll see a diversity of vegetation types here, ranging from dry sclerophyll forests to the cool subtropical rainforests of Acacia Plateau and Wilsons Peak Flora Reserves, which are part of the Gondwana Rainforests of Australia World Heritage Area. Enter this ancient world and you'll see black booyong, yellow carribean, rosewood and emergent hoop pines.
Teeming with wildlife
The diverse natural habitats of Koreelah make it a haven for wildlife. You'll see red-necked wallabies and lace monitors wandering through the campground, and might spot red-bellied black snakes and carpet pythons sunning themselves on the creek banks. At night, look for brush-tailed phascogales, sugar gliders and koalas, and listen for owls such as the sooty owl and southern boobook. Birdwatchers will never be short of something to look at in Koreelah National Park. There are over 110 species of birds found here, including the wompoo fruit-dove, regent bowerbird, eastern whipbird and albert lyrebird. Near the campgrounds, you'll probably see glossy black cockatoos, scarlet honeyeaters, grey shrike thrush and blue-faced honeyeaters.
Gorge walking track

Take this easy walk along Gorge walking track and explore Koreelah Creek Gorge and waterfalls. Excellent for swimming, birdwatching, wildlife spotting and getting back to nature.
Rich in Aboriginal culture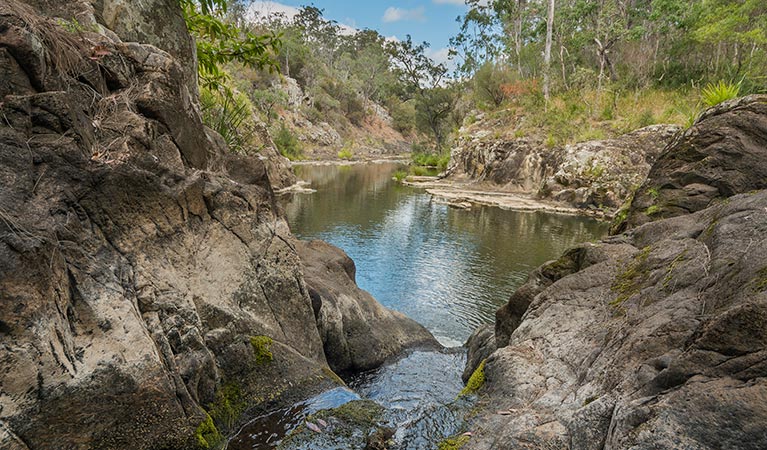 The forests, waterways and rugged cliffs of Koreelah are part of the traditional Country of the Githabul People. For thousands of years, this beautiful landscape provided Aboriginal people with food, medicine, and materials for tools, weapons and shelters. In recognition of their ongoing connection to the land, the Federal Court of Australia recognised the Githabul People's native title rights and today, Koreelah National Park is proudly co-managed with the local Githabul People.
Education resources (1)
Naturescapes e‑newsletter