Falcon Falls walking track
Cocoparra National Park
Learn more
Learn more about why this park is special
Falcon Falls walking track is in Cocoparra National Park. Here are just some of the reasons why this park is special:
A haven for birds
This is a mecca for birdwatchers, with many resident and migratory species recorded here. Look out for the locally-threatened glossy-black cockatoo drinking from dams at dusk or quietly feeding on the seeds of the drooping she-oak. You may also see the many endangered woodland birds such as the hooded robin, speckled warbler, varied sittella, grey-crowned babbler, diamond firetail or shy heathwren. You can also visit the nesting grounds of the peregrine falcon at Falcon Falls.
Falcon Falls walking track

Take Falcon Falls walking track for bushwalking past waterfalls and for spectacular woodland birdwatching, including magnificent peregrine falcons during nesting season.

Mount Brogden walking track

Visit Mount Brogden walking track in Cocoparra National Park, near Griffith, for some excellent birdwatching, and enjoy Murrumbidgee River views.
Ancient Aboriginal sites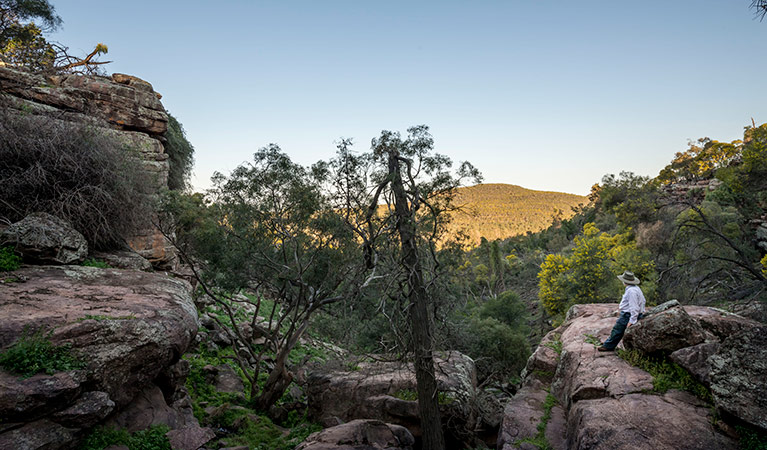 This is Wiradjuri country, and the many Aboriginal sites within Cocoparra National Park suggest intensive use during winter and spring when food resources became scarce along rivers, with surface water available in the protected valleys of the range. The name 'Cocoparra' comes from the Aboriginal 'cocupara', or kookaburra.
Dramatic rock formations
Conserving an important area of native vegetation, Cocoparra National Park stands out amid the surrounding plains and farmlands with its rugged ranges and spectacular scenery. Deep narrow valleys, folded and eroded rock faces and delightful waterfalls mean that the view is always changing. For a dramatic overview of the plains, take Jacks Creek or Mount Brogden walking tracks. The rugged, craggy landscape of the Cocoparra Range produces a great variety of habitats. You'll find woodlands and forests occupied by white cypress pine, Dwyer's mallee gum, kurrajong, yellow box and many more during your bushwalks. If you're a budding botanist, you'll love the delicate orchids and spring wildflowers.
Jacks Creek walking track

Jacks Creek walking track threads through a sheltered gorge and upon ridge tops. You'll enjoy scenic views, plentiful birdwatching and diverse habitats.

Woolshed Falls walking track

Woolshed Falls walking track, near Griffith, is located in Cocoparra National Park, close to Woolshed Flat campground. It's great for walking with kids.
Education resources (1)
Naturescapes e‑newsletter