Awaba Bay bush regeneration
Lake Macquarie State Conservation Area
Overview
Are you interested in restoring bushland and habitats for local plants and wildlife? Volunteer for this great bush regeneration activity in Lake Macquarie State Conservation Area, near Newcastle.
Work

Bush regeneration, weed and pest management

When

1st Sunday of the month.

Grade

Medium. You'll be weeding and doing physical work. Medium level of fitness required.
Do you like visiting national parks and reserves because of the variety of plants and wildlife? Are you a keen gardener, or want to know more about gardening? If so, this activity could be for you.
You'll be removing weeds, rubbish and doing some minor walking track and trail maintenance. The Awaba Bay bush regeneration group has made a real contribution to the health of this reserve, which has minimal weed invasion because of our volunteers' work.
This bush regeneration work protects the habitat of the powerful owl. It also encourages the growth of black-eyed Susans, and benefits the overall coastal wetland environment that you'll be working in. Awaba Bay is a beautiful part of Lake Macquarie, with scenic lake views and a lovely breeze off the water on a warm day.
You'll be working with like-minded people, engaging with your local community, learning about and helping to protect your local environment. It's great if you have some gardening knowledge. Even if you don't, all you need is a desire to learn, because either the group's convenor or a NSW National Parks staff member will give volunteers training for this activity.
It's a good idea to wear closed-in shoes and long-sleeved clothing. Bring a hat, sunscreen, a raincoat, snacks, lunch, drinking water and gardening gloves. Tools and hard hat supplied.
Volunteer for bushfire recovery
Following this season's unprecedented bushfires, you can register your interest to help the NSW National Parks and Wildlife Service (NPWS) and the Saving our Species program rehabilitate and protect our threatened animals and plants.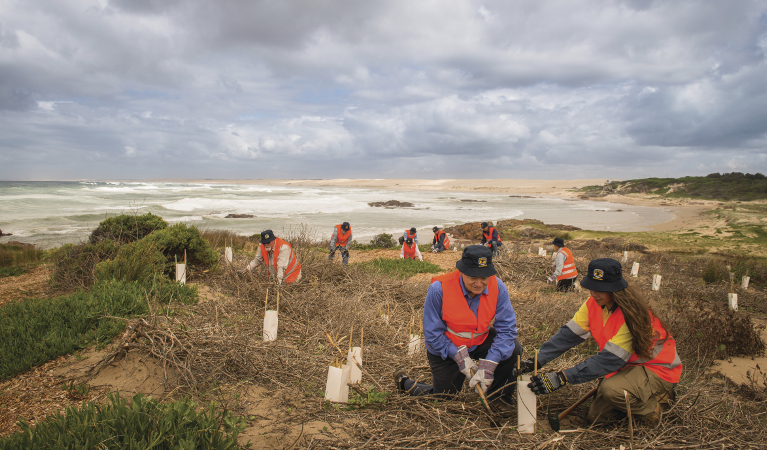 Australia is home to more than 500,000 animal and plant species, many of which are found nowhere else in the world. Saving our Species is a statewide conservation program that addresses the growing number of Australian animals and Australian native plants facing extinction.