School excursion
Rainforests and waterfalls
Stage 3 (Years 5-6), Geography, Katoomba area in Blue Mountains National Park
Info for teachers
Everything you need to know about Rainforests and waterfalls.
Program outline
2 hour tour:
Welcome, acknowledgement of Country and safety briefing
Guided interpretive bushwalk along Round walking track in Katoomba Falls (start and finish at Katoomba Falls Kiosk)
Tour concludes
Farewell and depart on bus
2.5 hour tour:
Welcome, acknowledgement of Country and safety briefing
Guided interpretive bushwalk to Katoomba Falls, descending via Furber Steps and rainforest boardwalk
Ascend via the Scenic Cableway (additional fees apply at Scenic World)
Tour concludes
Farewell and depart on bus
Please note: Visitors can enrich their rainforest visit by requesting an additional 30 minute Aboriginal cultural presentation. This includes insight into the Aboriginal peoples' deep connection to Country, and an examination of cultural artefacts. Additional fees apply for this option. Please use the 'Enquire Now' link for more information.
What to bring
Please wear long pants, closed comfortable shoes and bring a hat and sunscreen. Be ready for all weather conditions with a jumper and raincoat. Remember to bring extra food and water and any necessary medications. Please bring your belongings in a backpack rather than a plastic bag.
Getting there and parking
This excursion begins at Katoomba Falls Kiosk, 102B Cliff Drive, Katoomba (opposite the caravan park). Katoomba Falls Kiosk is located about 2km from Katoomba town centre, down Katoomba Street and right onto Cliff Drive. Round walking track is a loop that starts and finishes at Katoomba Falls Kiosk. Please note: The descent via Furber Steps and return journey on either the Scenic Railway or Cableway is at additional cost. If you take up this option, you'll finish the excursion at Scenic World, 500m further along Cliff Drive (corner of Violet Street).
Park entry points
Parking
Parking is available at Scenic World or opposite Katoomba Falls Kiosk near Katoomba Caravan Park. It can be a busy place on the weekend, so parking might be limited.
Maps and downloads
Risk assessment and risk benefits
Our rangers and guides have the technical skill and experience to assess the risks and the benefits of a variety of activities delivered as part of our learning programs.
We believe in including opportunities that allow students to learn and experience for themselves through exploration in the natural environment.
Please make your own risk assessment based on the information provided. Detailed potential risks and controls are provided for the site to assist teachers in risk management planning. Teachers and carers should be aware of, and consider the needs, abilities and medical conditions of students when visiting this site. The supervision of students remains the responsibility of the teacher. The school must ensure an adequate number of adult supervisors are present.
Accessibility
Disability access level - hard
Wheelchair accessible car park, picnic area, public toilets, kiosk and interpretive signage at both Katoomba Falls Kiosk and Scenic World. Please let us know in advance if you are bringing someone with special needs so that we can plan accordingly.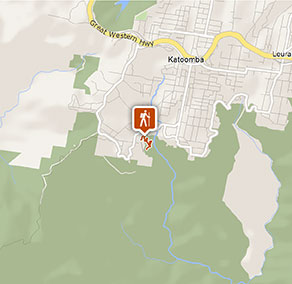 Park info