Royal National Park
What we're doing
Park management activities
Royal National Park has management strategies in place to protect and conserve the values of this park. Visit the detailed park and fire management documents. Here is just some of the work we're doing to conserve these values:
NSW National Parks Visitor Infrastructure Program
NSW National Parks and Wildlife Service (NPWS) is undertaking a range of projects to enhance visitor facilities and create new, iconic visitor experiences in our national parks, including Royal National Park. These projects aim to increase nature-based tourism in NSW, to boost regional visitor economies and improve community wellbeing.
Understanding landscapes and geology
NPWS is dedicated to preserving the special landscapes and natural assets of Royal National Park. Programs to protect the park's renowned cliffs, walking tracks, lookouts and myriad other offerings are in place within the park.
Conservation program
Become a citizen scientist with CoastSnap next time you visit a beach on the NSW coast. Help us measure beach erosion and recovery by using your smartphone to share photos.
Preserving biodiversity
NPWS works to protect biodiversity in all parks, and Royal National Park is no exception. Protecting the park's threatened, vulnerable and endangered species is key to upholding its biodiversity. Ongoing conservation efforts include intensive surveying and data collection, as well as activities to raise visitor awareness where possible. NPWS aims to introduce interpretive signage to enhance the visitor experience, and understanding of the natural highlights in the area, through education.
Managing weeds, pest animals and other threats
Pests and weeds have a significant impact to the ecosystems within Royal National Park. NPWS carries out risk assesments for new and emerging weeds as well as containment of sea spurge to protect biodiversity in this park.
Conservation program
A highly destructive coastal weed, sea spurge has spread around Australia since it was first recorded as an invasive species in 1927. On the NSW South Coast, collaborative containment efforts have made major inroads in combatting this weed as it progresses northward.
Historic heritage in our parks and reserves
The iconic Royal National Park is both historic and beautiful, and heritage sites within the park receive ongoing maintenance, upgrades and conservation work. NPWS undertakes routine maintenance and upgrading of all its visitor facilities.
Conservation program
This 19th century Royal National Park icon has been restored to its former glory thanks to the NSW National Parks Audley Dance Hall historic heritage project. Undertaken with particular focus on cultural and ecological sustainability, and historic heritage conservation, the project has seen the dance hall once more become a hub of activity within the park.
Developing visitor facilities and experiences
Royal National Park is committed to evaluating, developing and maintaining visitor facilities. NPWS undertakes regular maintenance of signage, accommodation, walking tracks and other facilities, ensuring they align with legislation and visitor requirements. Conservation projects are ongoing and ensure the park's heritage sites are preserved. Car parking processes and facilities are frequently reviewed as well, and facilities maintenance is ongoing.
Conservation program
Become a citizen scientist with CoastSnap next time you visit a beach on the NSW coast. Help us measure beach erosion and recovery by using your smartphone to share photos.
Conserving our Aboriginal culture
Royal National Park is dedicated to preserving its strong Aboriginal culture. The park's numerous significant sites are maintained in keeping with efforts to protect and preserve its heritage. Members of local Aboriginal communities are engaged as a priority, and cultural site conditions are regularly assessed and recorded. Areas surrounding cultural sites and interpretive signage are upgraded as required.
Conservation program
The conservation and coastal engravings project in the Royal National Park is working to preserve one of the region's finest expressions of Aboriginal culture: the Jibbon Headland Aboriginal engravings. A new boardwalk and viewing platform limit the foot access that was damaging the engravings, while encroaching soil and vegetation are being removed.
Managing fire
NSW is one of the most bushfire prone areas in the world as a result of our climate, weather systems, vegetation and the rugged terrain. NPWS is committed to maintaining natural and cultural heritage values and minimising the likelihood and impact of bushfires via a strategic program of fire research, fire planning, hazard reduction, highly trained rapid response firefighting crews and community alerts.
Conservation program
Bushfires are inevitable across fire-prone vegetation types within NSW national parks. NPWS prepares for wildfires by working with other fire agencies, reserve neighbours and the community to ensure protection of life, property and biodiversity. Every park has its own fire management strategy, devised in consultation with partner fire authorities and the community to plan and prioritise fire management.
Contact
in the Sydney and surrounds and South Coast regions

Royal National Park is open 7am to 8.30pm but may have to close at times due to poor weather or fire danger.

Park entry fees:

$12 per vehicle per day. Seasonal ticket booths at Wattamolla and Garie Beach - cash and credit card facilities available. Please bring correct change. There are also coin and card operated pay and display machines to buy day passes or you can pay for your visit via the Park'nPay app.

Vehicles over 8 seats: $4.40 per adult, $2.20 per child (per day). Students on educational programs: $1.10 per student. Teachers/educational supervisors: free (1 adult per 10 students).

Buy annual pass

Royal National Park Visitor Centre
02 9542 0648
1300 072 757 for campground and cottage bookings
Contact hours: 8.30am to 4.30pm daily. Closed Christmas Day.
2 Lady Carrington Drive, Royal National Park, NSW 2232

More
See more visitor info
Get involved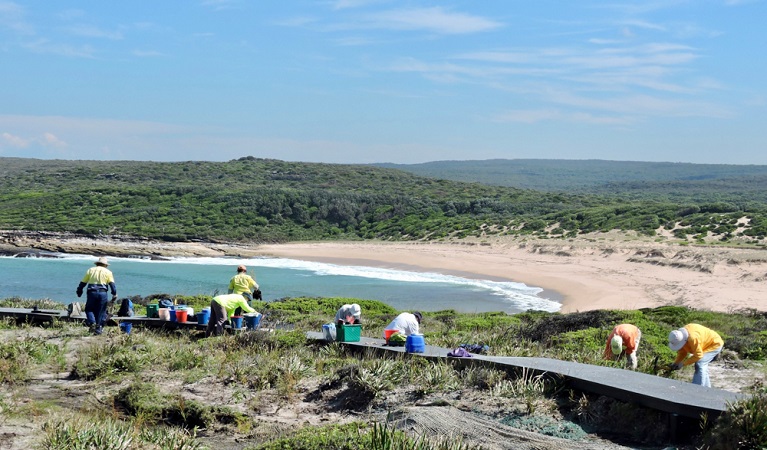 Royal National Park was Australia's first national park. Help protect its biodiversity well into the future. If you like gardening, volunteer to do bush regeneration in this popular park.
Donate to NSW National Parks
Valuable conservation work is being done in our national parks through the Foundation for National Parks and Wildlife, a not-for-profit organisation with the mission to care for Australia's native plants, animals and cultural heritage.