Mutawintji Historic Site
Learn more
Learn more about why this park is special
Mutawintji Historic Site is a special place. Here are just some of the reasons why:
Amazing Aboriginal art
The area of Mutawintji National Park is the traditional land of Malyankapa and Pandjikali people, and has been a significant meeting place for local cultures for thousands of years. Mutawintji Historic Site is the cultural heart of the region and has enormous cultural significance. Communities have performed initiations, rainmaking and other ceremonies here in gatherings of up to 1,000 people. It also boasts one of the largest collections of Aboriginal rock art in New South Wales. Today, it continues to be a place of living culture, with Aboriginal people from around the region gathering here for cultural purposes and to hold meetings. To discover the ancient wonders of this special place it's necessary to visit on a guided tour.
Iconic scenery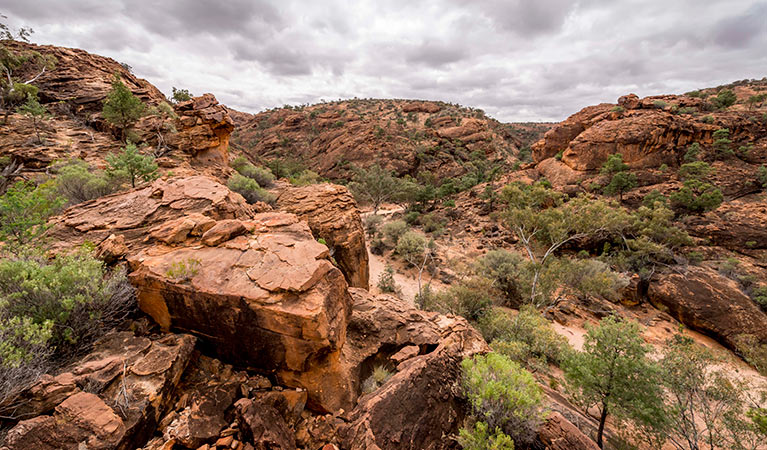 Mutawintji Historic Site and Mutawintji National Park display the classic outback landscape for which Australia is famous around the world. Travel along red dirt roads among rugged gorges and desert and against the backdrop of the ever-changing colour of the Byngnano Ranges. Discover the peace and space of this outback NSW desert. Beyond the ridges, the saltbush and mulga plains stretch to the horizon, making city life seem a long, long way away.
A wildlife wonderland
It might feel peaceful here, but Mutawintji teems with wildlife that has occupied these lands since ancient times. You might see a wedge-tailed eagle or peregrine falcon as you enjoy the chatter of noisy short-billed correllas, zebra finches, budgerigars, apostle birds and magpies. Goannas and snakes might cross your path or you may spot an endangered yellow-footed rock wallaby on the park's rocky ridges.
Naturescapes e‑newsletter