Morton National Park
What we're doing
Park management activities
Morton National Park has management strategies in place to protect and conserve the values of this park. Visit the detailed park and fire management documents. Here is just some of the work we're doing to conserve these values:
Understanding landscapes and geology
Morton National Park ensures the maintenance of special landscapes around the area. Attractions are easily enjoyed by visitors with the implementation of plans to upgrade facilities surrounding particular park attraction areas. NPWS collaborates with volunteers as well as other agencies to ensure the landscape and geological values of the park are preserved.
Preserving biodiversity
Morton National Park National Park embraces programs dedicated to conserving vulnerable, threatened and endangered species within its borders. One example is a program to protect the endangered brush-tailed rock wallaby. Efforts to target threats to such plant, animal and bird species are ongoing in this park, and include pest management and community education activities where required.
Managing weeds, pest animals and other threats
Pests and weeds have a significant impact to the ecosystems within Morton National Park. Reduction of threats, such as foxes, as well as ongoing risk assessments for new and emerging weeds, plays an important role in protecting the biodiversity values of this park.
Developing visitor facilities and experiences
Morton National Park is committed to keeping its visitors safe and informed, and this extends to issues of access and signage. Maintenance of park infrastructure, including walkways, tracks and access points, is ongoing within this park.
Conserving our Aboriginal culture
Morton National Park boasts a proud legacy of Aboriginal culture. Ongoing NPWS projects are in place to survey, monitor and assess the condition of the park's Aboriginal sites from both a cultural and archaeological perspective. NPWS collaborates with local Aboriginal land councils to facilitate this, and works to ensure sites within the park are appropriately recognised, supported and conserved.
Managing fire
NSW is one of the most bushfire prone areas in the world as a result of our climate, weather systems, vegetation and the rugged terrain. NPWS is committed to maintaining natural and cultural heritage values and minimising the likelihood and impact of bushfires via a strategic program of fire research, fire planning, hazard reduction, highly trained rapid response firefighting crews and community alerts.
Contact
See more visitor info
Upcoming alerts
For all planned management events such as hazard reduction burns and pest control operations see the alerts page.
Get involved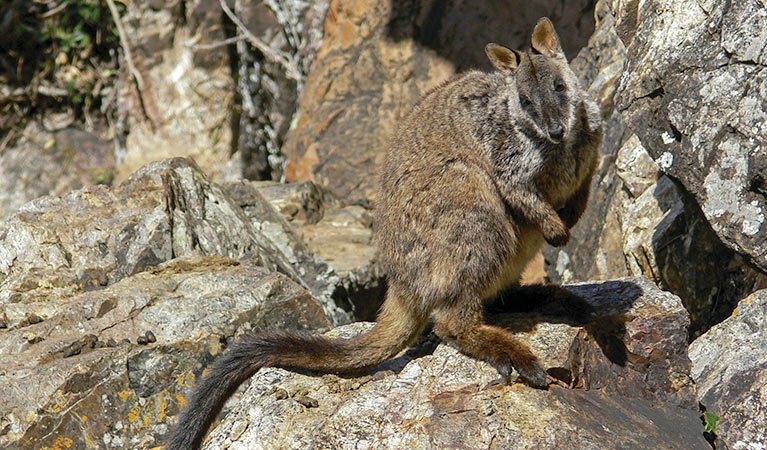 It's not hard to find your soft spot for the shy and beautiful brush-tailed rock-wallaby, currently one of Australia's threatened species. Volunteer to help save this native Australian animal from extinction.
Donate to NSW National Parks
Valuable conservation work is being done in our national parks through the Foundation for National Parks and Wildlife, a not-for-profit organisation with the mission to care for Australia's native plants, animals and cultural heritage.