High Plains area
Kosciuszko National Park
Visitor info
All the practical information you need to know about the High Plains area.
Getting there and parking
To get to the High Plains area of Kosciuszko National Park:
Access from Tumut:
Take Snowy Mountains Highway south
Long Plain Road is around 75km from Tumut
Tantangara Road is around 110km from Tumut
Access from Cooma:
Take Snowy Mountains Highway via Adaminaby
Tantangara Road is around 85km from Cooma
Long Plain Road is around 124km from Cooma
The nearest fuel and supplies are located in Adaminaby, Cooma, Talbingo, or Tumut. Limited services in Cabramurra.
Parking
Road quality
Road closures
Long Plain Road and Tantangara Road (beyond the dam wall) are closed in winter. There's no winter access to Currango or Blue Waterholes areas.
Check weather and road conditions before you set out as unsealed roads can become boggy.
Tantangara Causeway, on Port Phillip trail, can close due to flooding. Contact the Tumut Visitor Centre before you set out.
Snow chains
The Roads and Maritime Service (RMS) recommends snow chains are carried by all vehicles driving in the park in winter, including 4WD and AWD, in the event of extreme weather. Visit the Live Traffic website for current conditions.
Best times to visit
The vast and varied High Plains area is packed with activities and attractions, during the warmer months. Here are some of the highlights.
Autumn
Enjoy the crisp mountain air and purple-tinged heath on a heart-pumping bike adventure, horse ride or walk. Try easy Pocket ride to Pockets Hut, moderate Plain ride, or the challenging Gavels Circuit. Rise early to climb Batlow Rocks and watch the mist rise off the valley. Throw a fishing line in Tantagara Dam or the waters of the Murrumbidgee River, then warm up by the campfire under a sky full of stars.
Spring
In spring and summer, many of the slopes surrounding the high plains are covered in bright wildflowers. Set up camp and unload your mountain bike, saddle up the horses, or lace up your hiking boots. Discover Coolamine Homestead along Blue Waterholes trail, or Hains Hut on the 39km return Nungar Bullock ride. Follow Murrumbidgee ride to Townsend Hut, Pedens Hut and the wonderfully-named Love Nest in the Sallees. Experienced hikers who are well-prepared will find landscapes mostly unchanged by modern human activity in the vast Bimberi and Goobarragandra wilderness areas.
Summer
Escape the heat and head for the high plains. Why not enjoy a digital detox at Currango's cottages, where you can relax on the verandah as the resident roos lounge on the lawns and the sun turns the plains gold. Base yourself at one of the many designated campgrounds in this area and relish the network of walks, rides, and scenic drives. Bring your boat and fishing gear to see what's biting at Tantangara Dam. Lower water levels make this a great time to paddle or swim in a mountain stream, or tackle the river crossings on the walks to Clarke or Nichols Gorge.
Facilities
Picnic tables
Barbecue facilities Show more
Drinking water
Showers
Maps and downloads
Permitted
Mountain biking and horse riding are permitted on all public roads and most management trails in the High Plains area, except wilderness areas. Please stay on established trails. Bike riders should give way to walkers and horse riders.
Caving: 4 wild caves are open to visitors in the Blue Waterholes area. These include: Murray Cave, Barbers Cave, Cooleman Cave, and Right Cooleman Cave. All other caves within the area require permits to visit.
Camping
Vehicle based camping is permitted only at designated campgrounds. Huts can be used for emergency shelter only. Campgrounds with facilities to camp with horses include: Cooinbil Hut, Long Plain Hut, Ghost Gully, Old Snowy, Wares Yards, Rocky Plain, and Bullocks Hill campgrounds.
Fishing
You can fish in rivers and streams between the October and June long weekends. A current NSW recreational fishing licence is required to fish in all waters. Fishing in dams and lakes is permitted year-round, but some waterways may close temporarily or have restrictions. Refer to the NSW Recreational Freshwater Fishing Guide for information.
Prohibited
Vehicles, mountain bikes and horse riding aren't permitted in Clarke Gorge or Nichols Gorge at Blue Waterholes, or in wilderness areas.
Firearms, chainsaws and fossicking aren't permitted in Kosciuszko National Park.
Drones
Flying a drone for recreational purposes is prohibited in this area. Drones may affect public enjoyment, safety and privacy, interfere with park operations, or pose a threat to wildlife. See the Drones in Parks policy.
This area may be a declared Drone Exclusion Zone, or may be subject to Civil Aviation Safety Authority (CASA) rules for flying near airports, aerodromes and helicopter landing sites. See CASA's Drone Flyer Rules.
Commercial filming and photography
Commercial filming or photography is prohibited without prior consent. You must apply for permission and contact the local office.
Pets
Pets and domestic animals (other than certified assistance animals) are not permitted. Find out which regional parks allow dog walking and see the pets in parks policy for more information.
Smoking
NSW national parks are no smoking areas. The alpine resorts of Selwyn, Thredbo, Perisher, Charlotte Pass, Ski Rider and Kosciuszko Tourist Park are exempt, though some commercial and outdoor places within these resorts may have no smoking areas.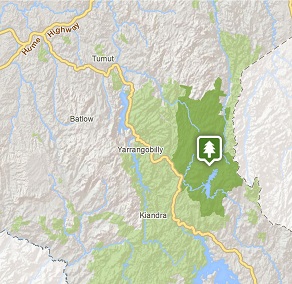 Contact
Nearby towns
Adaminaby (19 km)
Visit the fascinating Snowy Scheme Museum at Adaminaby to learn about the Snowy Mountains Hydro-electric Scheme. Find out about the achievements of the engineers, the workers, the machinery and the role the project played in the development of the modern Australian nation. The museum is open on weekends.
Talbingo (37 km)
Talbingo is surrounded by some of the most inspiring scenery in the Snowy Mountains. At Talbingo Dam you'll enjoy panoramic views of the region as well as superb fishing for brown and rainbow trout. You can even go water-skiing on the dam.
Tumut (75 km)
Tumut is a country town on the northern foothills of the Snowy Mountains. The Rolling valleys, mountain streams and alpine mountain ranges make it popular for nature lovers and adventure enthusiasts.
Cooma (85 km)
The Snowy Hydro Discovery Centre is a state-of-the-art visitor facility showcasing the story of the Snowy Mountains Hydro-Electric Scheme from the early construction days to the role the scheme plays today in the development of Australia.