Cape Byron State Conservation Area
What we're doing
Park management activities
Cape Byron State Conservation Area has management strategies in place to protect and conserve the values of this park. Visit the detailed park and fire management documents. Here is just some of the work we're doing to conserve these values:
Understanding landscapes and geology
Cape Byron State Conservation Area maintains and preserves the land and scenery within its borders. Visitors are able to fully enjoy its attractions as facilities and surrounding landscapes are regularly and carefully maintained.
Managing weeds, pest animals and other threats
Pests and weeds have a significant impact to the ecosystems within Cape Byron State Conservation Area. Risk assessments for new and emerging weeds are carried out as an ongoing initiative within the park. Pest management of bitou bush is an important part of the work NPWS does to protect the integrity of biodiversity which exists within Cape Byron.
Conservation program
Bitou bush poses a serious and widespread threat to threatened species populations and ecological communities on the NSW coast. The NPWS bitou bush threat abatement plan helps to reduce the impact of weeds at priority sites using control measures such as ground spraying, aerial spraying, biological control and physical removal.
Developing visitor facilities and experiences
Cape Byron State Conservation Area is committed to developing visitor facilities for its customers' enjoyment and safety. Regular maintenance, upgrading and installation of recreational, accommodation and retail amenities and infrastructure take place in this park. NPWS works to monitor vulnerable species and address threats, which can include feral animals and weeds, and implements actions to target their impacts.
Conservation program
When you sign up to volunteer for tour guiding and visitor services, you'll be doing something for yourself as well as for the benefit of visitors to NSW national parks.
Conserving our Aboriginal culture
There are a number of significant Aboriginal sites and artefacts within Cape Byron Conservation Area. NPWS is committed to protecting these important cultural items, and interpretive and educational programs are ongoing in this park.
Conservation program
NSW National Parks first recorded The Pass midden in Cape Byron State Conservation Area in 1980. And, in 2013, ancient archaeological midden material was repatriated and displayed on Country. Today, along with our Aboriginal community partners, NPWS works to protect The Pass midden, both now and into the future.
Managing fire
NSW is one of the most bushfire prone areas in the world as a result of our climate, weather systems, vegetation and the rugged terrain. NPWS is committed to maintaining natural and cultural heritage values and minimising the likelihood and impact of bushfires via a strategic program of fire research, fire planning, hazard reduction, highly trained rapid response firefighting crews and community alerts.
Conservation program
Bushfires are inevitable across fire-prone vegetation types within NSW national parks. NPWS prepares for wildfires by working with other fire agencies, reserve neighbours and the community to ensure protection of life, property and biodiversity. Every park has its own fire management strategy, devised in consultation with partner fire authorities and the community to plan and prioritise fire management.
Contact
in the North Coast region

Cape Byron State Conservation Area is open all hours, but may have to close at times due to poor weather or fire danger.
Cape Byron Lighthouse precinct is open 8am to sunset.
The Maritime Museum in the former Lighthouse Keeper's office at the base of the lighthouse is open 10am to 4pm daily.
Opening before 8am for events or disabled access can be arranged by prior notice – contact NPWS Byron Bay office during business hours 02 6639 8300.

Park entry fees:

Cape Byron Lighthouse precinct and Information Centre: $8 per vehicle per hour/$4 per hour motorcycles. Maximum 1 hour per vehicle per calendar day, including all NPWS annual passholders.

Captain Cook lookout, Cosy Corner, and The Pass: $4 per vehicle/motorcycle per hour. Coin-operated and credit card payment available.

Coach entry: $26 per coach up to 30 seats; $50 per coach 31 to 43 seats; $83 per coach 44 seats and over.

Buy annual pass

Cape Byron Information Centre
02 6639 8300
Contact hours: 9.30am to 4.30pm daily. Closed Christmas Day
199 Lighthouse Road, Byron Bay NSW 2481

More
See more visitor info
Get involved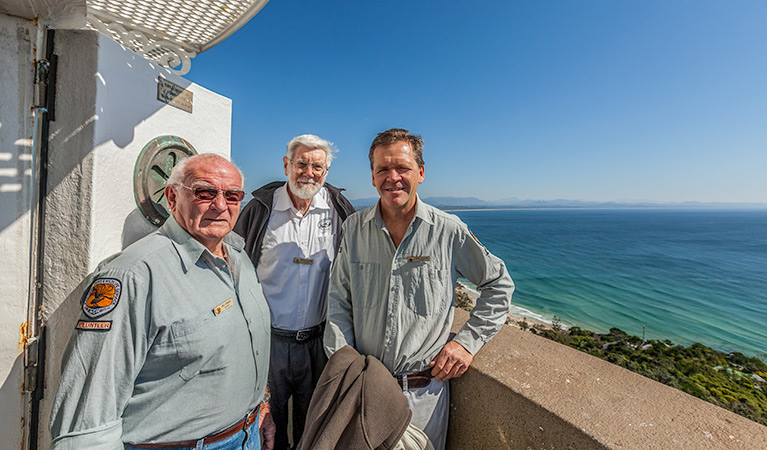 Looking for volunteer work with a view? If you've got a minimum of 3 hours a week to spare, come and be part of a friendly team at Cape Byron. Lead guided tours of the museum and lighthouse and share the area's fascinating maritime history with visitors.
Donate to NSW National Parks
Valuable conservation work is being done in our national parks through the Foundation for National Parks and Wildlife, a not-for-profit organisation with the mission to care for Australia's native plants, animals and cultural heritage.