Hunting hawkweed
Khancoban area in Kosciuszko National Park
Overview
Do you enjoy volunteering in the great outdoors? Join the hunt for orange hawkweed and help eradicate this invasive weed from the Jagungal Wilderness Area in Kosciuszko National Park.
Work

Bush regeneration, weed and pest management

Where

Grade

Hard. Suitable for adults and teens 18 years and over. You'll need a good level of physical fitness (surveys require a lot of walking). You'll be walking approximately 4km a day, negotiating natural rough and uneven terrain (no paths) and moderate slopes on uneven surfaces.

Please note

You'll need to commit to volunteering for the entire week (Monday to Friday).
Maximum of 5 volunteers per week.
Free shared accommodation in Khancoban (Sunday evening through to Saturday morning).
All bed linen and towels are supplied.
NPWS will supply the basics for breakfast and lunch. Volunteers will need to bring food and prepare their own evening meals.
Orange hawkweed is a serious threat to the Australian Alps and surrounding environments, including productive farmland. It's known to out-compete native and pastoral plants, and is capable of creating a monoculture.
Since 2009, over 300 volunteers have helped us in the search for orange hawkweed across the Jagungal Wilderness Area. Volunteers are instrumental in protecting sensitive environments from hawkweed invasion, by finding and hand-treating plants. Week-long surveys coincide with the peak Hawkweed flowering period each year, when orange hawkweed is easier to detect.
Surveys are conducted in some of the most scenic areas of Kosciuszko National Park. Volunteers will stay in Khancoban. To ensure your stay is safe and comfortable, remember to bring:
Personal medication (eg EPI pen, hay fever prevention)
Good waterproof walking boots
Thick socks
Long pants and long-sleeved shirts
Hat (broad rimmed, shades face and neck)
Warm clothing and wet weather gear (weather changes rapidly, even in summer)
Gaiters
Drinking water (1 litre bottle)
Day pack/backpack
Sunscreen and insect repellent
Lunchbox
Camera
Casual clothes and toiletries.
Volunteer for bushfire recovery
Following this season's unprecedented bushfires, you can register your interest to help the NSW National Parks and Wildlife Service (NPWS) and the Saving our Species program rehabilitate and protect our threatened animals and plants.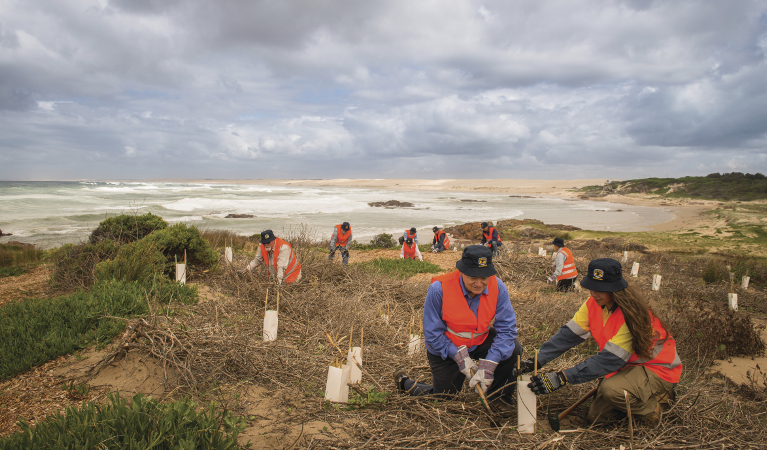 Australia is home to more than 500,000 animal and plant species, many of which are found nowhere else in the world. Saving our Species is a statewide conservation program that addresses the growing number of Australian animals and Australian native plants facing extinction.