Special Offer
Friends of Malabar Headland
Malabar Headland National Park
Overview
Volunteer for bush regeneration at Malabar Headland in south-east Sydney. Join one of the 2 groups that meet regularly in this national park. Meet like-minded people who share your love of nature. You'll help conserve the area's Australian native plants and animals.
Work

Bush regeneration, weed and pest management

When

One group meets every Thursday, and the other every Sunday, 9am–1pm.

Where

Grade

Medium
Malabar Headland National Park contains one of the last stands of a relic of vegetation once found throughout the Sydney area: Eastern Suburbs banksia scrub. Do you live in Sydney? Are you interested in volunteering for bush regeneration to help conserve this now rare plant community?
The area has officially been a national park since late 2012, but Friends of Malabar Headland formed in 2000 to protect this site. It has a significant natural and cultural heritage.
There are 2 bushcare groups. One concentrates on the park's eastern section, and the other on the western section. Join them and help remove noxious weeds and restore native habitat. At the same time, you'll meet new people, get extra exercise, and enjoy some fresh coastal air.
No prior experience is necessary, and training and tools are provided.
Following this season's unprecedented bushfires, you can register your interest to help the NSW National Parks and Wildlife Service (NPWS) and the Saving our Species program rehabilitate and protect our threatened animals and plants.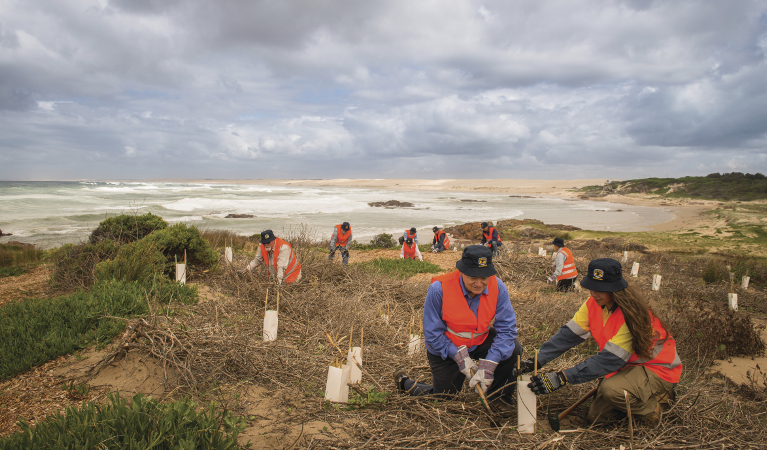 Australia is home to more than 500,000 animal and plant species, many of which are found nowhere else in the world. Saving our Species is a statewide conservation program that addresses the growing number of Australian animals and Australian native plants facing extinction.