Bents Basin wombat program
Bents Basin State Conservation Area
Overview
Wombats aren't just cute – they're also 'nature's bulldozers' and the most intelligent marsupial. In Bents Basin State Conservation Area they're threatened by mange. Help us treat them to ensure their ongoing presence in this area.
Work

Specific threatened species (plants or animals)

When

2023 volunteering dates under review.

Accessibility

Grade

Medium. Suitable for adults and teens 18 years and over, with medium fitness. You'll walk along creek lines, riverbanks, cliff edges and in steep and sometimes thickly vegetated rough terrain, in all weather.

Entry fees

Park entry fees apply
Left untreated, wombats with sarcoptic mange die a slow and painful death. Early treatment resolves the disease, and treated wombats aren't likely to be reinfested.
This pilot program for treating wombats with mange relies on volunteers. You'll help us monitor wombat health and understand the treatment's effectiveness. Wombats with mange are treated in their own environment and administer their own treatment when they brush under a burrow flap that releases ointment as they enter and leave their warrens.
Volunteer work includes:
Making burrow flaps
Trialling the flaps on wombat warrens and monitoring wombats' reactions and burrows using remote sensing cameras
Putting the treatment on burrow flaps
Uploading camera data and tagging photos to identify wombats with mange, healthy animals and other wildlife.
Great things you'll learn include using GPS and remote sensing cameras. All training is provided. It's a good idea to bring lunch, camera, insect repellant and change of shoes to travel home in.
Volunteer for bushfire recovery
Following this season's unprecedented bushfires, you can register your interest to help the NSW National Parks and Wildlife Service (NPWS) and the Saving our Species program rehabilitate and protect our threatened animals and plants.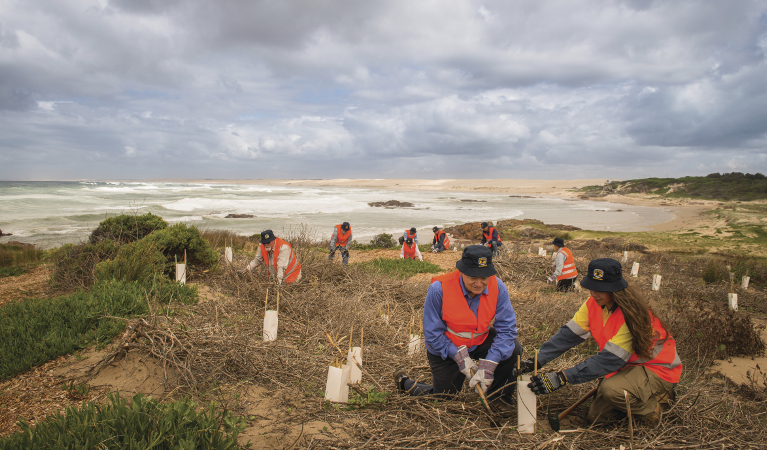 Australia is home to more than 500,000 animal and plant species, many of which are found nowhere else in the world. Saving our Species is a statewide conservation program that addresses the growing number of Australian animals and Australian native plants facing extinction.