School excursion
Hartley historical tour
Stage 3 (Years 5-6), History, Hartley Historic Site
Info for teachers
Everything you need to know about Hartley historical tour.
Program outline
Welcome, acknowledgement of Country and safety briefing
Students are separated into groups of 20
Each group will visit the following 3 venues:
Courthouse: Students learn about the role of justice, crime and punishment in Hartley, and participate in a mock trial.
Gaol: Students experience how settlers were imprisoned and punished and spend time in a real gaol cell.
Church: Students explore the everyday life of local farmers and settlers, and consider the role of religion and the broader impact of the colony.
What to bring
Please wear fully enclosed shoes and bring a hat, sunscreen, wet weather gear, lunch and drinking water (there is no drinking water available at Hartley Historic Site. Students should bring gear in a backpack or similar (not plastic bags), and take their rubbish with them.
Getting there and parking
From Mt Victoria:
Travel west along the Great Western Highway
Turn left into the village 4km after Little Hartley
Parking
There is parking at Hartley Courthouse and Hartley Historic Site Visitor Centre. Coach parking available.
Maps and downloads
Risk assessment and risk benefits
Our rangers and guides have the technical skill and experience to assess the risks and the benefits of a variety of activities delivered as part of our learning programs.
We believe in including opportunities that allow students to learn and experience for themselves through exploration in the natural environment.
Please make your own risk assessment based on the information provided. Detailed potential risks and controls are provided for the site to assist teachers in risk management planning. Teachers and carers should be aware of, and consider the needs, abilities and medical conditions of students when visiting this site. The supervision of students remains the responsibility of the teacher. The school must ensure an adequate number of adult supervisors are present.
Accessibility
Disability access level - no wheelchair access
Entry to buildings involves stairs.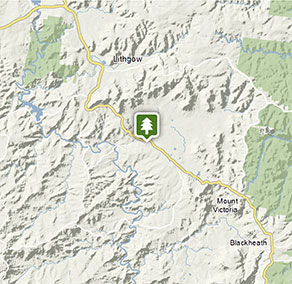 Park info