Surf and stay at Crescent Head
Goolawah National Park
Learn more
Learn more about why this park is special
Surf and stay at Crescent Head is in Goolawah National Park. Here are just some of the reasons why this park is special:
All creatures great and small
A visit to Goolawah National Park is like stepping into an amazing nature documentary. Come to see a huge variety of birds and animals, from ospreys and tawny frogmouths, to goannas and bandicoots, to dolphins and turtles. Go whale watching in winter, or head to the park's north to spot koalas in the tall eucalypts. Bird watching enthusiasts can see beach raptors, shore birds, parrots and honeyeaters. Plus, Goolawah is an important area for dingo conservation; so keep your eyes peeled, particularly at the campgrounds.
Fighting to preserve culture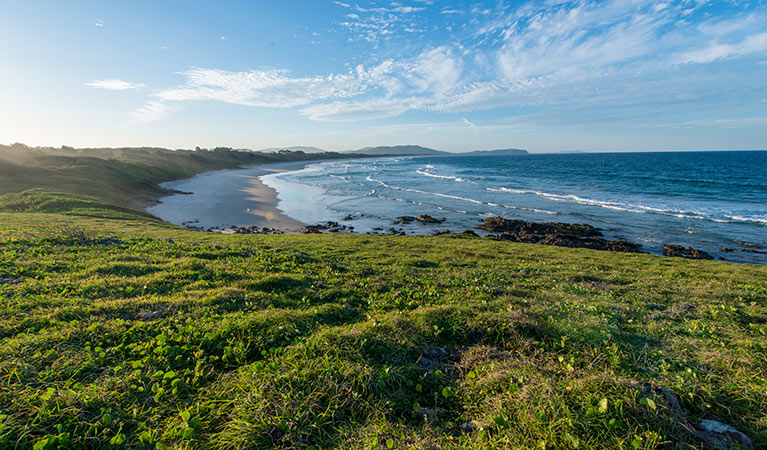 Goolawah is an Aboriginal word meaning 'yesterday'. Rich in edible resources, the area is highly significant to the local Dunghutti Aboriginal People, who still nurture a close connection with this land, and often camp here to maintain their culture. Locals are passionate about this area, and continue campaigning to limit its development. As you enter the park via Point Plomer Road, an unsealed road once used for sand mining, bear in mind the community's fight to keep this old 'back road' - and its surrounding landscape - natural, rustic and truly reminiscent of yesterday.
Protected plant life
Native plant life enthusiasts will delight in a visit to Goolawah, home of a range of coastal vegetation communities. See if you can spot endangered Themeda grasslands and littoral rainforest on the windswept headlands, and be sure to keep to the tracks in these fragile environments. In autumn and winter, many trees burst into flower, including broad-leaved paperbarks, coast banksias and swamp mahoganies. Not only are these amazing to behold, they're also vital food sources for wildlife, including the endangered swift parrot.
Surf and stay at Crescent Head

Stay across from a beautiful surf beach at Waves Campground and spend your days learning to surf, near the popular surf town of Crescent Head.
Surf's up
Head to the relaxed Goolawah beach to stroll on the sand or go bushwalking, bird watching, swimming or try your luck fishing. Plus, be sure to bring your board - many people regard this part of Australia as home to the country's best surfing. Beachcombing is also popular here - take a bag to collect ocean debris and litter as you walk. Not only will you revitalise your connection with nature, you'll be helping keep our beaches and oceans clean and safe for marine life. At the core of your Goolawah experience is the deep sense of discovery, respect and calm that results from spending time in such unspoiled surroundings. Camp for a few days and be the first to add your footprints to the sand in the mornings. Hear nothing but birds and crashing waves, and gather around a campfire, disconnected from duties, demands and devices. You can even share this incredible experience with your best friend in neighbouring Goolawah Regional Park. The Regional Park's 'Delicate campground' is one of the few northern NSW campgrounds you can bring your dog to, but keep in mind some mandatory restrictions do apply.
Education resources (1)
Naturescapes e‑newsletter