Mutawintji National Park
Overview
The ancient landscape of Mutawintji National Park, north east of Broken Hill, is rich in Aboriginal history. Explore bushwalks and camp under the outback night sky.
Read more about Mutawintji National Park
Visiting Mutawintji National Park in the NSW outback is a uniquely Australian experience. You'll find a ruggedly beautiful desert region showing evidence of continuous use by Aboriginal people for thousands of years.
Dominated by the Bynguano Ranges, whose vibrant red colour dramatically captures changes in the light, this outback park is home to the famous hand stencil art of local Aboriginal communities as well as many other important cultural and historic sites.
Don't forget to drop in on Mutawintji Historic Site within the park on your visit. It boasts one of the best collections of Aboriginal art in New South Wales.
Contact
in the Outback NSW region

Mutawintji National Park is always open but may have to close at times due to poor weather or fire danger.

Broken Hill office
08 8084 2880
Contact hours: Monday to Friday, 8.30am to 4.30pm. Closed 1pm to 2pm.
183 Argent Street, Broken Hill NSW 2880

More
See more visitor info
Visitor info
All the practical information you need to know about Mutawintji National Park.
Getting there and parking
From Broken Hill
Take the Silver City Highway towards Tibooburra and look for the Mutawintji National Park turnoff
or
Take the Barrier Highway 75km from Broken Hill
Consult maps, GPS and local visitor centre information for travel distances, times and road conditions.
Park entry points
Parking
Road quality
Vehicle access
Weather restrictions
Best times to visit
Mutawintji National Park is best visited during autumn, winter and spring when daytime weather is pleasant. Summer in the outback can be very hot.
Weather, temperature and rainfall
Rainfall
The area's highest recorded rainfall in one day
140.2mm
Facilities
Amenities
Toilets
Picnic tables
Barbecue facilities
Drinking water
Public phone
Showers
Maps and downloads
Visitor centre
Mutawintji Visitor Centre
51 Old Coach Road, Mutawintji, NSW 2880
Mutawintji Visitor Centre is always open but it's unstaffed (self service).
Nearby towns
Broken Hill (123 km)
About 10 km from Broken Hill, in the middle of the Living Desert Reserve, is Sundown Hill, the site of the Living Desert Sculptures. Follow the easy walking trail that takes you past these beautiful sandstone sculptures, even more striking in this desert setting.
White Cliffs (145 km)
Opals were discovered in the White Cliffs area as early as 1884. The town's first store and hotel opened in 1892, and miners soon arrived to dig their fortunes out of the ground. Make sure you buy an opal keepsake from one of the world's most unusual towns.
Wilcannia (176 km)
The small historic town of Wilcannia is located on the famous Darling River in the NSW outback. The nearby remote Mutawintji National Park offers a uniquely Australian experience, with its historic Aboriginal sites and captivating rugged desert terrain.
Learn more
Mutawintji National Park is a special place. Here are just some of the reasons why:
Iconic scenery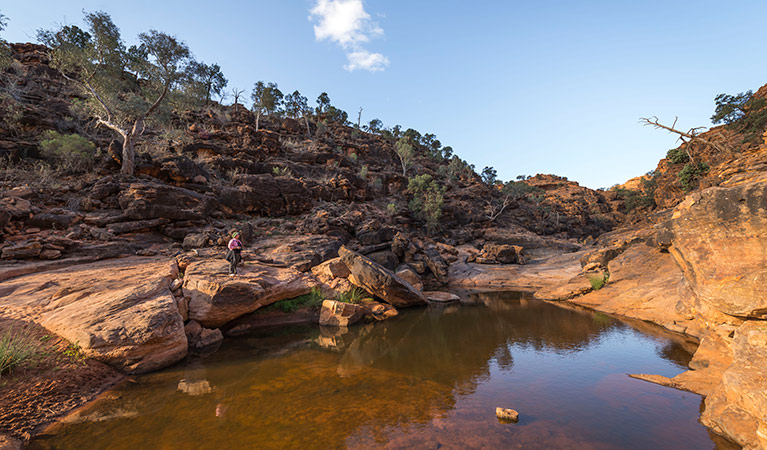 Mutawintji National Park displays the classic outback landscape for which Australia is famous around the world. Driving along red dirt roads among rugged gorges and desert, against the backdrop of the ever-changing colour of the Byngnano Ranges, you'll discover the peace and space of the desert. Beyond the ridges, the saltbush and mulga plains stretch to the horizon, making city life seem a long, long way away.
An important Aboriginal site
The traditional home of the Malyankapa and Pandjikali people, Mutawintji National Park has been a significant meeting place for local cultures for thousands of years. Communities have performed initiations, rainmaking and other ceremonies here in gatherings of up to 1000 people. A short, easy walk, suitable for wheelchairs, will guide you amid the splendour of Mutawintji's gorges to the rocky overhang Thaaklatjika (Wright's Cave). Here you'll find paintings, stencils and engravings that depict pre and post colonial Aboriginal history, as well as the animals that live in the area, including kangaroos and emus.
Guided Aboriginal heritage tours at Mutawintji

Explore one of the best collections of Aboriginal art in NSW on this day tour of Mutawintji National Park. Accompanied by one of the passionate guides of Tri State Safaris, you'll visit some of the country's most sacred sites in a timeless outback landscape.  

Homestead Gorge walking track

Take a breathtaking walk along Homestead Gorge walking track for scenic landscape vistas and ancient Aboriginal rock engravings. Plus you might see wallabies, emus and birds.

Rockholes Loop walking track

Rockholes Loop walking track is an adventurous extension to Homestead Gorge walking track, in Mutawintji National Park. This short but steep hike includes Aboriginal engravings and splendid views of rockholes, Homestead Gorge and Bynguano Range.
A wildlife wonderland
It might feel peaceful here, but Mutawintji teems with the wildlife that has occupied these lands since ancient times. You might see a wedge-tailed eagle or even a peregrine falcon and enjoy the chatter of noisy short-billed correllas, zebra finches, budgerigars, apostle birds and magpies. Crossing your path may be goannas and snakes, and look out for members of the only colony in NSW of the endangered yellow-footed rock wallaby. The largest of the rock-wallabies, it is Australia's most brightly coloured mammal - look for them on rocky ridges in the park.
Homestead Gorge walking track

Take a breathtaking walk along Homestead Gorge walking track for scenic landscape vistas and ancient Aboriginal rock engravings. Plus you might see wallabies, emus and birds.

Old Coach Road drive

The Old Coach Road drive is a piece of Australian history, following a section of the historic Broken Hill to White Cliffs Coach Run that connected these two outback towns. 
Plants and animals you may see
Animals
With a wingspan of up to 2.5m, the wedge-tailed eagle is Australia's largest bird of prey. These Australian animals are found in woodlands across NSW, and have the ability to soar to heights of over 2km. If you're bird watching, look out for the distinctive diamond-shaped tail of the eagle.

The red kangaroo is one of the most iconic Australian animals and the largest marsupial in the world. Large males have reddish fur and can reach a height of 2m, while females are considerably smaller and have blue-grey fur. Red kangaroos are herbivores and mainly eat grass.

Emu

(Dromaius novaehollandiae)

The largest of Australian birds, the emu stands up to 2m high and is the second largest bird in the world, after the ostrich. Emus live in pairs or family groups. The male emu incubates and rears the young, which will stay with the adult emus for up to 2 years.
Plants
One of Australia's most famous desert wildflowers, Sturt's desert pea is found across inland arid regions of Australia, including far west NSW. One of the most easily-recognised Australian native plants, Sturt's desert pea thrives in red sandy soil, or loam, and has vibrant red leaf-shaped flowers with a black centre, known as a 'boss'.

Saltbush

(Atriplex nummularia)

A hardy Australian native plant, the saltbush is a small spreading shrub that can withstand dry salty soils such as those found in the desert plains of western NSW. It is grey-white in colour and has small spear-shaped succulent leaves. It flowers from December to April.
Environments in this park
Education resources (1)
What we're doing
Mutawintji National Park has management strategies in place to protect and conserve the values of this park. Visit the OEH website for detailed park and fire management documents. Here is just some of the work we're doing to conserve these values:
Understanding landscapes and geology
The physical landscape of Mutawintji National Park is as significant as its cultural one. Programs exist to ensure the majority of the park remains relatively untouched, with minimal development, and that any necessary new development is planned and executed with respect for the land and its conservation. Rehabilitative and revegetation works are carried out in this park, and facilities are regularly maintained.
Preserving biodiversity
Mutawintji National Park upholds its biodiversity by protecting vulnerable, threatened and endangered species. Conservation activities are carried out, and include surveying and collecting data on species distribution and population, targeting pest impacts and frequent monitoring.
Conservation program
Recognising the threat dust poses to the Australian landscape, DustWatch is a community  program to monitor the extent and severity of wind erosion across the country. It is led by scientists from the Office of Environment and Heritage with support from local observers from government agencies and the community.
Managing weeds, pest animals and other threats
Pests and weeds have a significant impact to the ecosystems within Mutawintji National Park. NPWS carries out risk assesments for new and emerging weeds as well as pest reduction of foxes to protect biodiversity in this park.
Conservation program
Wild dogs can have significant impacts on other animals and are regarded as pests. Our wild dog control program operates in many NSW national parks and reserves. When carrying out wild dog pest control, we aim to minimise the impact that they have on livestock and domestic pets, while maintaining dingo conservation in key areas.
Historic heritage in our parks and reserves
The historic heritage of Mutawintji National Park is preserved through a variety of NPWS programs that embrace its notable past. Heritage revitalisation and conservation management plans are ongoing in this park. Maintenance is carried out in tandem with ongoing attention to visitor safety and risk management.
Developing visitor facilities and experiences
NPWS frequently reviews and maintains Mutawintji National Park's destinations and facilities, and balances any improvements with the need to uphold sustainable visitation. Interpretive signage and displays are managed and upgraded, and public education about the park's cultural significance and joint management arrangement is ongoing. NPWS evaluates its processes and systems in this park, implementing new ideas and technologies as appropriate.
Conserving our Aboriginal culture
Mutawintji National Park has been a meeting place for local cultures for millennia. It features numerous Aboriginal sites of spiritual, ceremonial or cultural significance, and ongoing projects are in place to document, monitor and conserve them. Programs to help visitors understand and respect the importance of the park and its assets are ongoing, and NPWS works closely with Aboriginal owners and associated Wiimpatja.
Conservation program
Located in semi-arid lands near Broken Hill, Mutawintji National Park, Mutawintji Historic Site and Mutawintji Nature Reserve are all rich in Aboriginal history and culture. NSW National Parks and the Mutawintji Board of Management are working together to ensure their preservation.
Managing fire
NSW is one of the most bushfire prone areas in the world as a result of our climate, weather systems, vegetation and the rugged terrain. NPWS is committed to maintaining natural and cultural heritage values and minimising the likelihood and impact of bushfires via a strategic program of fire research, fire planning, hazard reduction, highly trained rapid response firefighting crews and community alerts.
Conservation program
Bushfires are inevitable across fire-prone vegetation types within NSW national parks. NPWS prepares for wildfires by working with other fire agencies, reserve neighbours and the community to ensure protection of life, property and biodiversity. Every park has its own fire management strategy, devised in consultation with partner fire authorities and the community to plan and prioritise fire management.