Yarrangobilly area
Kosciuszko National Park
Overview
The Yarrangobilly area is a highlight of northern Kosciuszko National Park. Explore jaw-dropping caves on a guided tour and swim in the thermal pool. Stay at historic Caves House and enjoy the walks and wildlife.
Read more about Yarrangobilly area
The Yarrangobilly area, between Tumut and Cooma, is a great base for the whole family. Come and explore the natural wonders of northern Kosciuszko and Snowy Mountains Highway.
Discover some of the most beautiful limestone caves in Australia, with 6 show caves open to the public. Stop by Yarrangobilly Caves Visitor Centre for tips and to buy cave tour tickets. Then step into the depths of South Glory Cave on a self-guided tour through its lofty chambers. Join a daily guided tour of Jillabenan Cave's delicate stalagmites, stalactites, shawls and cave corals. Or, see Jersey Cave's rare black flowstones.
More amazing caves and tours are available during school holidays. Try hands-on geology and Aboriginal culture tours, or Castle Cave tours by headlight. Ask the visitor centre about customised group tours, school excursions. They can also help with meetings and weddings.
Above ground, a swim in the outdoor thermal pool is a magical experience. The pool's fed by a natural spring with water staying 27ºC year-round. Keep an eye out for superb blue wrens as you swim. Then follow the Yarrangobilly River walk back to Glory Arch walk and carpark, or South Glory Cave. At dawn and dusk you might see a platypus in the river.
The rugged karst landscape is a backdrop for great walks, wildlife and bird watching. Stay a night or 2 at beautifully restored Caves House or Lyrebird Cottage, or camp nearby and delve deeper into the Snowy Mountains.
Map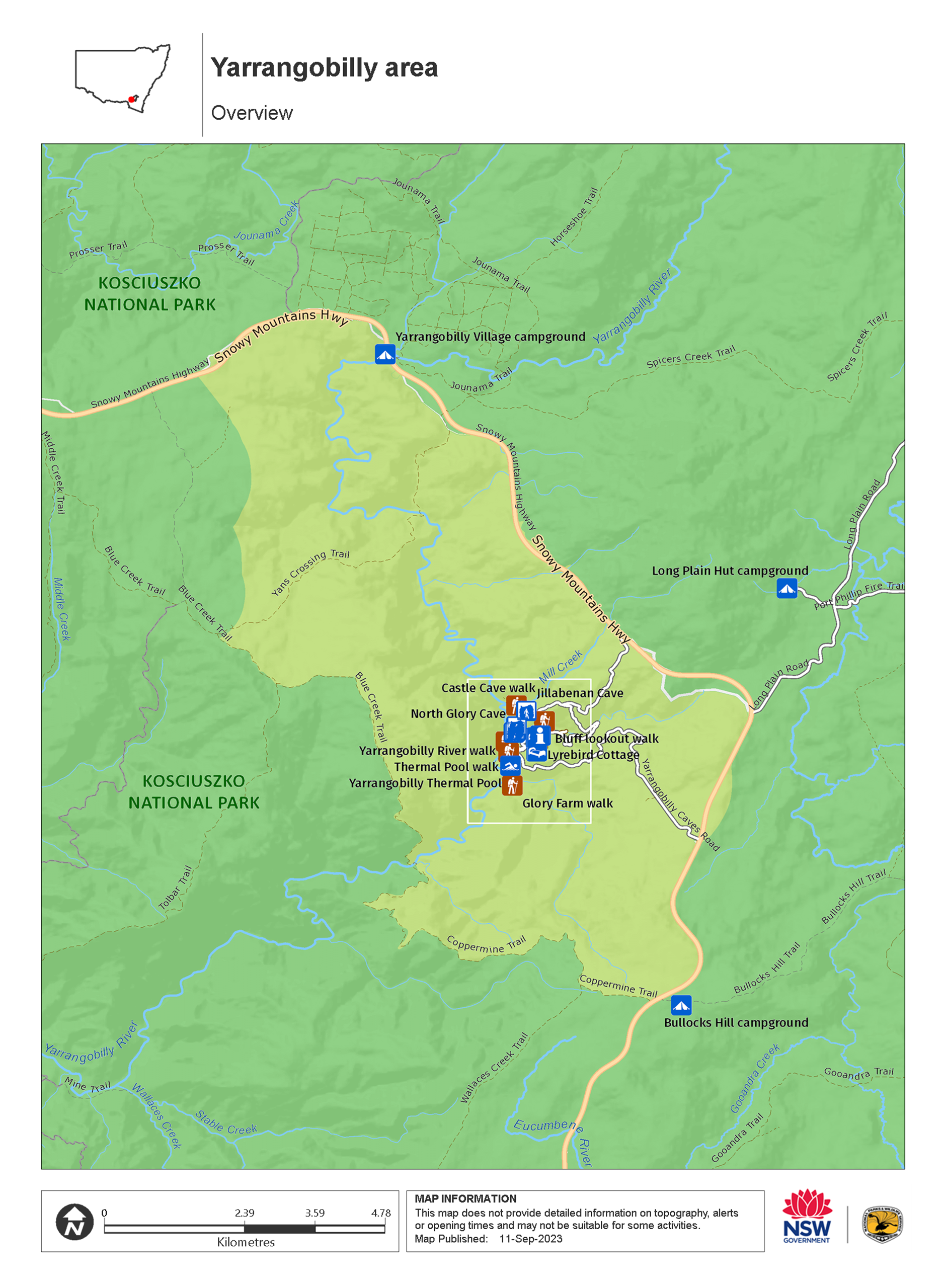 Map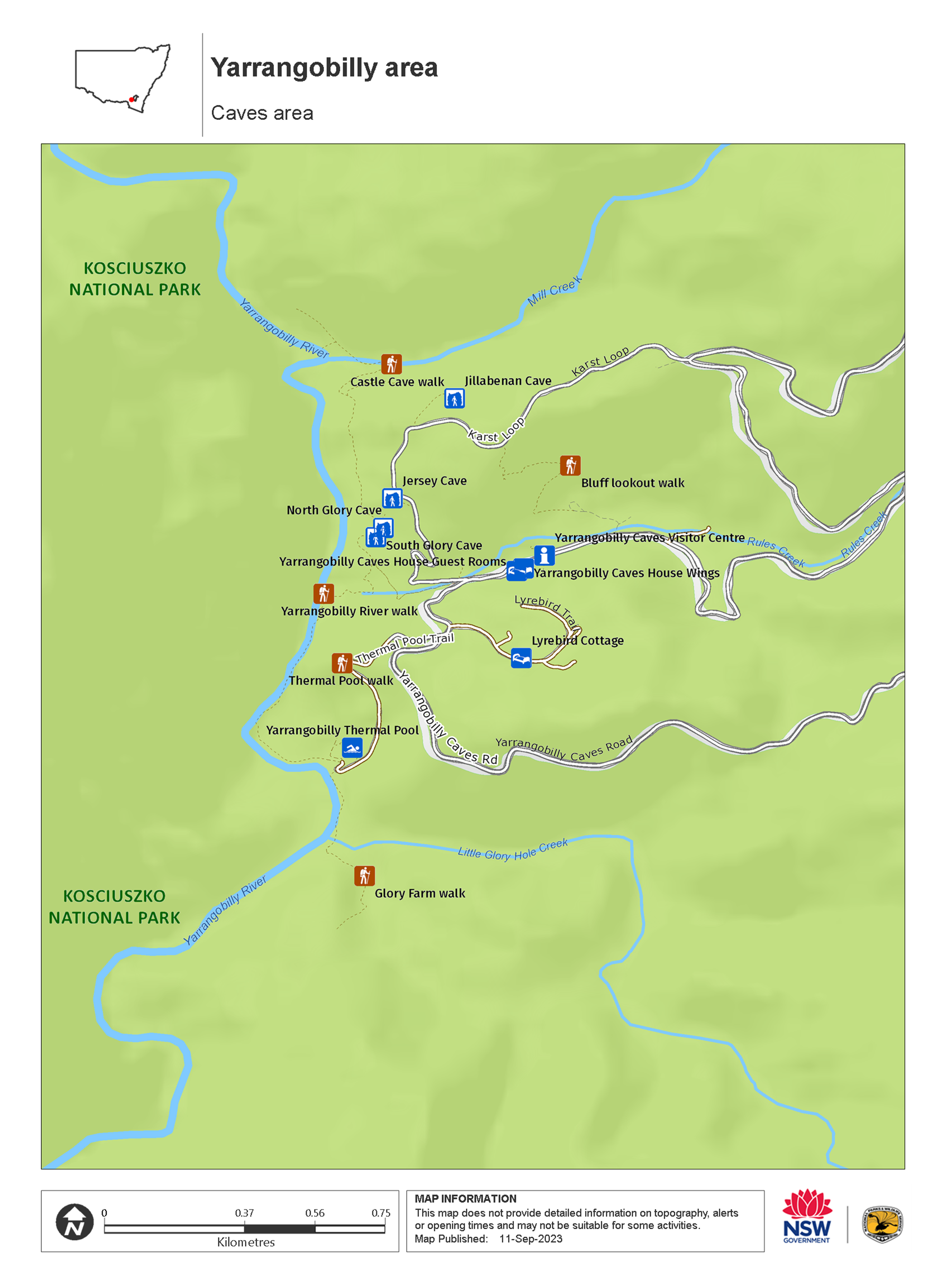 Map legend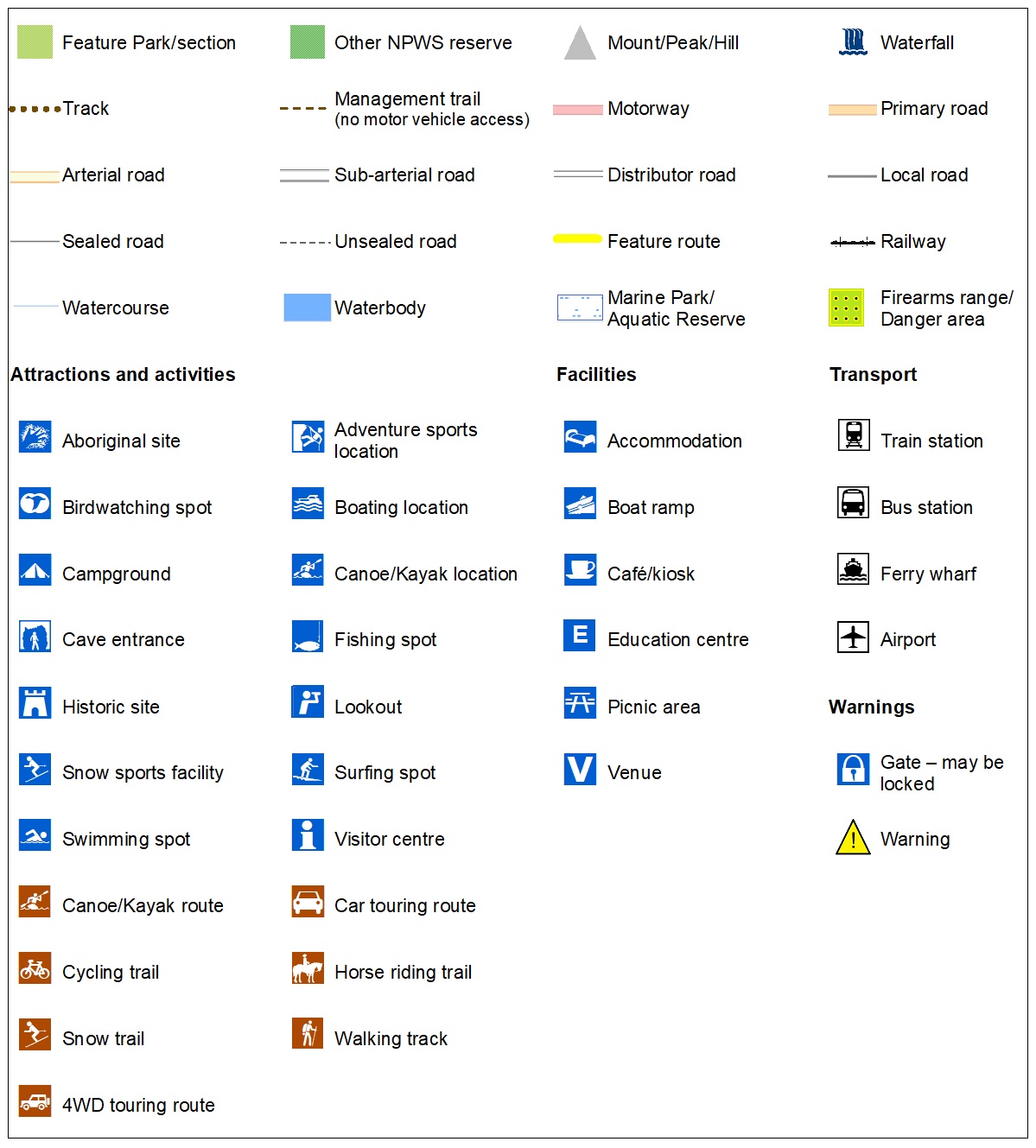 Contact
in Kosciuszko National Park in the Snowy Mountains region

The Yarrangobilly area is open all year. See individual show caves and guided tours for times and prices. Additional tours run during NSW school holidays. Contact Yarrangobilly Caves on (02) 6454 9597 to confirm the tour times for your visit.

Park entry fees apply in the Yarrangobilly area

$4 per vehicle per day applies at Yarrangobilly Caves for motor vehicles without a Kosciuszko National Park day pass or NPWS All Parks annual pass.

See vehicle entry fees for other areas in Kosciuszko National Park.

You'll need to buy a ticket or cave pass from the Yarrangobilly Caves Visitor Centre to visit all Yarrangobilly's caves.

Buy annual pass.

Yarrangobilly Caves Visitor Centre
02 6454 9597
Contact hours: 9am to 5pm daily. Closed Christmas Day
50 Yarrangobilly Caves Road, Yarrangobilly, NSW 2720

More

Tumut Region Visitor Centre
02 6947 7025
Contact hours: 9am to 5pm daily. Closed Christmas Day.
The Old Butter Factory, 5 Adelong Road, Tumut NSW 2720

More
See more visitor info
Visitor info
All the practical information you need to know about the Yarrangobilly area.
Getting there and parking
To get to Yarrangobilly Caves in Kosciuszko National Park:
From Cooma:
Travel south through Cooma for around 7km
Turn right onto Snowy Mountains Highway and continue for approximately 110km
Turn left into Yarrangobilly Caves Entrance Road
Follow the one-way unsealed road for approximately 6km to Yarrangobilly Caves.
From the Hume Highway:
At Gundagai, take the Tumut exit and follow Gocup Road to Tumut
Turn left onto Snowy Mountains Highway and head south for approximately 75km
Turn right into Yarrangobilly Caves Entrance Road
Follow the one-way unsealed road for approximately 6km to Yarrangobilly Caves.
Yarrangobilly Village is 7.5km north of the Yarrangobilly Caves Entrance Road.
Road quality
Yarrangobilly Caves entrance and exit roads are graded gravel. They're suitable for 2WD and 4WD vehicles up to 12.5m in length, however the Roads and Maritime Service (RMS) advise that the roads are unsuitable for caravans.
RMS recommends snow chains are carried by all vehicles driving in the park in winter, including 4WD and AWD, in case of extreme weather. Visit the Life Traffic website for road conditions.
Parking
Parking is available at Yarrangobilly Caves. Park entry fees apply for vehicles without a Kosciuszko National Park day pass or NSW National Parks All Parks annual pass.
Bus parking is available - contact the Yarrangobilly Caves Visitor Centre on (02) 6454 9597 for access.
Best times to visit
The Yarrangobilly area is packed with activities and sights whatever time of year you visit. Here are some of the highlights.
Autumn
Enjoy the beautiful autumn colours of European trees planted here in the early 1900s. Head through the historic line of elm trees on your way to Glory Arch and onto Castle walk. Work up an appetite with a swim in the popular thermal pool. Take in the mountain air on a walk to Glory Farm before looping back via River walk and South Glory Cave (ticket required). Then cook up a hearty meal in the self-catering kitchen at Caves House and relax by the fire.
Spring
From September through to December, a burst of growth sees golden wattle, purple hovea, red pea bushes and white native daisies bloom amongst the mountain ash and gums. The path to Jersey Cave is lined with red grevillea, pink fringe-lillies and yellow billy buttons. The cool, clear waters of the Yarrangobilly tempt you to throw a line in, as rivers reopen for fishing season. This is also a great time to explore the mountain bike and horse riding trails of the nearby High Plains.
Summer
Escape the heat underground on a cave tour, including exclusive school holiday-only tours to explore caves not usually open to visitors. Make the most of the sunshine with a lazy day picnicking and swimming at the thermal pool. Keen bushwalkers will appreciate the shady trails and summer wildflowers, while birdwatchers will be busy spotting fairy wrens, flame robins, king parrots and maybe a lyrebird. Why not camp up the road at Yarrangobilly Village campground, or book a room or wing of Caves House. As the sun sets the area comes to life with kangaroos, possums, bats, red-necked and swamp wallabies. You might even meet the resident wombat, Harley, who lives under Caves House.
Winter
Imagine swimming in a 27oC thermal pool surrounded by a blanket of snow, with no one but the birds to keep you company. If you're lucky, you'll see icicle stalactites hanging from Glory Arch, or reflections and ripples in the seasonal pool of water at South Glory Cave's entrance. Located only 22km north of Selwyn Snow Resort, Yarrangobilly is a handy accommodation base for the ski fields, and a great all-weather alternative if it's raining.
Facilities
Toilets
Picnic tables
Barbecue facilities
Cafe/kiosk
Drinking water
Public phone
Showers
Electric power
Maps and downloads
Prohibited
Drones
Flying a drone for recreational purposes is prohibited in this area. Drones may affect public enjoyment, safety and privacy, interfere with park operations, or pose a threat to wildlife. See the Drones in Parks policy.
This area may be a declared Drone Exclusion Zone, or may be subject to Civil Aviation Safety Authority (CASA) rules for flying near airports, aerodromes and helicopter landing sites. See CASA's Drone Flyer Rules.
Commercial filming and photography
Commercial filming or photography is prohibited without prior consent. You must apply for permission and contact the local office.
Pets
Pets and domestic animals (other than certified assistance animals) are not permitted. Find out which regional parks allow dog walking and see the pets in parks policy for more information.
Smoking
NSW national parks are no smoking areas. The alpine resorts of Selwyn, Thredbo, Perisher, Charlotte Pass, Ski Rider and Kosciuszko Tourist Park are exempt, though some commercial and outdoor places within these resorts may have no smoking areas.
Visitor centre
Nearby towns
Talbingo (34 km)
Talbingo is surrounded by some of the most inspiring scenery in the Snowy Mountains. At Talbingo Dam you'll enjoy panoramic views of the region as well as superb fishing for brown and rainbow trout. You can even go water-skiing on the dam.
Tumut (75 km)
Tumut is a country town on the northern foothills of the Snowy Mountains. The Rolling valleys, mountain streams and alpine mountain ranges make it popular for nature lovers and adventure enthusiasts.
Cooma (117 km)
The Snowy Hydro Discovery Centre is a state-of-the-art visitor facility showcasing the story of the Snowy Mountains Hydro-Electric Scheme from the early construction days to the role the scheme plays today in the development of Australia.
Learn more
Yarrangobilly area is a special place. Here are just some of the reasons why:
Unique landscapes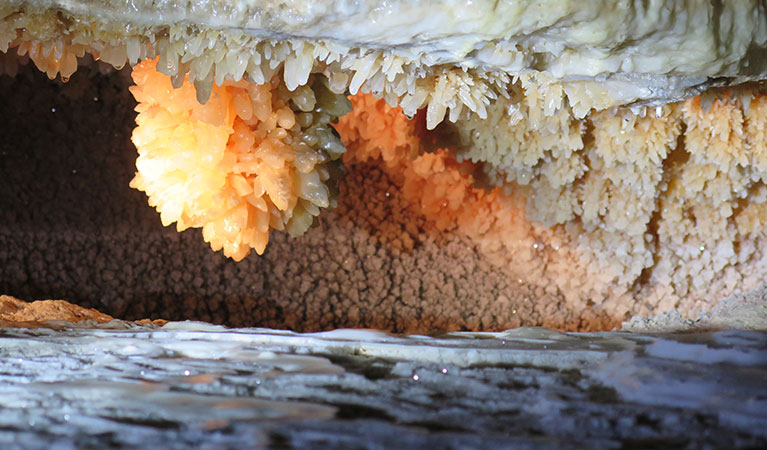 Yarrangobilly's karst landscapes were created from a belt of limestone laid down about 440 million years ago. Almost all cave formations can be seen here, from stalactites and stalagmites, hollow straws and delicate helictites, to shawls, cave coral, and massive flowstones. Karst environments are nature's time capsules, preserving evidence of climate change, floods, droughts, fires, animal and human activity. Over the years, Yarrangobilly's caves have hosted researchers from universities, nuclear science organisations and the Snowy Hydro. You can now visit Harrie Wood Cave, which was closed from 2006-2016, to learn how stalagmites have growth rings, and find out about about climate change monitoring.
Explore above and below ground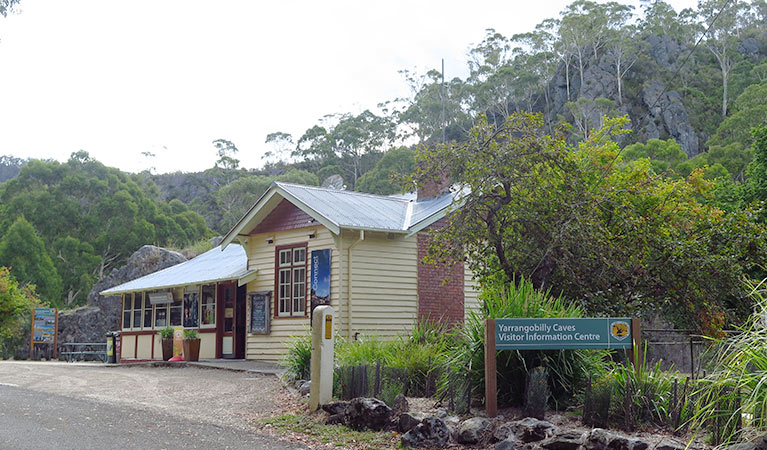 No visit to Yarrangobilly is complete without a visit to its marvellous caves, so stop by the Yarrangobilly Caves Visitor Centre to get your tickets and tour times. The largest, South Glory Cave, allows you to explore at your own pace on a self-guided tour. Jersey and Jillabenan Caves offer guided tours that run 3 or 4 times daily - Jillabenan even boasts wheelchair-access. The visitor centre can also help with tours of other caves, meetings, weddings, custom tours for groups or students from 10 to 100 people. With caves, tours, walks, and the natural mineral waters of the thermal pool to tempt you, you'll need to stay a few days. Book your own lovingly restored wing or a great-value room at Caves House. Enjoy the creature comforts of Lyrebird Cottage, or set up camp at Yarrangobilly Village campground, just off the Snowy Mountains Highway.
Yarrangobilly Caves thermal pool walk

Take the short Yarrangobilly Caves thermal pool walk and enjoy a swim in the spring-fed natural pool. It's easily combined with a picnic, bushwalk or cave tour in the Yarrangobilly area of Kosciuszko National Park.

Yarrangobilly Caves Visitor Centre

Yarrangobilly Caves Visitor Centre is your one stop destination for information on cave tours and tickets, and top tips on where to stay and what to do in the Yarrangobilly and northern areas of Kosciuszko National Park.
A wonderland for wildlife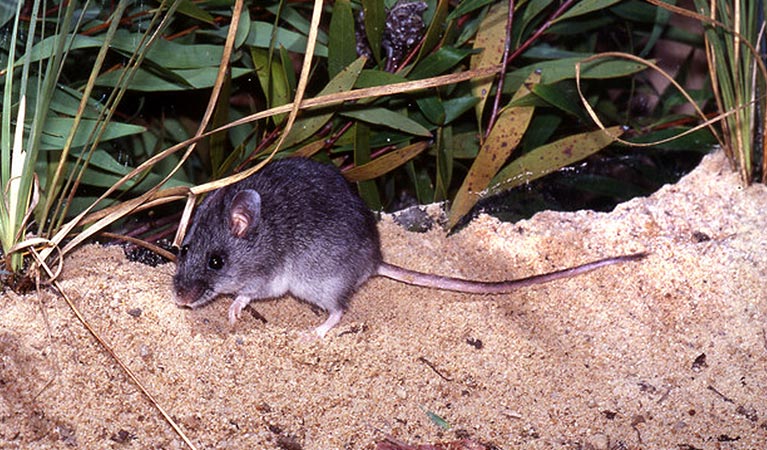 Karst environments are complex ecosystems containing highly specialised plants, animals and micro-organisms. The dense shrubs around Yarrangobilly River provide protection for the endangered smoky mouse, as well as being great for bird watching. At night you might be lucky to see a possum or sugar glider, forest bats, tawny frogmouth owl or even an endangered sooty owl. Don't be put off if you see algae or even springtime tadpoles in the thermal pool. Algae and weed provide a breeding site for eastern banjo frogs, aka pobblebonks, because of their banjo-like 'plonk' or 'bonk', meaning the water is clean and healthy. School students can learn more about Kosciuszko National Park's ecosystems and important biodiversity on a school excursion.
Discover Aboriginal culture
Yarrangobilly is the perfect place to experience the rich Aboriginal culture of the Wolgalu People. Join a NPWS Aboriginal ranger to see the tools and techniques of the Traditional Owners of this unique landscape. Take part in hands-on activities like string making, or learn how to start a fire without matches. Wolgalu culture tours run on select dates during school holidays, and start from the picnic area near Yarrangobilly Caves Visitor Centre (bookings essential).
Plants and animals protected in this park
Animals
Plants
Billy buttons are attractive Australian native plants that are widespread throughout eastern NSW in dry forest, grassland and alpine regions such as Kosciuszko National Park. The golden-yellow globe-shaped flowers are also known as woollyheads. Related to the daisy, billy buttons are an erect herb growing to a height of 50cm.
Environments in this area
What we're doing
Yarrangobilly area has management strategies in place to protect and conserve the values of this park. Visit the OEH website for detailed park and fire management documents. Here is just some of the work we're doing to conserve these values:
Understanding landscapes and geology
Geo conservation efforts and research play an important role in protecting the delicate ecosystems of Kosciuszko National Park, such as the Yarrangobilly Karst. Rehabilitation and maintenance works to limit the impact of erosion and degradation, and monitoring the effects of climate change and visitation, are ongoing.
Go behind the scenes on Yarrangobilly's eco-tech tour to learn about power generation, gas co-generation, chemical-free sewerage treatment, black water re-use and alpine grass re-vegetation.
Preserving biodiversity
Kosciuszko National Park plays an important role in preserving NSW's biodiversity by protecting its vulnerable, threatened and endangered species, such as the smoky mouse. Conservation activities are carried out in this park, and include monitoring species' habitats, distribution and population.
Managing weeds, pest animals and other threats
Pests and weeds have a significant impact on the ecosystems and habitats within Kosciuszko National Park. Pest species control is an important part of the work NSW National Parks and Wildlife Service (NPWS) does to protect the integrity of the Yarrangobilly area.
Historic heritage in our parks and reserves
The historic heritage of Kosciuszko National Park is preserved through a variety of NPWS programs that embrace its past. Heritage revitalisation and adaptive reuse projects, such as Yarrangobilly Caves House, are ongoing in this park.
Developing visitor facilities and experiences
NPWS is committed to developing facilities for the enjoyment and safety of visitors to Kosciuszko National Park. Visitor feedback and environmental sustainability are key considerations in park maintenance, and upgrades are ongoing. Campgrounds, picnic areas, trails and lookouts are continually maintained and upgraded, and NPWS regularly reviews the park's recreational opportunities, identifying areas for improvement or addition.
Kosciuszko National Park has achieved Australia's first Ecotourism Destination Certification, through Ecotourism Australia, recognising best practice sustainable tourism and visitation in protected areas.
Managing fire
NSW is one of the most bushfire prone areas in the world due to our climate, weather systems, vegetation and the rugged terrain. NPWS is committed to minimising the likelihood and impact of bushfires via a strategic program of fire research, fire planning, hazard reduction, highly trained rapid response firefighting crews and community alerts.