Kurnell area
Kamay Botany Bay National Park
COVID-safe whale watching
If you plan to watch for whales at Cape Solander on weekends, please try to arrive before 11am or after 2pm. A large number of visitors arriving around midday could lead to traffic delays and the Kurnell area being temporarily closed in order to comply with the COVID-19 restrictions around physical distancing.
Overview
Kurnell area is at the southern headland of Kamay Botany Bay National Park, near Cronulla. Go whale watching or explore some of NSW's most significant heritage sites—and see why Kurnell Peninsula headland was included in the National Heritage List in 2004.
Read more about Kurnell area
Kurnell Visitor Centre is a great place to start your exploration of Botany Bay's southern headland. Learn about local Aboriginal culture and history, including encounters with the crew of HMS Endeavour in 1770. Wander the art gallery, and then grab a coffee on your way out to explore the rest of Kurnell.

It's just a short drive from the visitor centre to Cape Solander viewing platform – one of Sydney's best vantage points for whale watching.

If you're into snorkelling and scuba diving, try diving around Inscription Point or off the more sheltered Sutherland Point. Lace up and walk the self-guided Banks-Solander track, or follow Burrawang Walk past several of the area's historic sites, including Captain Cook's Landing Place. Cape Baily track offers the opportunity for a longer walk through beautiful native vegetation — keep your eyes peeled for native birds.
Contact
in Kamay Botany Bay National Park in the Sydney and surrounds region

7am–7.30pm August to May. 7am–5.30pm June to July.

Areas may have to close at times due to poor weather or fire danger.

Park entry fees:

$8 per vehicle per day applies in the Kurnell area only. The park has coin-operated pay and display machines - please bring correct coins. The park also has credit card accepting payment facilities.

Buy annual pass.

Kurnell Visitor Centre
02 9668 2010
Contact hours: Monday to Friday, 10am to 3.30pm. Saturday, Sunday and public holidays, 9.30am to 4pm. Closed Christmas holiday.
21 Cape Solander Drive, Kurnell NSW 2231

More
See more visitor info
Visitor info
All the practical information you need to know about the Kurnell area.
Getting there and parking
Kurnell is on Captain Cook Drive, access is via Rocky Point Road, off the

Princes Highway.

At Kurnell, turn right off Captain Cook Drive into Cape Solander Drive

To access Potter Point, turn right off Captain Cook Drive into Sir Joseph

Banks Drive.
Park entry points
Parking
Parking
Parking is available (including designated disabled spots in most car parks) at:
Cricket Pitch

Kurnell Visitor Centre

Commemoration Flat

Inscription Point

The Leap

Yena picnic area

Cape Solander

Potter Point
Best times to visit
With its picturesque views and whale watching vantage points, a visit to Kurnell is unmissable in winter. But its countless historic attractions, birdlife and walking tracks make it a joy any time of year.
Spring
Take the Cape Baily walk to birdwatch, see the Cape Baily lighthouse, and if you're lucky, spot humpback whales returning south. Visit in November when daylight saving begins in NSW - It's lighter for longer and the Kurnell area is open until 7.30pm. Pack a picnic and enjoy the cool sea breeze at Commemoration Flat.
Summer
Bring your scuba gear and explore the rocky reefs at Botany Bay's entrance, including Sutherland and Inscription Points and maybe even glimpse sea horses and sea dragons. Cool off with a quiet saltwater swim at Silver Beach. Pack a picnic and summer can be a busy time at this park.
Winter
Head to Cape Solander lookout to see migrating humpback whales swimming close to the coast. Winter is a very busy time in this park, and parking is not always available at Cape Solander. Set off on the extended Henry Head walking track to photograph the SS Minmi shipwreck, just off Cape Banks (low tide only).
Facilities
Toilets
Picnic tables
Maps and downloads
Fees and passes
Park entry fees:
$8 per vehicle per day applies in the Kurnell area only. The park has coin-operated pay and display machines - please bring correct coins. The park also has credit card accepting payment facilities.
Annual passes and entry fees (https://www.nationalparks.nsw.gov.au/passes-and-fees)
Permitted
You can mountain bike on management trails only
Fishing
You can go fishing in Botany Bay from foreshore areas. A current NSW recreational fishing licence is required when fishing in all waters.
Prohibited
Drones
Flying recreational drones is not permitted in this park because it is located within 5.5km of an airfield or helicopter landing site. The Civil Aviation Safety Authority (CASA) states that drones should not be flown within 30m of vehicles, boats, buildings or people, or within 5.5km of an airfield. Drones can also impact on public enjoyment and privacy, interfere with park operations, and may pose a threat to wildlife in some areas. Please contact the park office for consent if you wish to fly a drone for commercial filming or photography purposes. For more information, see the Drones in Parks policy.
No cycling on walking tracks
Motorcycles and vehicles must be kept on public roads
Camping
Horses
Pets
Pets and domestic animals (other than certified assistance animals) are not permitted. Find out which regional parks allow dog walking and see the pets in parks policy for more information.
Smoking
NSW national parks are no smoking areas.
Visitor centre
Kurnell Visitor Centre
21 Cape Solander Drive, Kurnell NSW 2231
Monday to Friday, 10am to 3.30pm. Saturday, Sunday and public holidays, 9.30am to 4pm. Closed Christmas holiday.
Learn more
Kurnell area is a special place. Here are just some of the reasons why:
Whale watching
June/July is the best time to see humpback whales in this area as they migrate to warmer waters, and Cape Solander is a terrific lookout to get a glimpse of these majestic ocean giants.
Cape Solander

Head to one of Sydney's best whale watching spots. Cape Solander, located in the Kurnell section of Kamay Botany Bay National Park is an unbeatable lookout during whale watching season.

Kurnell Visitor Centre

Kurnell Visitor Centre is a one-stop shop for tourist information in Kamay Botany Bay National Park, near Cronulla in southern Sydney. Visit for maps, history, advice and exhibitions.

Muru and Yena tracks

Mura and Yena tracks form a short loop walk from Kurnell Visitor Centre to clifftop Yena picnic area, in Kamay Botany Bay National Park. Enjoy dramatic coastal views, spot whales, birdlife and wildflowers.
Aboriginal culture to discover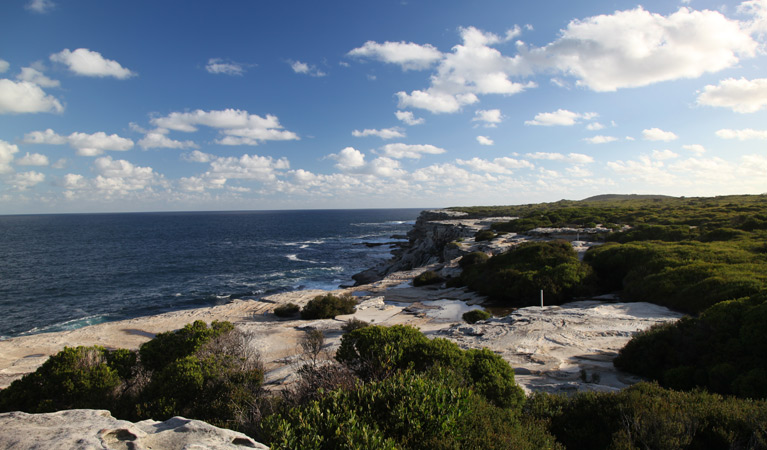 At the time of the first encounters with Europeans, Aboriginal people of 2 different nations – the Goorawal People and the Gweagal People – were living in the area which now includes Kamay Botany Bay National Park. Significant Aboriginal sites have been recorded in the park, including middens and engravings.
Burrawang walk

Take an easy stroll along Burrawang walk in the Kurnell area of Kamay Botany Bay National Park. Enjoy several historic sites and bronze sculptures of Aboriginal significance. A large section of this walk is wheelchair-accessible.
Historic heritage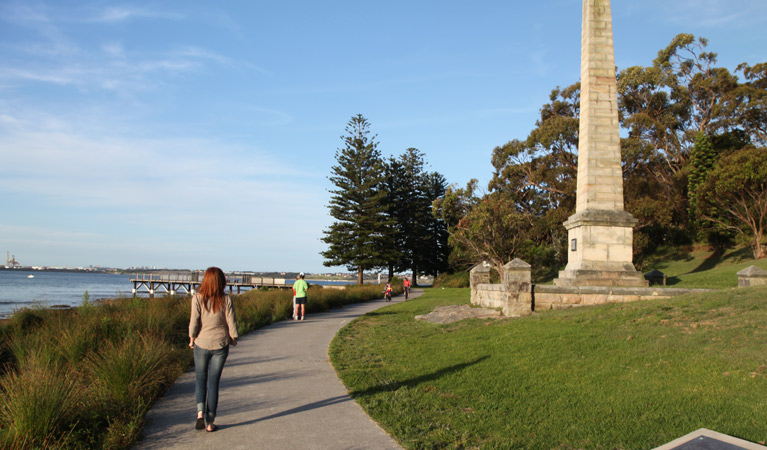 Kurnell is Captain Cook's Landing Place and the point of first contact between Aboriginal people and the Endeavour crew. The Kurnell area of Kamay Botany Bay National Park is rich in both Aboriginal and European history and is certainly a cornerstone of the country's colonial history. One of Australia's earliest European explorers, James Cook, landed here in 1770. Cook's botanists, Joseph Banks and Daniel Solander, first explored Australia's natural world here. After the reports of Cook and Banks, Botany Bay was recommended as a suitable site for settlement but upon inspection by Captain Arthur Phillip it was found unsuitable as it had no secure fresh water or suitable anchorage – so Sydney Cove was set up as the penal colony instead
Captain Cook's Landing Place

Visit Kamay Botany Bay National Park to see Captain Cook's landing place at Kurnell. The heritage-listed site is an important place in Australia's history.

First contacts at Kurnell

In 1770, James Cook landed in Botany Bay on board the Endeavour. Directly ashore were the Aboriginal people of the Eora Nation. This Stage 2 (Years 3-4) history excursion will explore the first contact between Aboriginal clans and white settlers.
Plants and animals you may see
Animals
White-bellied sea eagles can be easily identified by their white tail and dark grey wings. These raptors are often spotted cruising the coastal breezes throughout Australia, and make for some scenic bird watching. Powerful Australian birds of prey, they are known to mate for life, and return each year to the same nest to breed.
Plants
Environments in this area
School excursions (1)
What we're doing
Kurnell area has management strategies in place to protect and conserve the values of this park. Visit the OEH website for detailed park and fire management documents. Here is just some of the work we're doing to conserve these values:
Preserving biodiversity
Biodiversity is integral to Kamay Botany Bay National Park, and efforts to preserve this are ongoing. Recovery plans, regeneration, maintenance and species monitoring are regularly carried out to protect, and where necessary rehabilitate, the park's landscapes, ecosystems, vegetation communities and fauna and faunal habitats.
Managing weeds, pest animals and other threats
Pests and weeds have a significant impact to the ecosystems within Kamay Botany Bay National Park. Pest reduction of species such as bitou bush and boneseed, as well as risk assessment for new and emerging weeds, is an important part of the work NPWS does to protect the biodiversity values of this national park.
Historic heritage in our parks and reserves
Preserving the abundant historic heritage of Kamay Botany Bay National Park is a priority for NPWS. Regular maintenance of monuments, buildings and other structures is carried out to protect the park's heritage value and ensure important asset conservation. The park promotes visitor education and efforts to explain its cultural importance through the provision and regular upkeep of interpretive signage are ongoing.
Conserving our Aboriginal culture
Kamay Botany Bay National Park is renowned for its significant Aboriginal history, and Aboriginal communities' links to the land remain strong. Aboriginal heritage within the park is substantial, and ongoing projects are in place to monitor the condition of key sites and assets. NPWS works to engage the wider community in celebrating the importance of this park and its cultural connections.
Developing visitor facilities and experiences
Community involvement is integral to Kamay Botany Bay National Park. To reflect this, the park hosts a variety of events, tours and other public and cultural offerings. NPWS regularly attends to the upkeep and installation of interpretive exhibitions throughout the park and updates are ongoing. NPWS engages with Aboriginal communities and other community interest groups where possible.
Kamay 2020 Project
The Kamay 2020 Project is a joint Australian and New South Wales Governments project to commemorate the 250th anniversary of the meeting of two cultures at Kurnell. NSW National Parks and Wildlife Service (NPWS) is working to deliver a range of enhanced visitor facilities and access, and provide new experiences and interpretation that respects the many layers of history at this significant place.
Managing fire
NSW is one of the most bushfire prone areas in the world as a result of our climate, weather systems, vegetation and the rugged terrain. NPWS is committed to maintaining natural and cultural heritage values and minimising the likelihood and impact of bushfires via a strategic program of fire research, fire planning, hazard reduction, highly trained rapid response firefighting crews and community alerts.