Border Ranges National Park
Overview
World Heritage-listed Border Ranges National Park offers scenic walks, cycling, drives and breathtaking views, near Murwillumbah. Enjoy a school excursion or camp amongst the gondwana rainforest.
Read more about Border Ranges National Park
Border Ranges National Park, part of the Gondwana Rainforests of Australia World Heritage Area is a large area of wilderness that protects untouched rainforest and unique plants and animals connected to the ancient supercontinent of Gondwana.
There are countless opportunities to explore the abundant wonders of the rainforest throughout this rare haven. You can travel around Border Ranges National Park along the Tweed Range Scenic Drive touring route (part of the Rainforest Way) – stopping wherever you like for a closer look at this special landscape. Try the short Palm Forest walking track through subtropical rainforest or take the more difficult Booyong walk that leaves from Sheepstation Creek campground.
You're bound to find a beautiful spot for a picnic or barbecue lunch and be sure to stop off at some of the park's lookouts along the way to enjoy magnificent views of the spectacular crater escarpment. Photographers will love capturing billowing waterfalls, views of Wollumbin-Mount Warning and lush rainforest plants.
The park is easily accessible from Kyogle and Lismore; however if you'd prefer to sleep under a blanket of stars and be woken by birds, head to one of the park's campgrounds.
Contact
See more visitor info
Visitor info
All the practical information you need to know about Border Ranges National Park.
Getting there and parking
From Lismore:
Travel 48km northwest to Kyogle and then on to Wiangaree
This road is all paved
From Murwillumbah:
Follow the Kyogle Road west to Lillian Rock
Once you've reached Lillian Rock turn right onto Williams Road. From here the route is signposted.
This road has unpaved sections
From Kyogle:
Travel 15km north along the Summerland Way to Wiangaree and then turn right onto Lynchs Creek Road
The park is signposted from here
This road has unpaved sections
From QLD:
Follow Mount Lindesay Highway to Rathdowney
Travel east along Running Creek Road until you reach the Richmond Gap
From here you'll find the central sections of the park including Border Loop lookout and picnic area
Please note that Lions Road is not suitable for caravans and buses
To reach Sheepstation campground and the eastern half of the park, follow Lynchs Creek Road from Wiangaree, turn left into Forest Road
Park entry points
Parking
By bike
Check out the Bicycle information for NSW website for more information.
Best times to visit
There are lots of great things waiting for you in Border Ranges National Park. Here are some of the highlights.
Autumn
A picnic at Border Loop lookout and picnic area is a must during autumn. It's also a popular spot to see the historic Border Loop railway line.
Spring
The perfect time to get away from it all on a family camping trip. Sheepstation Creek campground is a great base for exploring Border Ranges National Park.
Summer
Watching the sunrise from Pinnacle lookout offers the best views of the crater escarpment, Wollumbin-Mount Warning and the coast. You're bound to find it a breathtaking experience.
Winter
Take in the park's scenery from the comfort of your car or motor home as you drive along the Tweed Range Scenic drive. Be sure to take some breaks along the way though – you don't want to miss the views.
Weather, temperature and rainfall
Rainfall
The area's highest recorded rainfall in one day
321mm
Facilities
Amenities
Barbecue facilities Show more
Drinking water
Maps and downloads
Fees and passes
Park entry fees:
$8 per vehicle per day. The park uses a self-registration fee collection system at entry. Please bring the correct change and display your receipt.
All Parks Pass - For all parks in NSW (including Kosciuszko NP) $190 (1 year) / $335 (2 years)
Multi Parks Pass - For all parks in NSW (except Kosciuszko) $65 (1 year) / $115 (2 years)
Country Parks Pass - For all parks in Country NSW (except Kosciuszko) $45 (1 year) / $75 (2 years)
Single Country Park Pass - For entry to a single park in country NSW (except Kosciuszko). $22 (1 year) / $40 (2 years)
Annual passes and entry fees (https://www.nationalparks.nsw.gov.au/passes-and-fees)
Nearby towns
Nimbin (22 km)
Nimbin is the counter-culture capital of Australia. It's set in a beautiful green valley pierced with limestone spires.
Kyogle (30 km)
Kyogle is an attractive timber-milling town surrounded by rainforest. It's set on the Richmond River at the base of Fairy Mountain.
Murwillumbah (50 km)
Murwillumbah is rich dairy, sugar cane and banana country. It's located on the banks of the Tweed River and set in the Tweed River Valley against a backdrop of rainforest-clad hills.
Learn more
Border Ranges National Park is a special place. Here are just some of the reasons why:
World Heritage wonder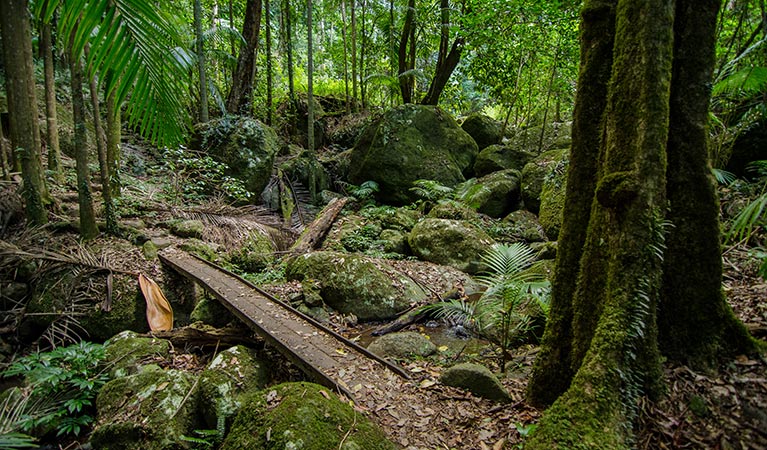 The rainforests of the Border Ranges National Park are part of the Gondwana Rainforests of Australia World Heritage Area. World Heritage Areas are irreplaceable sources of life and inspiration - places of such value that the international community has agreed they must be conserved for all time. You can explore this World Heritage-listed rainforest on one of the many walking tracks, like the short Pinnacle walk that provides spectacular views of Wollumbin and the Tweed Valley 1km below.
Bar Mountain circuit

Take the short and easy Bar Mountain circuit walk to the lookout where you'll enjoy panoramic views of World Heritage-listed rainforest.

Border loop walk

Walk the short and easy Border loop walk through World Heritage-listed rainforest. Enjoy spectacular views from the lookout and finish with a picnic at the end.

Brindle Creek picnic area

Pack up a picnic and set off along the Tweed Range Scenic drive to explore Border Ranges National Park. Stop off at Brindle Creek picnic area for a picnic and walk.
Picture perfect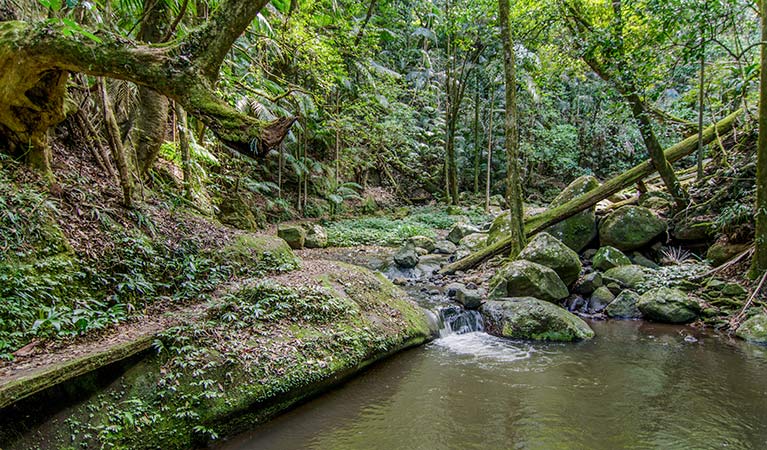 A landscape photographer's dream, you'll be spoilt for choice in trying to capture the sheer scale and beauty of this epic rainforest from the many lookouts dotted throughout the park. Be sure to carry your camera up to the Pinnacle lookout at sunrise for a breathtaking birds-eye view of the crater escarpment all the way down to the NSW coastline. Don't forget to change your camera setting to panoramic for the perfect mantelpiece shot.
Abundant wildlife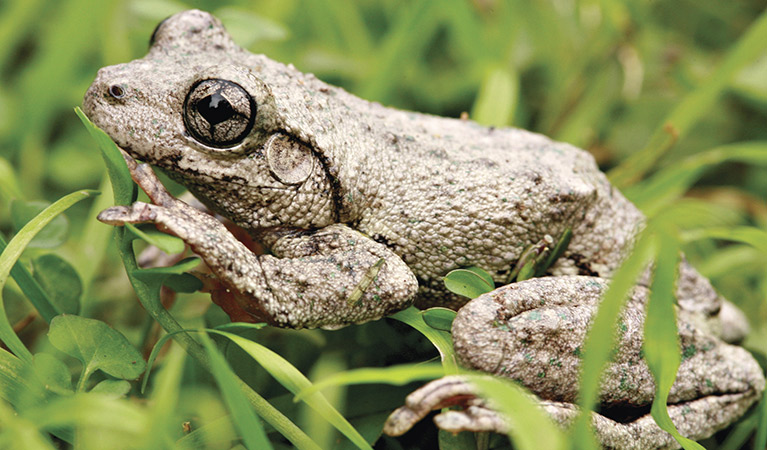 Being part of the Gondwana Rainforests of Australia World Heritage Area, makes this park a truly special place to visit. This region has the highest concentration of marsupial, bird, snake and frog species in Australia, so you're bound to come across a cute creature or two during your visit. While you're in the heart of this remarkable rainforest make sure you listen out for the call of the Alberts lyrebird, and while you're picnicking, keep your eye out for the rare, local fauna that thrive in this lush, protected wilderness.
Border loop walk

Walk the short and easy Border loop walk through World Heritage-listed rainforest. Enjoy spectacular views from the lookout and finish with a picnic at the end.
Aboriginal heritage
The dramatic landscapes of the Border Ranges National Park echo the historical ties connecting the region's Aboriginal people to Country. The Githabul People trace their identity and spirituality to this Country and it is central to their Dreaming. The park protects many ancient sites and continues to be a place of great significance today.
Plants and animals you may see
Animals
With vibrant blue-violet eyes and curious antics, the satin bowerbird is a favourite for bird watching and easy to spot as it forages for food in open forest. Relatively common across eastern Australia, in NSW they're found in coastal rainforests and adjacent woodlands and mountain ranges.

Commonly found in forests, woodlands and leafy gardens across eastern NSW, the Australian ringtail possum is a tree-dwelling marsupial. With a powerful tail perfectly adapted to grasp objects, it forages in trees for eucalypt leaves, flowers and fruit.

A nocturnal marsupial and one of the smaller Australian native animals, the long-nosed bandicoot is found across eastern Australia. Populations in the Sydney region have dwindled since European settlement, leaving only endangered colonies in inner western Sydney and at North Head, near Manly. The long-nosed bandicoot has grey-brown fur and a pointed snout which it uses to forage for worms and insects.
Environments in this park
Education resources (1)
What we're doing
Border Ranges National Park has management strategies in place to protect and conserve the values of this park. Visit the OEH website for detailed park and fire management documents. Here is just some of the work we're doing to conserve these values:
Preserving biodiversity
The World Heritage-listed wilderness in Border Ranges National Park houses a wealth of unique fauna. Maintaining biodiversity within the park is a continuing priority for NPWS, so efforts to support threatened species are ongoing. These efforts include regular surveying and monitoring, pest management strategies, initiatives to boost key populations, fire management implementation, staff training and continuing bush regeneration programs.
Managing weeds, pest animals and other threats
Pests and weeds have a significant impact to the ecosystems within Border Ranges National Park. Pest management is a priority for NPWS with the pest reduction of wild dogs and cane toads being an important part of the work to protect the integrity of biodiversity within this park. Risk assessments for new and emerging weeds are carried out as an ongoing initiative in Border Ranges.
Conservation program
Currently ineradicable, cane toads are infamous pests on the far North Coast of NSW. They are widespread around Evans Head and Byron Bay. Cane toads are a threat to biodiversity because they are poisonous when ingested by other animals. The cane toad management plan attempts to control their numbers where they are widespread and eradicate outlier populations before they can become established.
Exploring World Heritage
Border Ranges National Park is part of the Gondwana Rainforests of Australia World Heritage Area. The park's World Heritage values are preserved through multiple conservation programs, including fire and pest management strategies and initiatives to help recover threatened species. NPWS training aims to optimise staff understanding of World Heritage values, and the service promotes community involvement in conserving this important park.
Conservation program
As climate change increasingly impacts our native habitats, it is imperative that scientists monitor the health of these ecological sites to help conserve them for the future. In the World Heritage-listed Gondwana Rainforests, NPWS is conducting an extensive observation program for ancient frogs, which are indicator species for high altitude rainforest.
Conserving our Aboriginal culture
Border Ranges National Park is dedicated to preserving its strong Aboriginal culture. There are several significant sites within the park, which are maintained as part of efforts to conserve its heritage. Aboriginal site conditions are regularly assessed and recorded, and members of the Githabul community are consulted on park management decisions as a matter of course.
Managing fire
NSW is one of the most bushfire prone areas in the world as a result of our climate, weather systems, vegetation and the rugged terrain. NPWS is committed to maintaining natural and cultural heritage values and minimising the likelihood and impact of bushfires via a strategic program of fire research, fire planning, hazard reduction, highly trained rapid response firefighting crews and community alerts.
Conservation program
Bushfires are inevitable across fire-prone vegetation types within NSW national parks. NPWS prepares for wildfires by working with other fire agencies, reserve neighbours and the community to ensure protection of life, property and biodiversity. Every park has its own fire management strategy, devised in consultation with partner fire authorities and the community to plan and prioritise fire management.